Back in the good old days people's stag dos were booze in a pub, a bit more booze in another pub and then home. Simple, enjoyable and cheap. That seems to no longer be the case. Stag parties end up in the furthest corners of Europe and involve pain, suffering, humiliation, fear, loathing and oodles of dispensable income.
I've compiled a few bonkers stag do stories off the internet for your pleasure today. If you're planning on having a stag do: don't bother. In fact don't bother getting married at all. At the end of the day one in three marriages end in divorce anyway, so why not save yourself the humiliation, heartbreak and cash splurge? Just don't get hitched and you can avoid all this type of trouble…
Alex Tulloch Vs LAPD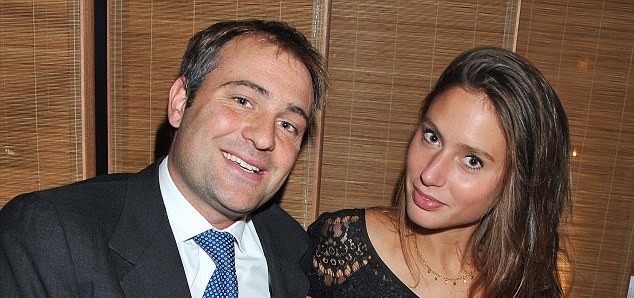 Unfortunately for Tulloch he chose Ben Goldsmith (pictured), his old Etonian friend, as best man. A move he probably still regrets to this day. Goldsmith is loaded and has friends in the entertainment business, so the high-grade prank he managed to pull off is thankfully out of the realms of less princely best men.
Goldsmith managed to orchestrate a pretty distressing situation for Tulloch, a banker more used to luxury than terror. After a night on the tiles they returned to their top end hotel, then things took a swerve for the worst.
Goldsmith and two of his friends were raided at 2am by the LAPD who whisked them off to the cells without any explanation. The three men weren't told why they were being arrested but the "cops" made it clear it was pretty serious, that he would probably miss his wedding day and he'd be in the cells for a couple of weeks. The trio of revelers were thrown into separate cells occupied by big burly looking cons and then subjected to hours of interrogation. JOKES.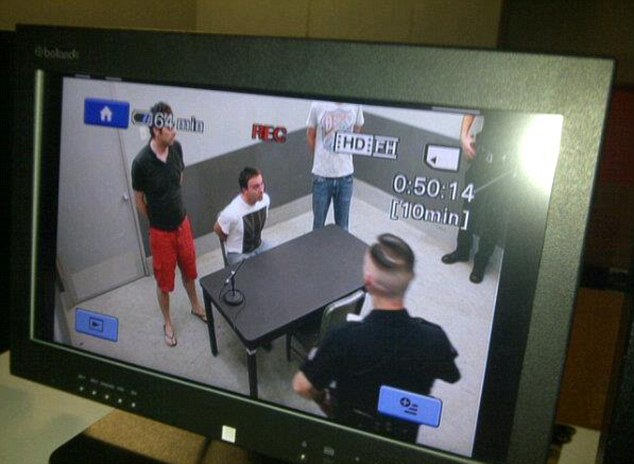 Finally the rest of the group burst into the interview room where they'd been watching every move through two-way glass. They were all laughs and giggles. Apparently Tulloch was so distressed by the ordeal that even once he'd found out it was a "hilarious" prank he still couldn't see the funny side. I'm not sure if I could either tbh.
Chicken Terror
Craig and Bradley Barnett attended a stag do back in 2012, but they didn't turn up alone. The grim brothers decided to leave six live chickens in the groom's bedroom as a pleasant farmyard surprise when he returned.
When the semi-naked revellers returned to the room the chickens were unceremoniously removed from the room (as per the CCTV footage above). By morning two were dead – one at the teeth of a fox, and two were never found again. The other two were found the next morning in a "terrified" state – how do you tell if a chicken is terrified? Well, I don't know, but the RSPCA know and they prosecuted the Barnett bros.
The poor chickens had been left in a box in the boot of a car for hours and then left in a room for many more more hours without access to food and water. All in all the chicken murdering boys had to pay out a whopping £440 in fines and £750 in costs. Good.
Kokovtsov Bungee Jump Viral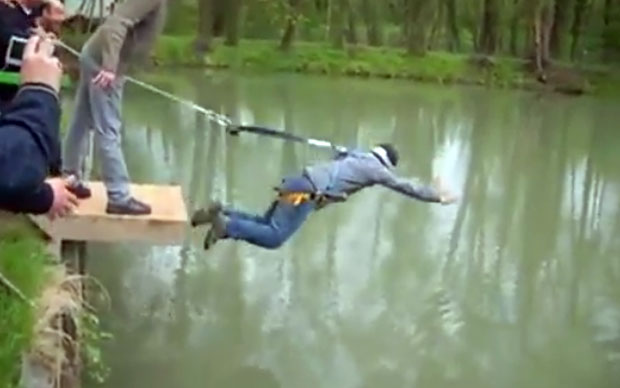 I like this one because no one gets hurt. Just humiliated. The groom is led to what he thinks is a high platform and readies himself for a blindfolded bungee plummet. Unbeknownst to him, the platform is low and the landing is watery.
The groom, only known as Kokovtsov even seems to share the joke when he realises he isn't dead, he's just wet and looks like an idiot.
Same deal here too. Another nice and cheap stag do prank where everyone comes home safely…
They're much more civilised than the drama of the next stag do…
Finance Complaint Backfire

An enraged fiancée shot herself in the arse and her partner in the balls (metaphorically) when she complained to the hotel that he'd stayed at for his stag do. I won't bother with the preamble, here's the complaint letter that the furious woman wrote to the hotel, it gives you all the deets you need…
My partner of 10 yrs had his stag do in waterford last nite at dis hotel 17 men went dwn 1,12'¬ which was paid b4 arrival…wen d arrived ystrdy dis hotel asked dem 2 pay anoda 50e 4 a overnite deposit which d were guarnteed 2 gt bk nxt morn…d didnt gt netin dat was ment to b include in dere package…no finger food no round of shots no breakfast no deposit bk i think dis hotel was trying to earn some easy cash ,im going ta go on evry radio station nd get all dem boys to gv dere comment nd let evry tourist i know from my job all about dis sceeming hotel …700€ is alot of money 2day smalls claim court i think
She seems pretty cross (and special) right? The hotel in question – Treacys Hotel Waterford – sent the brooding femme fatale an FB message asking to chat privately about what had gone on. The fiancée didn't respond so the hotel, rightly jazzed off at the negative publicity, let rip like so…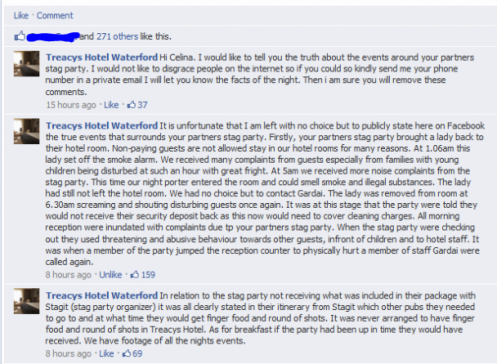 Wonderful isn't it?
The Smurf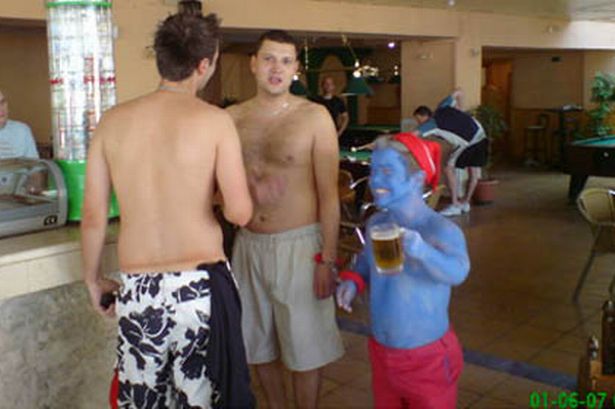 This one sounds pretty far-fetched, but there are two low quality images on the internet so that's enough for me to take it as a fact. According to one site this "smurf hiring" is all the rage nowadays? How come I haven't been told?
Basically fellas on a stag do club together and rent a dwarf. They paint him up like a smurf and chain him to the groom. And that's how they stay for the remainder of the weekend. Linked permanently together.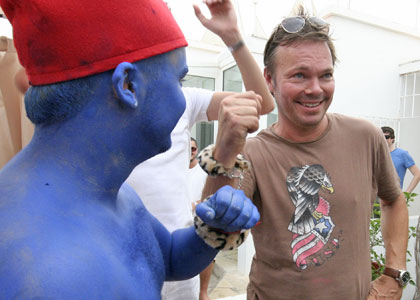 That must be proper annoying for the stag and the dwarf. I mean, I imagine the smaller chap would have had some drinks too, but what if he got really tired and wanted to come home but had to tag along until the other guys wanted to stop drinking? I bet he had a crap time, I hope they paid him handsomely.
The Swedish Way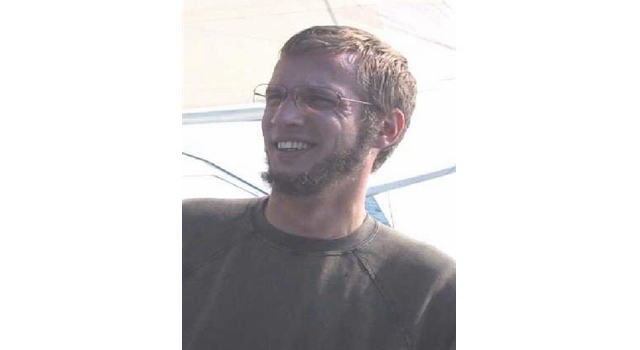 In Sweden they do things a little differently. The stag do isn't a planned affair. The revellers pretty much kidnap the groom on the day of their choosing without him being informed previously.
This story follows one such soon-to-be-wed Swedish chap. They kidnapped him and took him aboard a small yacht. They glued a fake seamen's beard to him (see the picture above) and spent the day drinking fine drinks and eating fine foods. Nice and civilised.
Once back on shore the gang went for a sauna as is the norm in those parts of the world. This is where things took a turn for the worst for the groom. He walked into the sauna and noticed that all of his friends were 100% pubeless. Then he remembered the false beard he had been sporting all day. Not so pleasant after all.
So if you're planning a stag do, attending a stag do or becoming a stag yourself: look out.