Twisted Burger Company expanded from their Sheffield roots at the start of April by taking over the kitchen of Aire Bar in Leeds, but they're not gonna let you forget where they came from.
The menu — with all the gnarly, dripping charm of a 90s zine — is by local designer Tom J Newell; it references Pulp and features a vegetarian option put together by local boy-done-good Oli Sykes; every table has a bottle of Hendersons relish (Quick word to Northerners: it might have an orange label but it'll never be as good as Worcester sauce); and filings of Sheffield Steel replace sesame seeds on top of the buns. All of that's true except the last part.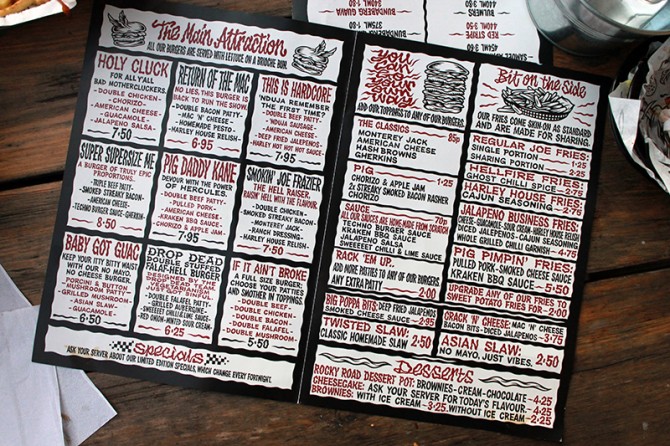 There's an impressive dedication to puns on the menu too, which won me over straight away. I tried This Is Hardcore, containing deep fried jalapenos, hot sauce and Nduja sausage (Nduja is pronounced do-ya, just like that Pulp lyric "Do you remember the first time". Try and keep up guys). This one didn't live up to the quality of the pun though, the hot sauce dominated the whole burger and I tapped out halfway through, being unable to taste anything.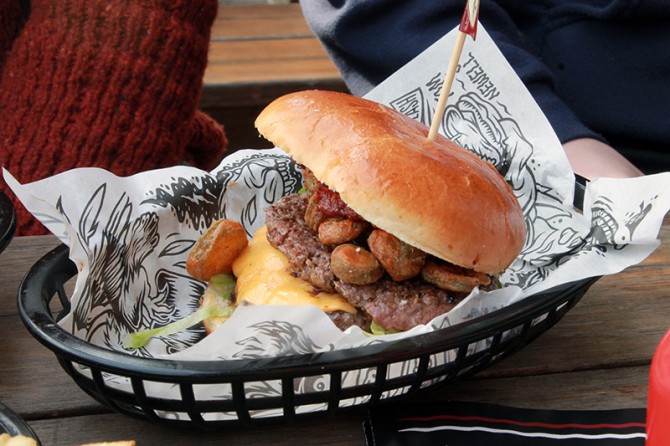 I'm not a complete pussy though, the Cajun seasoned, salsa/guac/sour cream-topped Jalapeno Business Fries were just right — even if the ominous chili on top reminded me of the Guatemalan Insanity Pepper that makes Homer Simpson trip balls.

The Pig Daddy Kane (with Pulled Pork, American Cheese and Chorizo Jam) was a no brainer as it's one of the most-instagrammed burgers I've ever seen, and that shit must the equivalent of a Michelin star for hipster burger joints.
When it comes to pulled pork, I avoid hog with the same determination as Ice Cube – most attempts have the texture of regurgitated tuna — but this was decent, and the Kraken-infused BBQ sauce sets it miles ahead of the competition, making Pig Daddy Kane a worthy headliner on the TBC menu.
Finally from the more experimental side of the menu was Return of the Mac, with Mac & Cheese and pesto topping two bacon patties.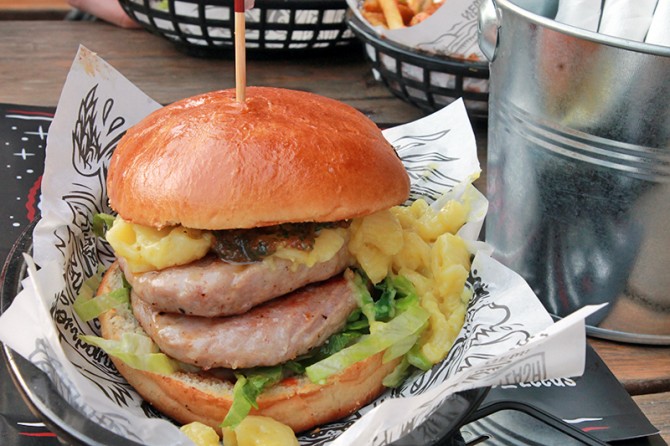 The fatty, salty bacon pairs well with the rich mac and cheese (also available as a side, and well worth ordering) and the fresh pesto cuts through to add a good balance to the palate.
TBC won't be blowing any burger-purists minds, but that's not what they're about. What they offer is combinations and bespoke flavours that you can't get anywhere else (Yeah yeah, except Sheffield), and for the most part, they're done really well.
he bill for 3 burgers, 2 sharing fries and about 6 drinks (Samuel Adams and Brooklyn, no cheap tat) came to just shy of fifty quid, which puts it firmly in the bargain category too.
☛ More Greed: Philadelphia Restaurant Introduces The Deep Fried Twinkie Burger