Not really sure if the announcement of a new McDonald's menu item is going to be enough to get us through Tier Four Lockdown, but I suppose you have to give it to the guys for at least trying hey?
Images VIA
The new menu item is an upgrade on the classic Chicken McNuggets called the Katsu Curry Chicken McNuggets, which I guess are Chicken McNugget with some kind of Japanese panko breadcrumbs covering it instead of your regular McDonald's breadcrumbs. Sadly, they won't be out in time for Christmas but will be available from December 30th – probably just in time for the rest of the country to go into Tier Four Lockdown.
You can pick up six Katsu Curry Chicken McNuggets for £3.59, nine Katsu Curry Chicken McNuggets for £4.09 or 20 Katsu Curry Chicken McNuggets for £5.99. Here's what the official McDonald's statement had to say about them: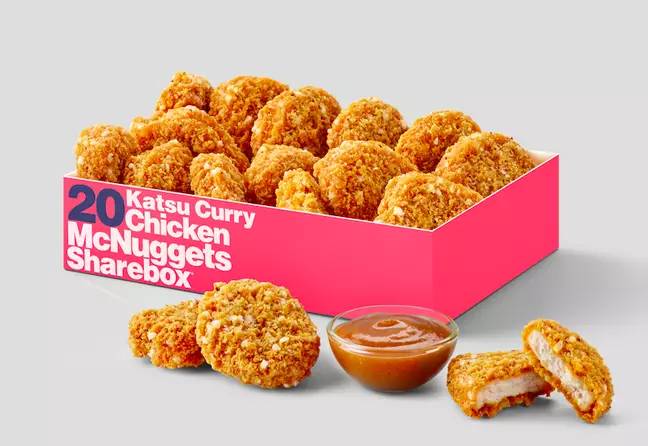 The new limited edition Katsu Curry Chicken McNuggets are a match made in heaven and everything you didn't know you needed until this very moment.

Hitting our restaurants on the 30 December, they are the tastiest way to wave goodbye to 2020 and start the new year as you mean to go on!

If you want to try them then you'll have to be quick, as they're around for just six weeks.
I guess that's something to look forward to in 2021 because it doesn't look like there's going to be too much going on in the early months of the year, if anything at all. Gotta find something to be excited about and it looks like these Katsu Curry Chicken McNuggets are literally the only option right now after Cyberpunk turned out to be a glitchy pilaff steaming turd. What a time to be alive.
For more of the same, check out this Oreo and Spam burger McDonald's just released in China. Think we're getting the better deal over here.