Not to be outdone by the pizza box that turns into a movie projector, KFC have now released a chicken bucket that doubles up as a polaroid printer.
It's called the Memories Bucket and I assume that the logic behind it is that you take a selfie of you and your buddies eating KFC on your mobile and then use Bluetooth to send it to the KFC bucket (never thought I would type that) and then they print off a polaroid for you to keep forever. It's a great idea but I'm sceptical as to whether you could actually send the picture to the bucket successfully – I mean wireless printers always seem to mess up don't they? Is a KFC bucket gonna be any more reliable than that?
Images VIA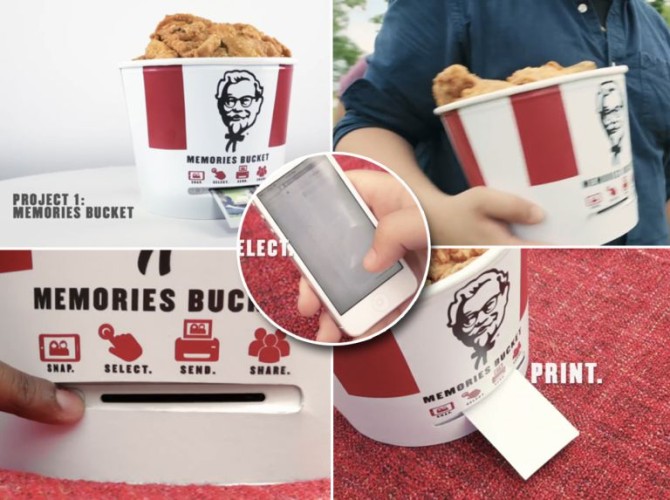 Unfortunately there isn't going to be any way for me to test it out anytime soon because it's only available in Canada at the moment, like all the other novelty fast food items that only seem to be available in other countries, most notably the notorious double down king. Here's a video of the Memory Bucket in action though. Everyone seems to be having a great time but I'm not sure I'm fully convinced, although maybe if you could use it as a polaroid printer for a while (like 100 photos) then it might be a fairly decent investment, especially if you were having a house party or something. Kinda like a photo booth only more greasy.