A woman named Joyce Fedd from Jacksonville, Florida ordered a McChicken sandwich for her kids from her local drive thru McDonald's, but was shocked when she discovered two pinks worms crawling around in the chicken. You would be wouldn't you because that's completely disgusting, right? It's a good thing Joyce decided to inspect the food before scramming down on it.
McDonald's quickly released a statement and offered Joyce (pictured below)a refund for the food. Gee thanks:
Images VIA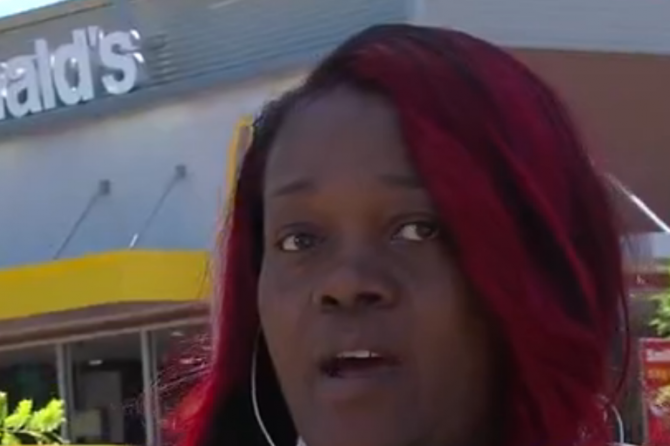 Food safety is a top priority and we take incidents such as this very seriously, as it is highly unusual.

We quickly reviewed our entire kitchen to ensure this type of occurrence could not happen.

The chicken didn't come from us, but an independent distributor.
Hmmm. Talk about anonymously passing the buck. And why the hell don't McDonald's have their own chicken supply, surely it would be a lot cheaper for a huge multinational company like themselves to have their own chicken farms? It sounds like they're telling porkys to me and Joyce wasn't convinced either, offering the following comment:
There's no telling what else is in those sandwiches.

If it came from the shipping, I am pretty sure it's not just one chicken sandwich.
Quite. I suppose the safest thing to do would be to just not eat there anymore, especially after they also started serving up their food raw and uncooked recently too.