Unless you're as old as me or it was one of your ex-girlfriend's favourite movies (me again), then you've probably completely forgotten that The Crow even existed because it came out over 20 years ago and was probably more famous for the fact that Brandon Lee died during its filming or that it inspired the wrestler Sting's look in the late 90s, rather than the fact it was great movie. The story of a man brought back to life to avenge his and his fiancee's murder was very dark and very moody and very violent though, so that definitely ticks all of the boxes and makes it ideal for a reboot in 2015.
The truth is that it's actually been in development since 2011 – when Bradley Cooper was actually scheduled to play The Crow which makes literally no sense to me – but it's had a lot of problems with actors and directors dropping out and financing problems with the studios. The last actor to be attached to it and distance himself from the project was Jack Huston, but the creator of The Crow James O'Barr was at last weekend's Twin Tiers Comic-Con in New York and stated that the reboot would definitely be happening sooner rather than later:
Featured Image VIA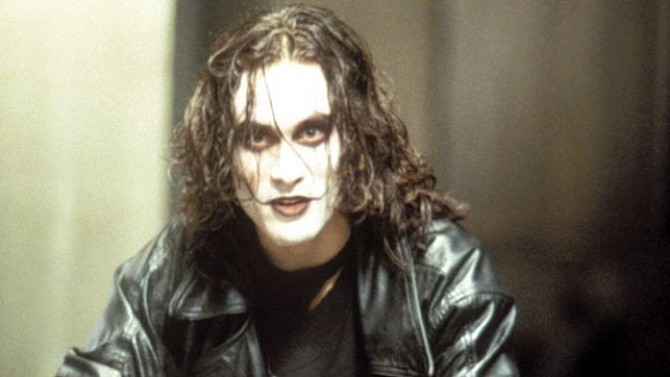 Image VIA 
The company, Pressman Films, that owns The Crow film and TV rights, licensed it to a studio named Relativity. And Relativity made like a hundred bad movies and lost money so now they're in financial trouble.

So the producers are just going to take it to another studio if Relativity can't get backing again. It's going to happen.

I talked to Pressman Films a couple of weeks ago and they said within two or three weeks, we should have it placed at a new studio, because the day Relativity announced that they were having financial problems, there were like a dozen other studios that called about getting The Crow property. it definitely will happen.
Well there you have it. O'Barr said he was also really happy with the new script, stating that it stayed true to The Crow's comic book origins so it would actually be pretty dope if it ever gets out of production hell.
If you've never seen or heard of The Crow, then check out the trailer below and add it to your list of movies that are awesome and you need to see that you've never even heard of.
https://www.youtube.com/watch?v=gA6GYAtvNcs