The Scottish obsession with deep frying everything shows no sign of ever slowing down and if anything it's only going to become more ridiculous judging by the content of this article and some things that we've run recently as well.
Images VIA 
Roman's Pizzeria in Glasgow is now offering a deep fried Mars calzone on their menu which looks and sounds every bit as disgusting as the name suggests. It contains two deep fried Mars bars wrapped in an Italian style calzone, topped with caramel sauce, chocolate ice cream and some almonds. It comes in at a whopping 2000 calories and will set you back £5.99.
Here's what Fraser Walker – the owner of Roman's Pizzeria – had to say about it: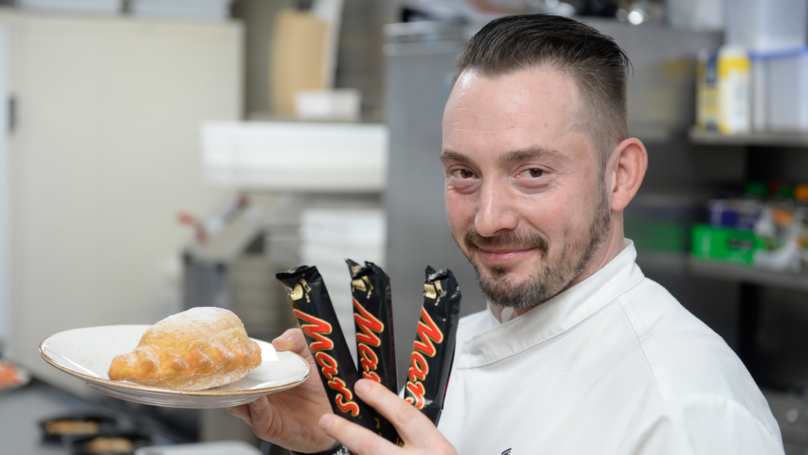 Well the shop has been open here for about five and a half months and we wanted to bring out something different.

This is because we are known for our Roman-style pizza, and after speaking to the chef about different ideas we came up with that.

We've seen restaurants adding Nutella in a calzone – we just thought the deep fried Mars bar is a Scottish thing, so why not put it in a calzone?

It's definitely not a dessert for someone who is on a diet.

I would say people should share it because it's very sweet unless you have a sweet tooth or are really hungry.
Yeah mate, having tried a deep fried Mars bar I think I'll probably give the whole thing a miss to be honest – they're rank – but I'm sure there are more than enough people out there whose mouths are salivating at the prospect. Go punish yourself.
For more deep fried stuff, check out this whole deep fried takeaway. Also coming straight out of Scotland – guess how many calories that is?