Hi, I'm Rupert Rixon and as has been documented on the site before, I intend to longboard from Los Angeles to New York this summer. I have been making films since I was young, and made all sorts of short films, documentaries and even a terrible low budget feature, as well as a documentary about my time longboarding across Wales last year. But at the beginning of last year I had an idea, I wanted to skate across America from L.A to NY and make a feature film about it.
After a swift conversation with my usual bunch of friends I started to do my research, contact companies asking if they would sponsor me – including Sick Chirpse – and started to put together a plan. We ran a kickstarter aiming to raise £12,000 and failed, although the fact that we were very close to reaching the target enthused me. We tried to find an investor who would back the project but again failed and so decided to push for more commercial sponsorship and found various ways to cut costs until finally (about 2 months ago) we had everything we needed in place. This crucially included the one item that made this trip really feel alive, our plane tickets.
Last week me, David Rock, Oliver Spain and Thomas Nicholson all flew out to L.A and teamed up with 'The Van with No Plan'. The Van with no Plan are essentially two brothers (Matt, Josh and Matt's girlfriend Sarah) who travel around the USA in their bus doing odd jobs to fund their travels, and we were their next 'odd job': following 4 scrawny white boys as they attempt to cross a continent on a plank with four wheels.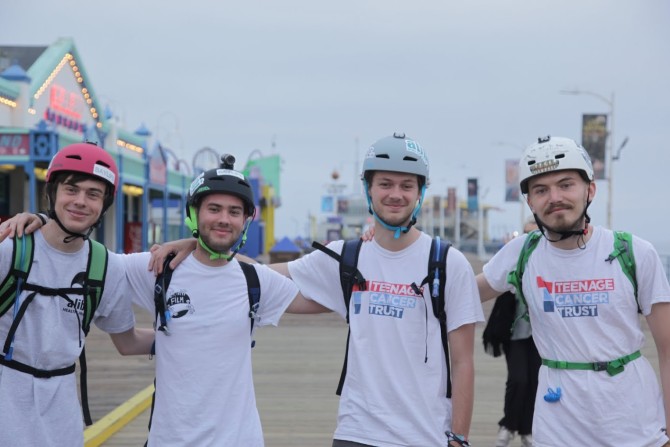 As soon as we arrived in LA we busied ourselves with preparing for the trip by shopping, stickering up the van, collecting products sent out by sponsors and assembling longboards etc. After 4 days in L.A made our way down to Santa Monica Pier at 6am, counted down from five and started. We got lost imediately taking the wrong road and took a five mile circle – typical. When we finally got back on track, we started to make our way out of the city. Within 6 hours we hit the midday heat which absolutely battered Tom and made it difficult for him to even breathe. We took a few hours out in a McDonalds to recover and then pushed the last 15 miles to the support vehicle bringing our total for the day up 40 miles.
On Day 2 of skating we woke up just outside of L.A surrounded by an amazing mountain range, with an insane hill to set us on our way. It also happened to be Tom's birthday, so we had a few small surprises set up for him. We encountered some great hills early – however for very great downhill, there's a pretty brutal uphill. We were able to chug along roughly 12 miles in the morning, before the afternoon heat caught up with us, and we met up with the van. It was here we decided to take it easy and make a super late lunch, we also found a wicked litle shop where we could buy Tom a huge strawberry shortcake.
We tied up a couple hammocks to the tree and took it easy until the heat died down roughly around 6PM, and then went on our way. However the journey was soon cut short and there were two reasons for this – firstly Josh decided to join us, and he let Sarah drive the bus. Although this seemed like a fine idea it really wasn't. No more than 5 miles in, Josh took a pretty huge tumble near a traffic filled road. He suffered multiple injuries all over his body, including a super nasty set of scrapes across his back. To add insult to injury, the longboard shot out from his feet, and got ran over by a car, tearing the front trucks clean off. It was at this point we decided to walk the last 5 miles, all agreeing that this road was far too dangerous to skate, and we were all reminded of the potential danger that our journey across the US holds.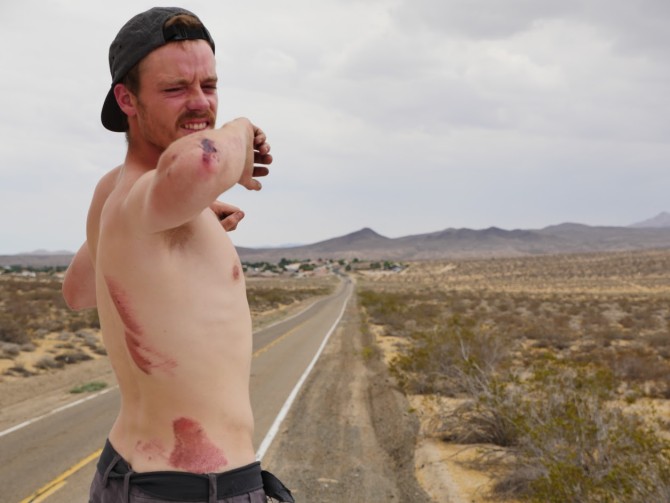 Day 3 of skating we hit the road with a new level of determination as we were running 35 miles behind our 50 miles a day target. Perfect. The skating was all pretty simple, we hit some rough roads but nothing too problematic. We were all pretty excited to skate 20 miles along route 66, and it was along here that Josh ran out to us at one of our 5 mile checkpoints and told us that we were really going to want to see this. He led us out to this abandoned hotel, where there was an old, dried out swimming pool that was perfect for skating.
So we spent far too much time skating our first REAL pool and hit the road again. We continued to push out into the desert, and then with only 4 more miles to go we came across a dirt track. Totally impossible to skate. Placing our boards in the van we began a 4 mile jog, which was agonising after 46 miles on a Longboard, about 3 miles in I fell tripping over a rock and hit the ground hard, cutting open my elbow in the process but managing to push on and put the 50 miles we needed behind us.
As I mentioned we are doing all this to make a feature film which will be released on our Youtube channel as a web series. We are also trying to raise £12,000 for the Teenage Cancer Trust during the trip and you can donate to them here. So if you could spare anything at all we would massively appreciate it, because if this all fails my parents might force me into university – or even worse a real job. Check out some photos from the trip so far on the following pages.
READ NEXT
The Most Amazing Skateboarding Video Ever
This Is The Fastest Skateboarder In The World
Meet The Incredible Blind Skateboarder