If you've been a fan of Sick Chirpse for a while, then you probably remember that a really long time ago we backed a Kickstarter to help four friends longboard across America and make a documentary about their experience. Unfortunately, they fell just short of their goal but this didn't dampen their enthusiasm and they went right back at it again, trying to raise the money they needed to make their dreams a reality.
Last summer they made a movie about them longboarding across Wales – which we premiered on Sick Chirpse – as they prepared for the big one, which they finally managed to fund this year and now Rupert Rixon, David Rock, Oli Spain and Tom Nicholson – none of who are over 21 – will be jetting off to America at the start of June to finally fulfil their dreams. We're happy to say that Sick Chirpse sponsored them to complete their journey and we'll be presenting the web series of their adventures when it's finished later this year.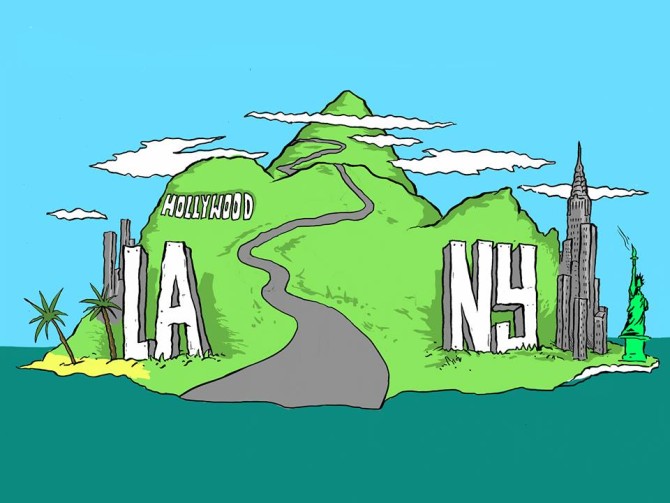 In the meantime though, the longboarders are jetting off on June 4th to LA and will be making their way to New York via their chosen mode of transport for the next twelve weeks. We'll be bringing you weekly updates of their (mis)adventures and time spent killing themselves as they attempt to make history and do something that has never been completed by British people before. The four friends are raising money for the Teenage Cancer Trust so if you feel like sponsoring them and helping them out with that then head over here to find out how you can donate.
The four plan to start the trip on June 7th in Santa Monica and then aim to travel around 50 miles a day until they arrive at Liberty State Park, New York City at the end of August. Before that, they'll be riding through the desert to Las Vegas, trawling across the cornfields of the midwest past Chicago and making a pit stop in Mormon country to take in Salt Lake City. It sounds like an amazing trip – although we are slightly worried about whether they'll be able to make it after struggling during their Wales leg – and we'll be there to document it weekly on the site all through the summer. Make sure you don't miss it.