The leader of ISIS, Abu Bakr al-Baghdadi, has appeared on video for the first time in nearly five years.
Featured Image VIA
ISIS's media arm released this video in which Abu Bakr addresses the territorial defeat of ISIS in Syria and praised recent terror attack around the world:
And as for our brothers in Sri Lanka, I was overjoyed when I heard about the suicide attack, which overthrew the cradles of the crusaders, and avenged them for our brethren in Baghouz.
BREAKING: Video appearing to show Islamic State leader, Abu Bakr al Baghdadi emerges.

In the propaganda clip, he praises those behind the Sri Lanka attacks.

Full story here: https://t.co/FhDCu9IyDn pic.twitter.com/8QQSGExZGU

— Sky News (@SkyNews) April 29, 2019
Abu Bakr's reemergence is extra annoying because for the longest time everyone assumed he was dead. His death had been reported a number of times since 2014, and even the Russians were sure they had killed him in an airstrike on the city of Raqqa in 2017. But like a post-apocalyptic cockroach the guy is proving very difficult to kill.
So what this means is that the bounty of £20 million ($25 million) is still on for information leading to Abu Bakr's capture. It's pretty amazing that anyone who has that sort of bounty on their head could possibly still be alive/free but I guess ISIS are notoriously slippery customers.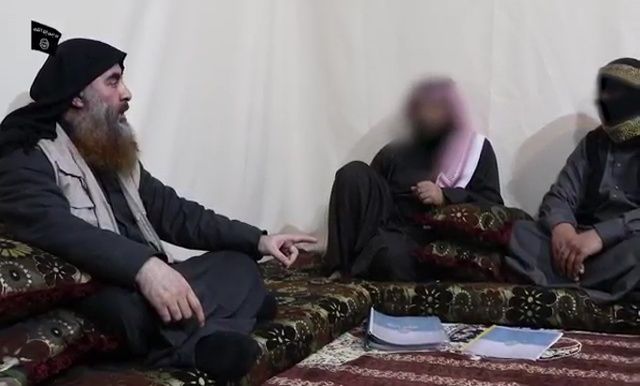 It's also amazing that his own friends and fellow ISIS brothers haven't betrayed him with that kind of $$$ at stake. You could stick that 20 million in the bank and just live off the interest – has to be better than hiding out in a cave for the rest of your life, surely? In fact just imagine what an awesome cave you could get yourself with 20 million?
Might be worth it for the CIA to reach out to all the locals in whatever villages or mountains they suspect Abu Bakr could be hiding in and really emphasise how much money £20 million is because they obviously haven't realised it. If they knew what a life-changing sum that was I've got no doubt someone would grass him up ASAP.
For an awesome video of a Russian warplane blowing ISIS to smithereens (sadly without Bakr in attendance), click HERE.