Pizza can be used for a variety of things: as a towel, as a beermat, as a deep-cleansing moisturiser, as a pair of shoes, as an alternative to sellotape, as an umbrella, as a doorbell etc. But out of all of pizza's magical uses, eating the stuff has to be its best – and most logical – use. I don't think I've ever met anyone who doesn't like pizza as I haven't yet visited an allergic-to-pizza distant planet and I suppose, if you don't like the Italian dough then you're in a minority. Like someone who suffers from leprosy. Pizza is one of the best foods out there and it's also an absolute killer hangover cure which throws it to the top of the list and means my freezer is full of 'em, alongside human limbs and my pickaxe.
☛ Another Good Hangover Cure: Croque Madame
The best pizzas are the spicy ones. The ones that, when you bite into them, make the skin slide off your face and turn your hands into burnt little twigs and open up your arse to a whole new level that pornstars don't even get to encounter. The spicy ones are cheaper than a sauna and plastic surgery – apart from if you order a Domino's – so they're just a complete winner and when you see someone order a sap of a plain margherita, you just wanna empty your bottle of Peroni all over the dough and pull their teeth out with shoelaces because spicy pizza is there, in the kitchen, dying a slow, painful death when it should be living life to the max between your gums and your dancing tongue because it's the only way and there's no other.
☛ Did You Know This?: Pizza Vending Machines Actually Exist
But, even though I like to add a bit of spice to my life, I think I'd rather leave this one to the pros and the crazies. I'd rather not die just yet. I have a bit more planned and I still haven't seen a film/program where Sean Bean doesn't live until the end. What I'm talking about is a pizza called a 'Saltdean' pizza. Weird name, I know. You'd think it would be jammed full with anchovies or something, but it's not. The name derives from the place where it's been created – Paul's Pizza – which you can find in Saltdean, near Brighton. What the pizza is jammed full with, though, is ghost peppers which are one of the hottest peppers in the world and will tear you a new one. The pizza sauce has been tested at Warwick University and it measured just under 3.2 million SHU (Scoville Heat Units) which makes it the spiciest and hottest pizza in the world.
☛ More Food: KFC Chicken Isn't Even Made From Real Chickens
Over a thousand people have attempted, and failed, to eat the pizza and there's only 8 people who've ever actually managed to scoff the thing. However, if you're thinking of trying to eat the Saltdean but are feeling a bit scared that you'll die, don't worry. Paul's Pizza offers you free ice-cream if you fail which isn't so bad because ice-cream is pretty boss and will save your life. Here's Paul Brayshaw, owner of Paul's Pizza, looking pretty confused with the whole thing.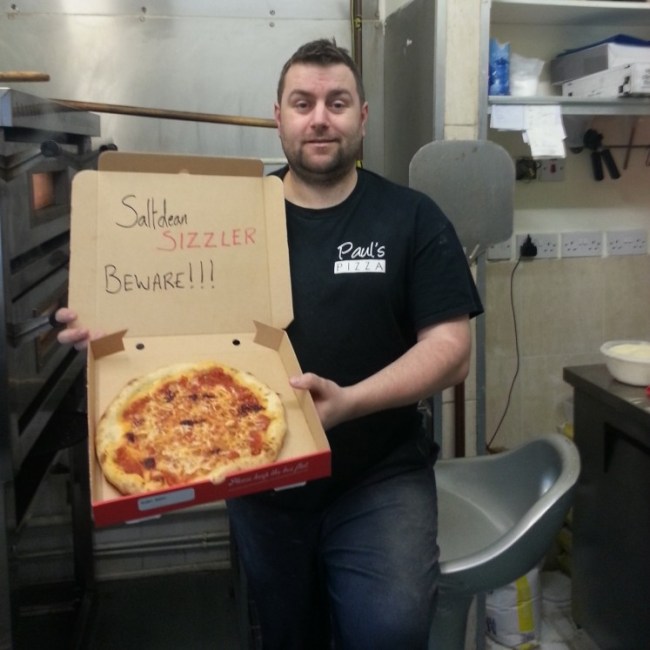 Check out this video of a guy called Rob House who absolutely demolished the pizza in 3 minutes 59 seconds. By the end of it all, he's in a bit of a bad way but the guy deserves a few pints for finishing the thing. I'm not sure how many of us could finish it all. Could you?