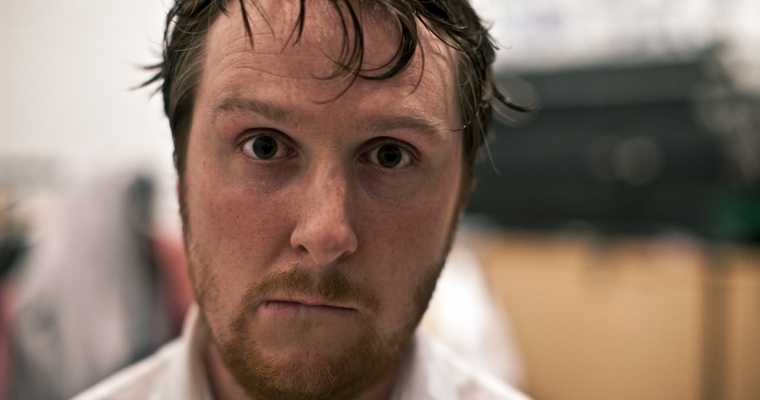 I went to see Tim Key's "Masterslut" performance, as part of the Brighton Comedy Season tonight: Comedy poet extraordinaire.
The best bit about writing for Sick Chirpse is that you get free tickets for the best seats at all the biggest events….. well tbh….. you have to pay… and you get seats at the back with the lepers… erm… and they can't get you in anywhere big. But still. I wore my best chirpsing shirt and minced my way in with pride all the same. I didn't have a journalist's lanyard but my swagger confirmed for them all that I should have had a fvcking lanyard.
[yframe url='http://www.youtube.com/watch?v=I7EJnQ_5ex8′]

"Funny poet" – normally I would say that's an oxymoron. I hate poems, not because they are rubbish, but because I don't get them. And also they're rubbish. But Tim Key's poetry based wins are all in his dead pan delivery and in between banter. He flies seamlessly from touching intensity to balls out swear fests. If you've missed him before, he's the side kick for Mr Alan Partridge in his Mid Morning Matters series which is soon to be re-released by Sky later in the year. Here's episode 1 if you've not caught it yet.
[yframe url='http://www.youtube.com/watch?v=OT_St6fEOaE']

The only props he had on stage tonight were a bath which he sporadically threw himself and other items into along with some cans of Ruddles bitter. He was dripping wet, he must have been uncomfortably cold, and in all likelihoods: a little itchy, you know, like when you get out of the shower? What a pro, he didn't show it at all.
[yframe url='http://www.youtube.com/watch?v=6WEcv-NBA4Y&feature=fvwrel']

He has also made appearances on Charlie Brooker's awesome Screen Wipe series. His stand up this evening was top notch bonanza. I have to be honest, I hate sitting quietly for any length of time. Especially if I need a wee (which I did), but tonight I was happy to cross my legs and endure the pain, just to hear him say one more thing.
Exquisite delivery of wondrous, banal, run of the mill, sparklements. He's a genius… I know that word is banded around pretty much willy nilly these days, and that's what I've just gone and done. So lets not say genius, but he is certainly a very talented fella that gave me LOLZ. And you can't ask for more than that from a stand up comic can you?
Catch him if you can…
[yframe url='http://www.youtube.com/watch?v=V5cIyFW3ng4&feature=related']