The world was pretty surprised last week when Making A Murderer's Steven Avery announced that he was engaged to a 53-year-old legal secretary from Las Vegas named Lynn Hartman who he had been dating over the phone for the past eight months.
Featured Image VIA
Despite the fact that Avery claimed they were going to be 'laughing forever', I'm probably not the only person who thought that this relationship was going to bite the dust pretty promptly. I doubt anyone could have predicted it would have lasted just over a week though and be terminated over the fact that Hartman wanted to appear on too many talk shows.
That's exactly the reason though, as Avery was allegedly angry that she was getting a $5,000.00 fee for appearing on 'Dr Phil' and was being offered $1,000.00 to appear on other shows. I've put the decimal point in there like that because that's what this family member said on their private Facebook group, but I'm thinking it's probably more than that and they don't know how to use decimal points properly because surely that's not enough money to actually get upset about someone making off their relationship? Or is it?
Anyway, here's what this family member and Sandra Greenman (Avery's former fiancee who is in the end of 'Making A Murderer') had to say about it: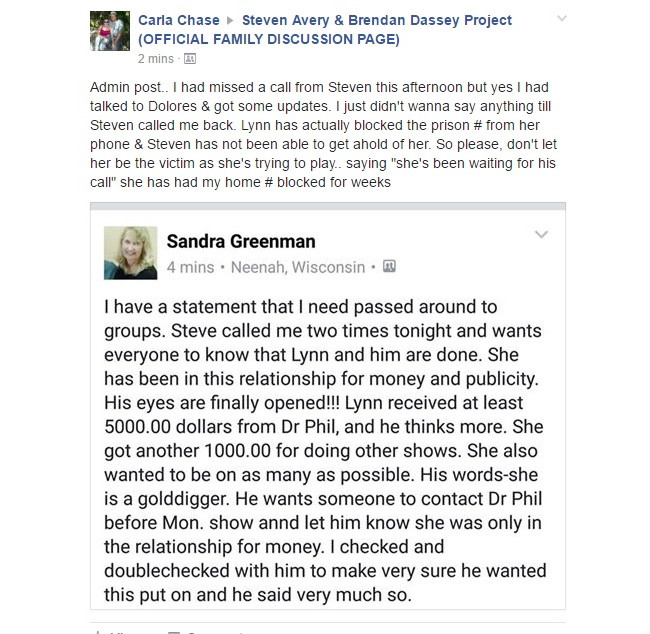 Yeah well, I can't really say I'm surprised, can you? Of course this woman was after fame and notoriety and money – why else would someone date a weirdo like Steven Avery on the phone for eight months? The weird thing is that surely Avery could use some of that money too?
It's odd that he would crack up about it to be honest after eight months of chatting to this girl, but it seems like it's basically because he's got a wealth of other options, as Greenwood revealed in another interview:
[Steven's lawyer Kathleen] Zellner did a background check, I assume nothing came up.

She was concerned about blackmail, Steven likes to talk. I think she's a spy, she could tell the police [if he talks about the case].

Zellner said 'Help me protect him' when she took the case, as he's not going to recognise the danger; he's going to have so many women throw themselves at him. But I said 'I can't protect him, he's going to love this, he's going to eat this up.'

He's very stubborn at the moment. [He said] 'I'm Steven Avery, I can do what I want. They'll send me money, pictures, they'll do anything I want them to do.'
Well, that got really trashy, really quickly didn't it? Can't wait to see how season two of 'Making A Murderer' is going to play this, although I suppose we might see a massive swerve with Steven Avery becoming the villain of the piece. Who knows – this is real life we're talking about after all.
For more crazy 'Making A Murderer' stories, click here. There are a hell of a lot.