Everyone knows that the best part of Easter is getting an egg and scoffing it down – is there any other part to it really? – but what about if your eggs didn't have to be made out of chocolate?
Featured Image VIA
Does sound like a dumb idea when you first put it out there, but how about it Sainsbury's were offering an Easter egg made out of cheese that only set you back £5? There's no doubt that you would be seriously interested – unless you're vegan or something – and there's even more to it than you first imagined too.
The 120g egg itself isn't hollow like most Christmas decorations, but instead made fully of Cheddar cheese – which is a pretty damn good hunk of cheese there for you. It also comes along with a sachet of chutney and packet of oatcakes to either spread the cheese over or have accompanying a slice of the good stuff. Sounds like heaven.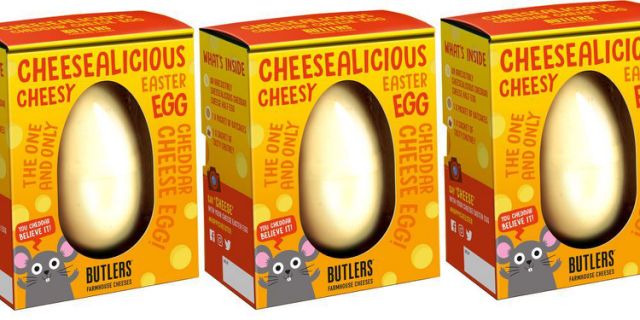 The cheese itself will be produced by Butlers Farmhouse Cheeses – no idea if that's a good cheese brand or what – and will be released on April 10th, just in time for Easter. Here's what someone from Sainsbury's said about it:
We're always looking for new and unique products to offer to our customers, especially during gifting periods throughout the year when people are on the lookout for something special to give their loved ones.

The Cheesalicious Easter Egg seemed like an obvious and exciting choice to expand our Easter egg offering and cater to cheese aficionados nationwide. The egg is truly delicious and we can't wait to see the response from our customers.
Rad. Really excited for this. Only problem is that I'll probably be eating a cheese egg and a chocolate one (or two) now. Just gotta hope they don't sell out anywhere.
For more of the same, check out this study that says people that eat a lot of cheese are thinner and healthier.  No excuses now.