No one is quite sure what's gotten into Kourtney Kardashian these last few days (well, Travis Barker), but she has been on an unbelievably horny streak on social media, earlier sharing a photo of herself deep-throating the former Blink 182 drummer's thumb and a series of other 'loved up' scenes.
Well Kourtney has continued the theme today with a photo of her unbuttoned jeans exposing her white panties, which have 'Oui' embroidered on the front, and captioning the image 'ROUGH SEX: LOVE IT OR LEAVE IT?'.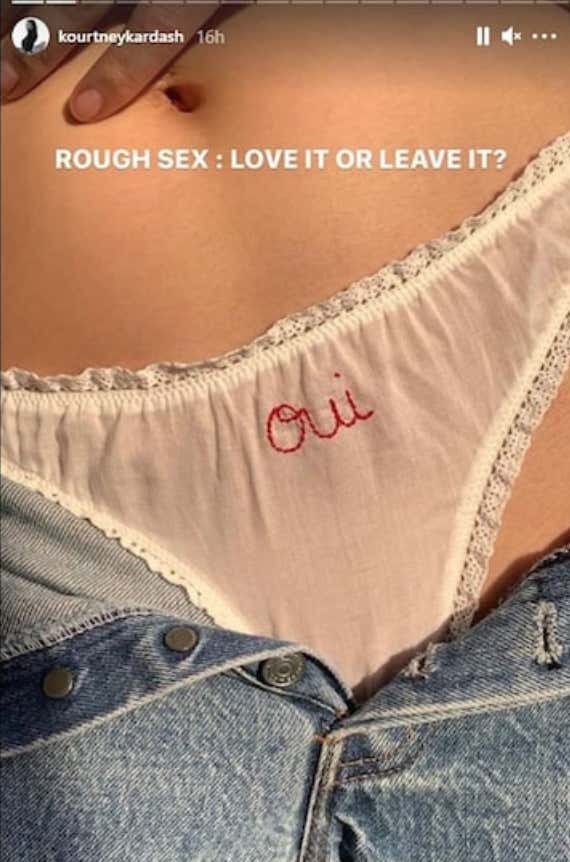 Mama mia! Granted, it's not as 'bad' as the clip she shared the other day…
No one show Mason Disick this video Travis Barker just posted pic.twitter.com/X8Zfl6CvuF

— Chicks in the Office (@ChicksInTheOff) April 18, 2021
Still, asking your 116 million followers on Instagram whether they enjoy rough sex while sharing a photo of yourself in your undies is way up there on the horniness scale. I mean this isn't a 21-year-old uni student we're talking about, it's a 42-year-old mum of three! Not that I'm hating or saying she can't post whatever the hell she wants, I'm just wondering what the motive is here. Is she trying to make ex-husband Scott Disick jealous of her new sexually-charged relationship with Travis Barker? Especially since Scott is out there banging 19 year olds in Miami as we speak.
Either way, good for Kourtney Kardashian. I don't know how old her kids are but you have to hope they don't come across this particular post or the one where she's sucking off Travis Barker's thumb. Then again, it's nothing compared to what Aunt Kim has floating around out there. Oh well, I'm sure they'll see it all one day. Can't wait to see what Kourtney & Travis post next!
View this post on Instagram
View this post on Instagram
View this post on Instagram
For a look at the 'Kourtney' tattoo that Travis got just weeks after dating her, click HERE. What can go wrong?