Not only was it 4/20 yesterday but it was also a major day in the history of the world as Derek Chauvin was found guilty of the murder of George Floyd over in America and the proposed European Football Superleague fell apart over here and so obviously social media managers for all mJOR brands out there were licking their lips at the engagement they could achieve with the correctly worded tweet.
Featured Image VIA
Unfortunately for fans of the Las Vegas Raiders though, their owner Mark Davis decided to take over their Twitter account and send the following tweet out, which was obviously universally crushed because anyone with a brain probably could have foreseen a backlash towards it:
— Las Vegas Raiders (@Raiders) April 20, 2021
Oh dear. That doesn't really sound that great at the best of times – I can kinda see the sentiment but it's just so clumsily transmitted – but when you hear that members of the NYPD police wore t-shirts using the same phrase to mock victims of police brutality in 2014 after the killing of Eric Garner it becomes a much more problematic statement: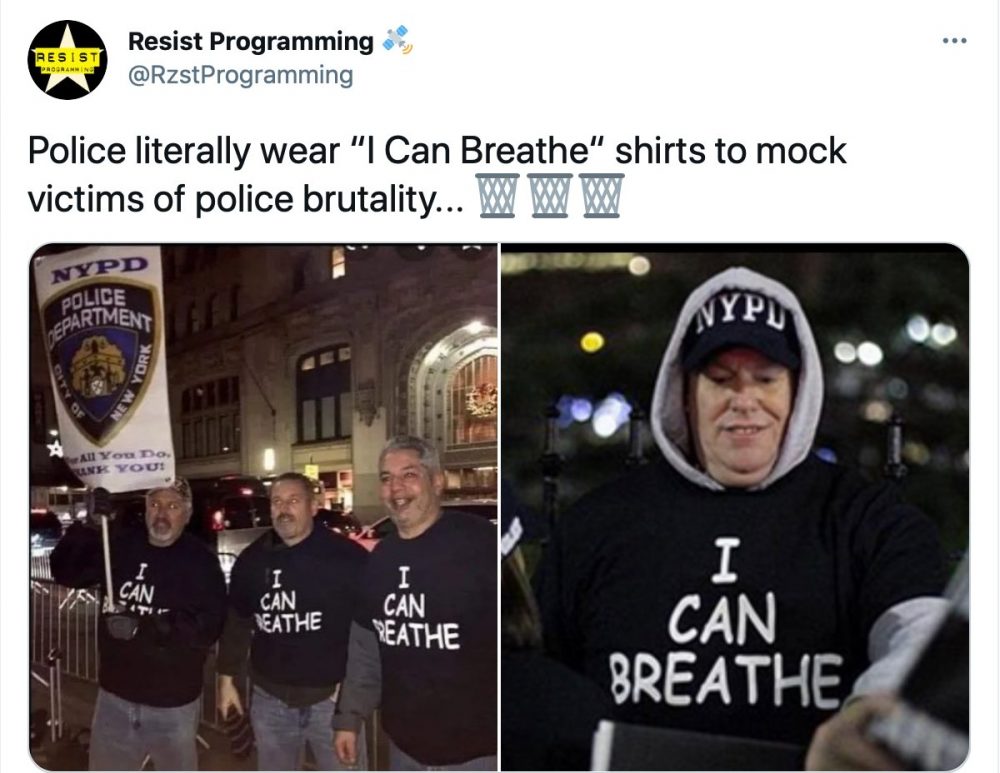 Anyway, here are just a couple of the choice reactions about it:
It's still up?

I'm glad y'all can breathe.

Wish we could say the same about George Floyd.

Take this down and apologize for the mishap.

And then diversify your social media team.

Tonight. https://t.co/4uY8EwJOsV

— Andreas Hale (@AndreasHale) April 21, 2021
The shirts on the right were worn by police & their supporters after an illegal police chokehold had Eric Garner saying, "I can't breathe" 11 times – before it killed him. George Floyd said, "I can't breathe" 20+ times before he was murdered. @Raiders, PLEASE take this down. https://t.co/J0nytDk9qb

— Aditi Kinkhabwala (@AKinkhabwala) April 21, 2021
— Tom Warren (@tomwarren) April 21, 2021
excuse me, what the fuck?! pic.twitter.com/GBY9Ogh61u

— Siraj Hashmi (@SirajAHashmi) April 20, 2021
I've said some stupid shit in my life, but dang y'all.

George Floyd is still dead. His child is fatherless. Only one of the officers responsible for his murder have been held accountable so far. People of color are still being targeted disproportionately by police officers.

— Jared Matthias (@jmatthias49) April 21, 2021
😢 – KH pic.twitter.com/LWkC6NOk4w

— Blockbuster Plus (@BlockbusterPlus) April 21, 2021
Wow – even Blockbuster Video getting in there with the rinsing. You know it's not going well when that happens.
Sadly for the Raiders and their fans, Davis has refused to delete the tweet and doubled down on sending it out, attempting to explain it by saying the following:
Davis said he wasn't aware that NYPD supporters wore "I Can Breathe" shirts following the 2014 killing of Eric Garner. After I brought that up to him he said, "I learned something… I have to do a little bit more research into that just so I can speak coherently on that aspect."

— Tashan Reed (@tashanreed) April 21, 2021
Davis: "I will not delete it. I could un-pin it and let it run its course. It's already out there, Tashan… I rarely, rarely post stuff, but I'm not into erasing something. It's not an apology. I'm not embarrassed by what I said, but I did learn something now."

— Tashan Reed (@tashanreed) April 21, 2021
Eeesh. I think sometimes you gotta throw up your hands and apologise and delete the tweet and this is one of those times. What's the point of this billionaire saying that he 'learned something', when his ignorance inadvertently pissed everyone off?
Sure, it's possible that he didn't remember this episode from the long saga of police brutality over in America  – I'm English and I remember it though FFS – but even so, if you realise afterwards that what you did offended everyone then it's better to hold your hands up, apologise and delete, then just sit on your hill and say 'sorry if you feel that way but it's not my fault'. So tone deaf.
For more of the same, check out the full body cam footage from George Floyd's arrest. Harrowing stuff that should never be forgotten.