For years, UK residents had wanted to sample the decadence of the KFC Double Down and our wishes finally came true last year when it was available for a limited time – and boy did it not disappoint.
Images VIA
The only mystery was why they didn't make it a permanent menu item and I guess the answer to that was so that they could introduce the Zinger Double Down this year to blow our minds yet again. In case you can't understand what that is, it's crispy bacon, cheese, salsa pepper and mayo surrounded by a bun made up of KFC chicken zingers. And it looks absolutely delicious, right?
Here's what a KFC spokesperson had to say about the launch: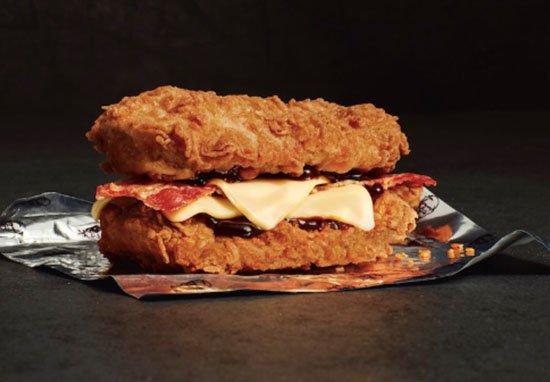 Ever since we first launched Double Down in the UK, our fans have been calling out for a Zinger edition. We listened. The fiery heat of our Zinger is iconic and one of our best-loved flavours, so we totally agreed it was a no brainer to launch this as a Double Down.

We've stayed pretty tight-lipped on our plans to go Zinger as we wanted to take our biggest fans by surprise… hopefully our insurers enjoyed the flaming counter surprise too!
Unfortunately, it's only going to be available for a limited time only again from 23 July to 12 August but the good news is that gives you more than enough time to scram down on a few of them. And when they're only going to set you back £4.79 a pop as well then they're hardly going to break the bank are they? I hate to say it but 'winner winner chicken dinner'. Sorry.
For more KFC, check out their new meat free chicken in the UK. What the heck?