Inexplicably Maicon has still been selected for Brazil's national team (is there really no Brazilian right back out there anywhere?!) but strangely he was kicked out of the squad yesterday and sent home. Normally when that happens the reason is announced but this time was strangely conspicuous by an absence of any explanation behind the event.
As you might expect, so called experts and insiders were quick to share their views as to just why Maicon had been sent home and three different stories have emerged on Twitter over the past 24 hours as to just what might have happened, with the majority (2/3) focussed on Brazilian midfielder Elias who plays for Corinthians.
Brace yourselves for these because they really are ridiculous, and one of them could quite possibly be true because there's no smoke without fire:
1. Maicon was caught in the act having sex with Elias.
2. Maicon jerked off in David Luiz's shower gel.
3. That Maicon sprayed milk and pepper onto Elias' butt and then told him in the morning that he had been gang raped by four men during the night.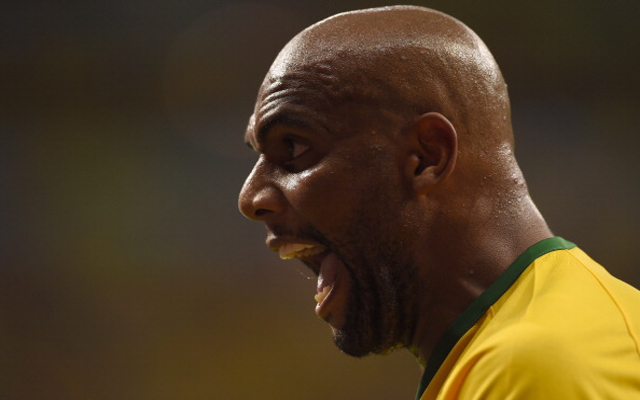 Wow. We know that gang rape is common in Brazil but is it really something to joke about? Yeah, to be fair it probably is and it's a pretty solid prank, and is spunking off in David Luiz's shower gel. That is if they're true.
I'm not saying that any of those are true but the Brazilian FA or Dunga really should come out and explain the reasons he was sent home before things get out of hand for a number of reasons, not least that the first one is definitely not a reason why someone should be sent home from their national football team. Providing it was consensual of course. The other two are kind of lame reasons to be sent home and you'd like to think your teammates know how to take a joke and nothing like that would happen. I guess after getting severely embarrassed in a semi final in your own country though Brazil is getting serious.
It's also worth remembering that Maicon is actually pretty old – like 34 or something – so if he did pull either of the pranks then it's pretty unusual because you would expect that kind of behaviour more of some young whippersnapper rather than an elder statesman. Still, judging by his defending Maicon is clearly a joker so maybe it is all true.
I did say it was all over Twitter and I didn't just make it up, so here are some of the tweets that led to this article:
Hearing unconfirmed reports that Maicon has been dropped from the Brazil squad for being "caught in the act" with midfielder Elias.

– Arturo Woodward (@Vidalcoholic) September 7, 2014
Rumors are flying around that Maicon was caught having sex with Elias from Corinthians and that's why he was dropped from Brasil NT.

РC̩sc Drogs&RocknRoll (@Binky_Ferrari) September 8, 2014
Brazil defender Maicon has been dropped from the squad after he wanked into David Luiz' shower bottle. HAHAHAHAHAHA pic.twitter.com/cstNLpvKTb

– Forza Liverpool (@LFCRelated) September 8, 2014
Maicon having a wank in David Luiz's shampoo.. It's time for international break to end.

– The Welsh Iniesta (@Welsh_Iniesta) September 8, 2014
In the name of Banter, Maicon decided to construct a scene where his team mate appeared to be gang raped while drunk. Bit OTT for me now

– Dylan Maguire (@DMag17) September 8, 2014
Maicon has been sent home from the Brazil camp because he put a chilli up Elias' arse whilst he was asleep and told him he was raped

– Josh Bewick (@JoshBewickk) September 8, 2014