Dark Sky are no newcomers to the Dance scene in any way shape or form.
With nine EPs sporadically released across seven different labels they certainly know their way around a studio. With those EPs gracing their past accomplishments, it was only right that an album was in the works. One thing is for sure; Dark Sky have definitely delivered with Imagin, which is due out on the 29th August via Monkeytown Records.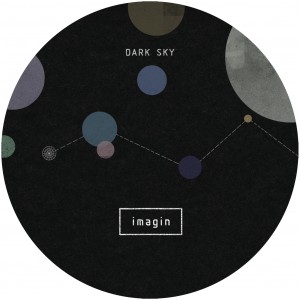 You see, the thing that differentiates an album from an EP is the depth of the quality in the tracks. An EP can have maybe two good tracks out of four and you would be happy with that 50% ratio; an album on the other hand must produce at least 8-9 tracks to be considered a success. But, every now and then an absolute belter of an album comes along that ticks all boxes – Imagin is one of those albums.
Title track Imagin starts the album off on an atmospheric tip, it's a track that grows on you with it's enlightening melodic vibes and progressive chords. Silent Fall is a track that also falls under the more calming sounds from the album, it's a stripped down intro soon gets replaced with a more upbeat yet mellow synth laden beat laced with a perfectly fitting vocal. Voyages takes a trip down the Brazilian favelas with a real carnival feel to it, whilst Lucid & Vivid brings you back down to the more relaxed tones.
Nothing Changes again takes the side of the blissful rather than the banging, with guest vocals from the ever delicate Cornelia. Odyssey is a tweaked out 80's piece, with sharp synths pacing along a minimal drum pattern. A slowing down again with the eerie sounds of Rainkist, a track that ever so lightly balances on the fence of subtle and bold; with a soothing vocal soaring along a heavy low frequency bassline. Manuka brings us to the Middle East with a 4×4 beat that buries itself in your mind, before we finish up on Purple Clouds a light, bouncing track to properly wind down to.
An absolute beauty of an album, touching on all aspects of Dance music. Bravo Dark Sky, 9/10 Chirpses for you.
Listen to the full album stream over at XLR8R.