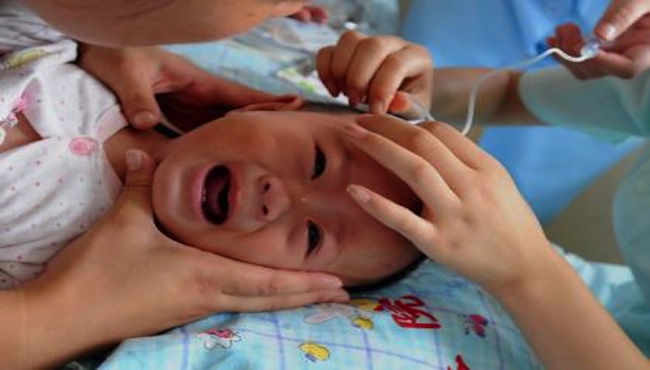 We've come to expect some crazy shit from China. Whether it's making necklaces with live turtles in, having an Ostrich run riot in the streets or just going batshit crazy when Becks is in town, they're always up to something mental over there. It seems with all this crazy stuff going on, the Chinese have forgotten the basic rules of parenting; 1) Don't flush your baby down the toilet and 2) Don't let your child fall from a fourth floor Window.
☛ More From China: 
The Worst Scooter Driver In China
Chinese Dog Meat Festival Looks Pretty Ruff
We've already seen one Chinese woman break the first rule and now someone has only gone and broken the second. In Ninghai, Zhejiang Province five delivery men were going about their days work when they heard the cries of a toddler. The cries were coming from a two-year-old girl named Qiqi who was dangling from a fourth floor apartment window after her parents had left her home alone. After a few minutes of dangling from the window ledge Qiqi fell, only to be caught by the group of men below. You can see the insane footage below:
☛ Next: Jagermeister Pool Party In Mexico Goes Really, Really Wrong Thanks To Some Bad Chemistry
[yframe url='http://www.youtube.com/watch?v=YbbtBWX94Fo']
Amazingly Qiqi only suffered a graze to the face and a couple of the delivery men suffered minor injuries. This incident only happened yesterday so we'll have to wait a little while to hear what happens to the parents of the little girl but I'm intrigued to know what sort of excuse they're going to come up with. I don't know what sort of child services they have over in China but if Qiqi gets taken away from her parents, I'm sure Adrian Mutu will put himself forward to adopt her.