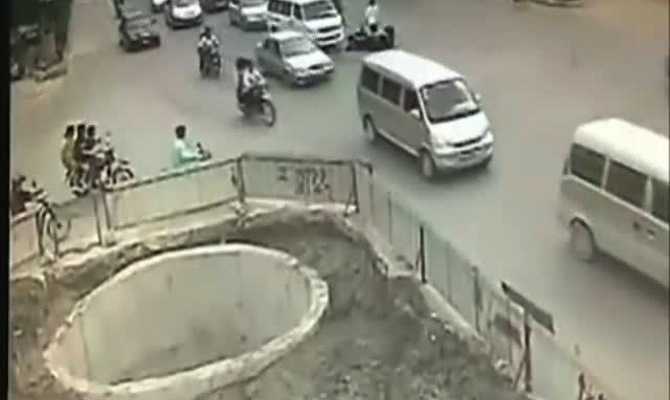 … and probably the world.
☛ Next: Man Accidentally Releases Parachute Early & Gets Sucked Into The Sky
What's the one thing in the world you feel that you're the worst at? Well you're probably 100x times better at that one thing than this guy in China is at riding his scooter. He manages to have no less than 5 accidents in one single minute but he still carries on like he actually thinks he's getting the hang of it.
I am genuinely pissed off at myself that I didn't see his final plunge into that massive hole coming. This guy is crashing all over the place, and there's this giant black hole RIGHT THERE, and I was still surprised when he ended up in it.
You have to love the dudes that are trying to help him though. In the end, when he ends up in the hole, they wipe their hands clean of him. There's no helping this clown.
What do you lot think? First time riding a bike? Was he drunk?
☛ More Accidents:
Meet Bill Dance – The Fisherman Who Can't Stop Bailing
Deer Gets Hit By Bus, Smashes Through The Windscreen
Check out the video:
[yframe url='http://www.youtube.com/watch?v=yTgTP304RYA']