I think that there's a certain amount of lad culture associated with builders and that will probably always be the case and people like the guy in this story aren't exactly doing the image any favours.
Images VIA
A 38 year old homeowner from Skegness was horrified after he saw a picture that was being widely circulated on social media in the area of a builder he had hired taking a dumb on top of the roof of his house when he was supposed to be fixing it. Here's what the mortified man had to say about it all: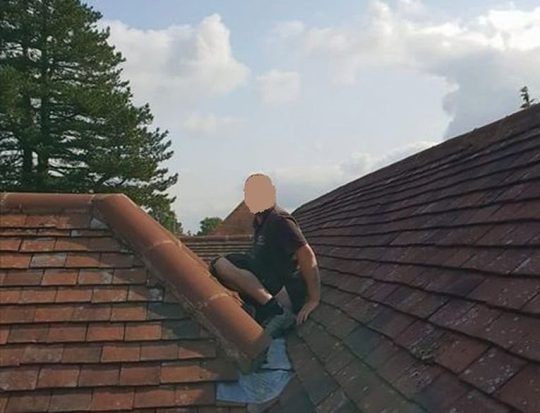 I went up on the scaffolding and noticed the faeces.

I was a bit disgusted – I had said to them I would provide toilet facilities in the house and they could use the kitchen when they started the work.

They'd even shoved some down my chimney stack. It's dreadful behaviour.
I mean yeah I can't really disagree with that, especially if they actually threw some down the chimney as well. Even if this guy was a major ass prick to them – and it doesn't really sound like he was – then that's still not really any excuse for shitting all over his house when he's literally paying you to do a job for him. Assholes.
Somehow the guy managed to clock the picture whilst the job was still going on which sounds like it was probably a bit of an awkward situation. Needless to say, he fired the builders featured in this story and got another company in to finish off his roof. Presumably they didn't shit all over it either.
For more of the same, check out this builder smashing up a Travelodge with a digger because they didn't pay him. That was a good one.