Rob Ford has been a constant embarrassment to Canada as a whole since he became mayor of Toronto. His misdemeanors cross all the sorts of lines that politicians should avoid: smoking crack, drunken debauchery, public urination, drunk driving, the list goes on. Rather than run over ground we've already covered, here's just some of the hilarious and frankly gob smacking scrapes that this div has got himself into:
VIDEO: Rob Ford Smashed Off His Face Speaking In A Jamaican Accent
VIDEO: Rob Ford Gives Best Excuse Ever As To Why He Didn't Admit Smoking Crack
Rob Ford Has His Sister's Ex Beaten Up In Prison
Rob Ford Parties In Vancouver; Appears In A Bunch Of Selfies & Gets Jaywalking Ticket
Toronto Mayor Rob Ford Says He Doesn't Need To Eat Pussy
Rob Ford: A History Of Idiocy And Some Choice Quotations
So yeah, he's done quite a lot of fairly epic dickery-pokery over the last few years. I mean, he's the only Canadian politician that's ever existed that I actually know the name of. That says something about how massively he's failed. If someone who doesn't follow politics and lives thousands of miles away knows you're a plum then you've certainly made an imprint somehow.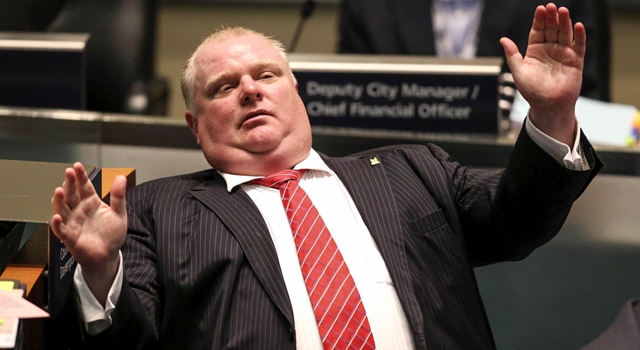 After the crack habit became public knowledge everyone expected him to roll over and give up. But Ford is even more mental than people could have ever imagined, he refused to stand down as mayor. It turns out that the government couldn't legally take his title off him either, so the they've pretty much stripped him of all of his responsibility leaving him mayor by title alone.
Anti-Ford posters on next page…
☛ Watch Next: VIDEO: Jimmy Kimmel Was A Dick To Rob Ford Last Night