You probably remember MMA fighter War Machine – real name Jonathan Koppenhaver – from last year when there was a lot of publicity about him beating up his porn star girlfriend Christy Mack. Then he went on the run before finally being caught, imprisoned and then turning to writing really depressing poems and trying to commit suicide. He's basically a walking train wreck.
Koppenhaver's trial for said crimes against Christy Mack has now begun, and it seems like he's determined to make as bad an impression as possible at it. To be fair he's almost certainly going to be found guilty due to Christy Mack's horrific injuries, so I suppose he might as well do whatever it takes to stay in the headlines.
On Monday, War Machine thought he would amplify his defence attorney Brandon Sua's arguments (we'll get to those in a minute, but believe me they are equal parts outrageous/disgusting) by blowing a kiss to prosecutor Jacqueline Bluth during them. Way to ride your point home there.
Here's the account from the Las Vegas Review Journal:
Featured Image VIA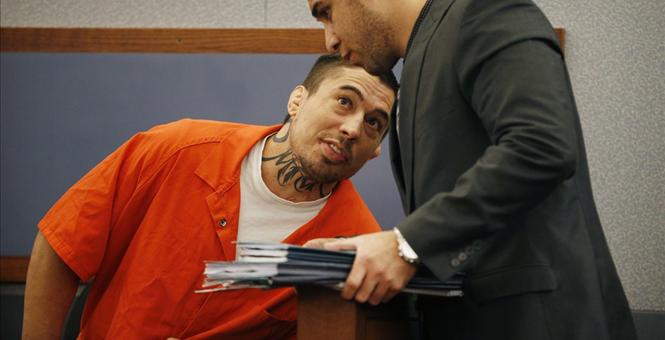 Image VIA 
'Judge, for the record, Mr. Koppenhaver just blew a kiss at me.

'I'm not going to make up that he blew a kiss at me, which I find offensive,' Bluth said.

District Judge Elissa Cadish turned to the defendant, who was seated in the jury box, while shackled and wearing an orange prison jumpsuit: 'Mr. Koppenhaver, stop. You are not to make any gestures of any kind toward counsel. Don't go there.'

Koppenhaver smiled. 'Yes, mam.'
What an absolute creep. It's not as creepy as his defence strategy though – War Machine and Sua are arguing that because Christy Mack is a porn star there was a certain amount of 'acceptability towards a particular form of sex activities that were outside of the norm.'
Basically, that means they're saying that Mack can't really accuse War Machine of rape because she's a porn star. Disgusting, but I suppose it's their best chance of him getting off, because there's no way he didn't beat the shit out of her and rape her. I mean of course it's OK to do that because she's a porn star and has acted in films where that happens. Of course it fucking is. Fuck you War Machine.
If you need anymore evidence of how deluded this dude is, then check out when he said about the oppression of men in today's society being way worse than Nazi Germany. Ok dude.