Blind people can do a lot of amazing things – like the blind skateboarder Tommy Caroll –  but they also come in for a lot of unjustifiable crap like the woman featured in this story.
Maya Makri is a 39 year old student attending the London Central School Of Speech and Drama who also happens to be blind. She was doing her grocery shopping in the Tesco in Belsize Road near Swiss Cottage last week when staff approached her and told her that she was not allowed to have her guide dog in the store as there was a clear no pets policy. This was despite the fact it was wearing one of those high-vis jackets and was clearly a guide dog and not a pet. Of course, Ms Makri fought her corner and argued that her Labrador named Jemma was a guide dog, but three cashiers informed her that there were 'no exceptions' to the rule.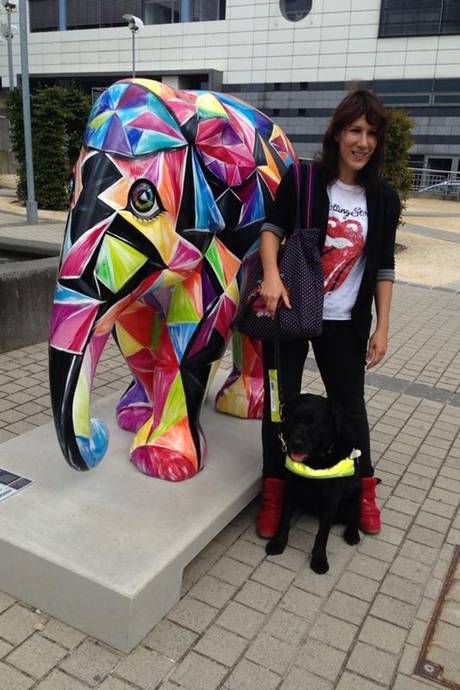 Ms Makri had the following to say about the incident:
I pointed out that this was no pet, but a guide dog. This should have been immediately obvious from the dog's high-vis harness and fluorescent guide dog label on the lead. I repeatedly said that I was registered blind and that this was a trained assistance dog, to no avail.

Various customers tried to back me up, but we were shouted down. I burst into tears outside the store in sheer frustration.

A woman followed me all the way to South Hampstead station, just to say how terribly upset she was about what she had just witnessed and that this had to be challenged.
Of course, Tesco offered their own watered down version of an apology, claiming that it should never have happened and that thy did allow guide dogs in their stores and that it would remind staff of this. Seems like a classic case of too little too late though huh, as everyone is going to remember this because of what the Tesco staff members did, not what they're going to do in the future to prevent it from happening again. Losers. This story sucks, but it can be juxtaposed slightly with this video of a blind man seeing again for the first time in 33 years which is truly inspirational.