…because you're gonna puke with jealousy.
Twenty years ago festivals were about patchouli oil, dreadlocks and bad rock music. They consisted of mud, LSD and cheap, cheap cider. Thankfully the festival circuit has come on leaps and bounds since then. As the earth has shrunk in size, festivals throughout the world have become viable for all. Whether it's a festival in a Serbian castle or a snowfield in Europe, festivals have got a whole lot slicker and sicker.
Images VIA
Unless you've had your over-sized head buried in quicksand for the last 10 years or so you can't have avoided hearing about Snowbombing festival. If you have indeed had your head submerged for a decade, I'm sorry to hear that, read on.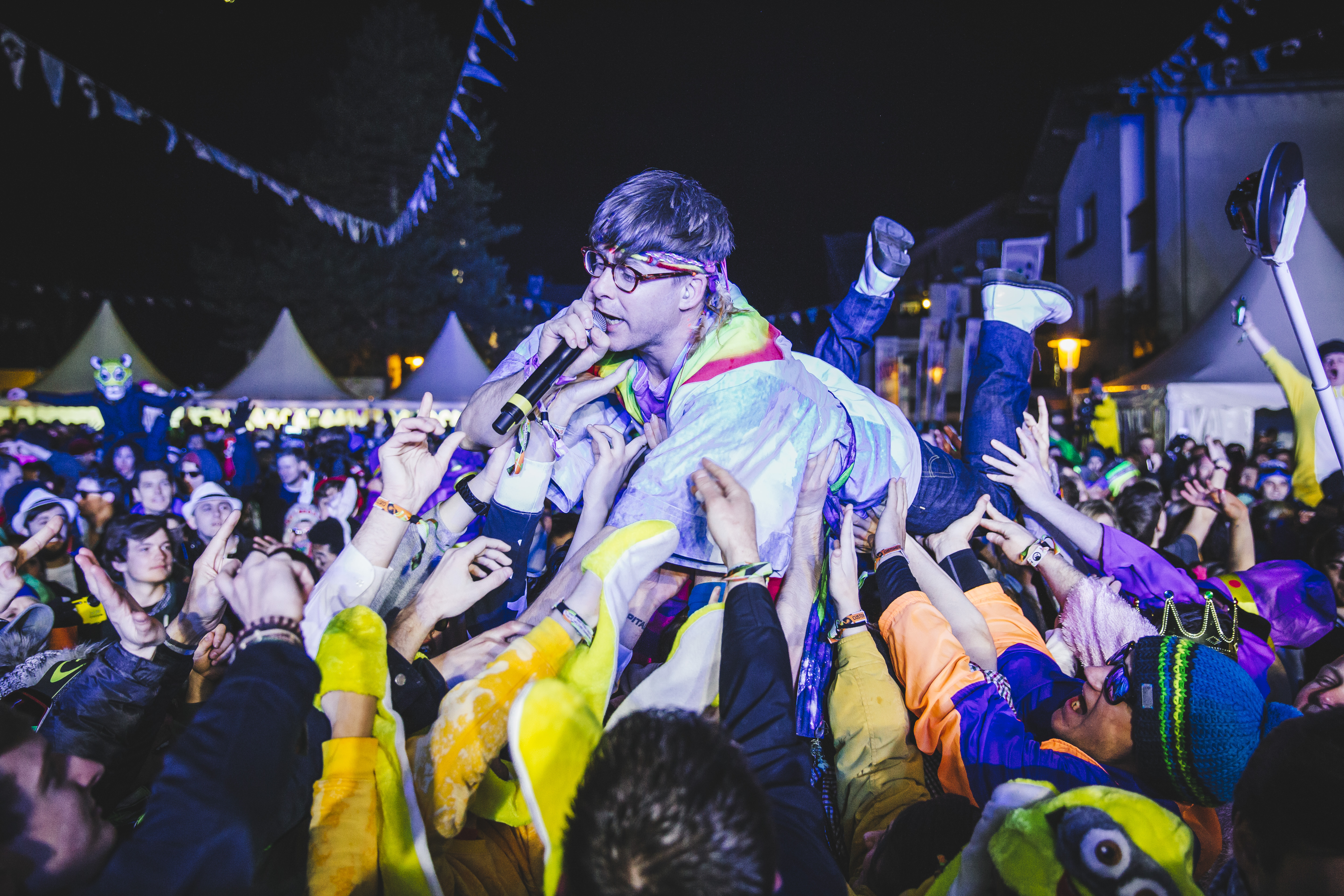 Born in the year 2000, the Snowbombing festival has been bringing good music, good people and broken ankles to a youthful crowd of baying action fans. The festival was initially held in the French resort of Risoul as an après-ski nightclub by English promoters from Manchester called Outgoing Ltd. The guys needed to find a way of attracting customers to their resort so they hired some DJs to tempt people in. Apres ski action has always been a bit dire, so once the Snowbombing crew had set up some events worth attending, word spread far and fast.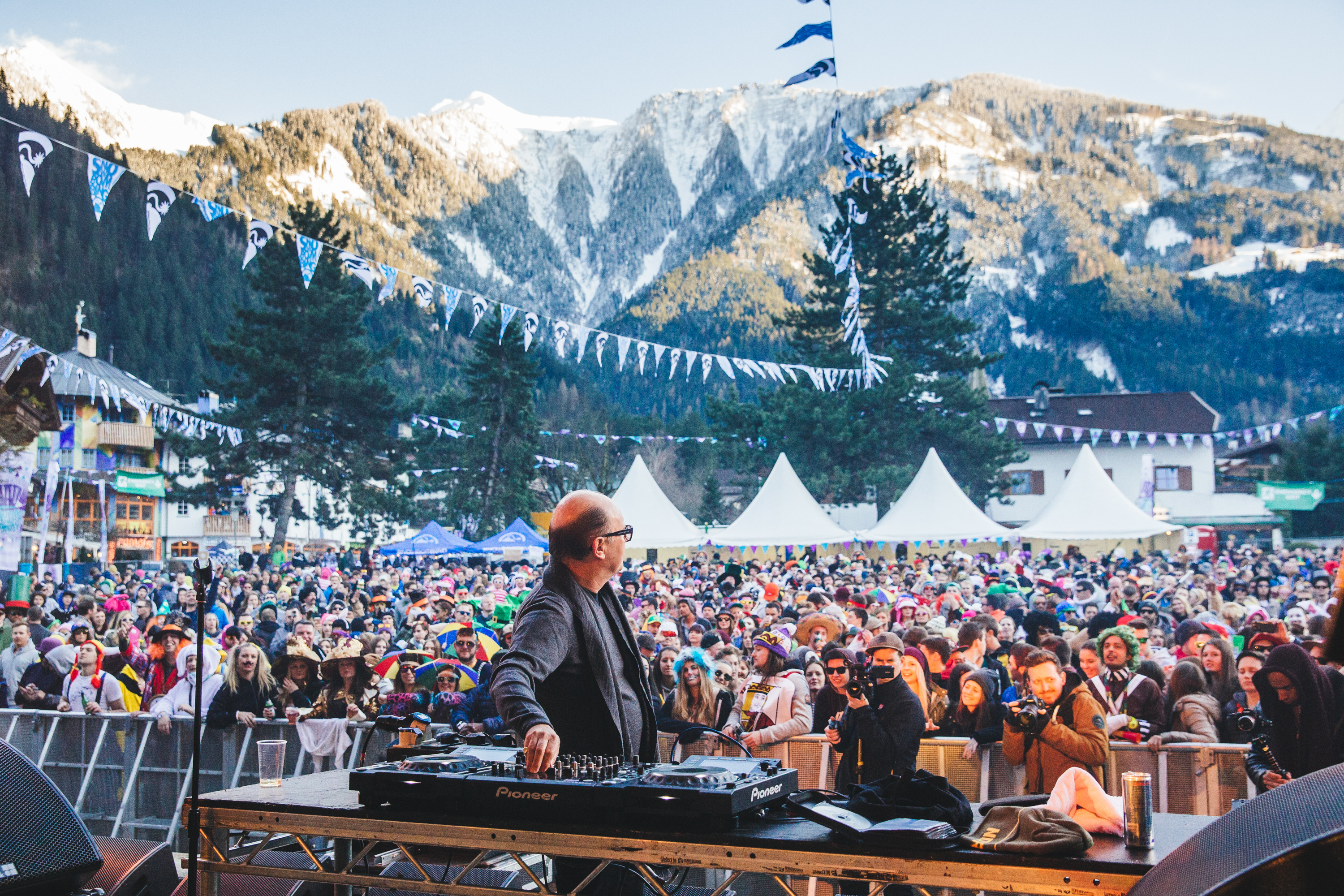 Ever since 2005 the annual Snowbombing cartel has been descending on the Austrian ski resort of Mayrhofen like a magnificent plague. From humble and relatively small beginnings Snowbombing has developed into the biggest snow and music event in either of the earth's hemispheres. In fact, Snowbombing is technically the largest festival in the world, spread out over 700 hectares of glistening piste and stages.
Beautiful scenery, blistering beats and a penchant for the unruly has set Snowbombing head and shoulders above other festival events.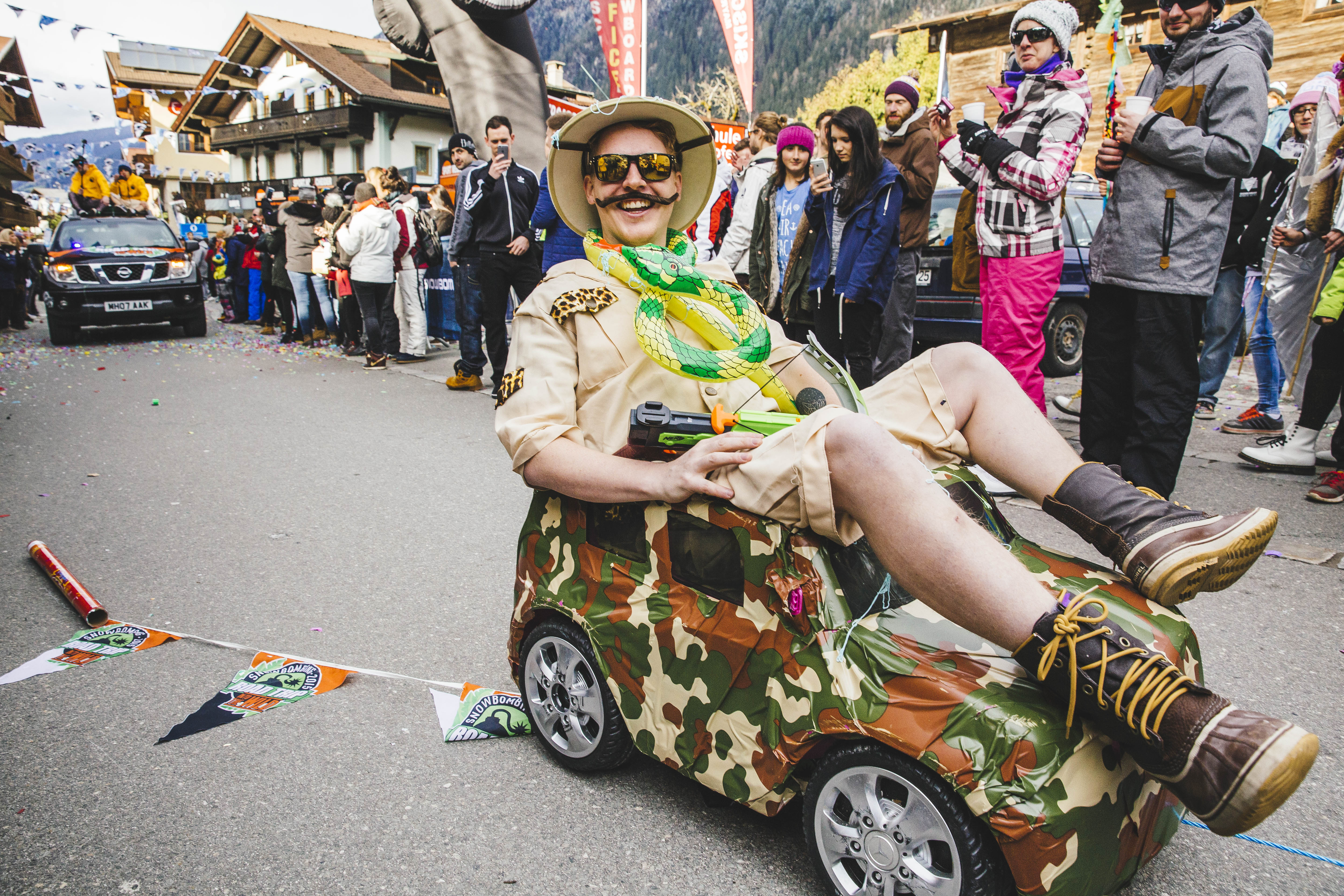 Acts to have graced the stage include many a mighty musical warrior. Snowbombing's organisers manage to employ all the rising stars of modern music on a yearly basis. I imagine it's a pretty easy job recruiting artists to play at an event like this though: great venues, amazing scenery, snowmen and booze. It's a no-brainer.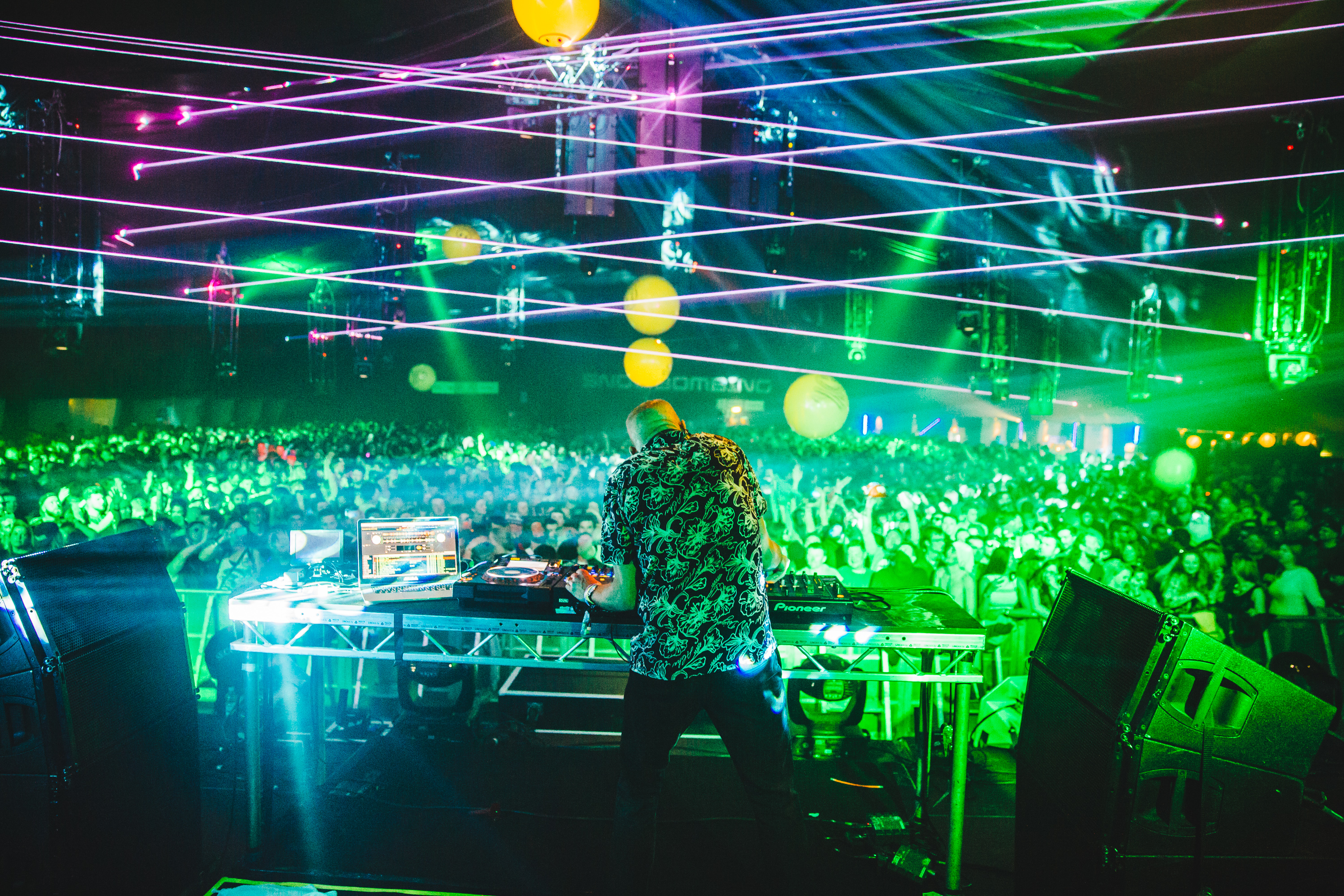 Snowbombing has welcomed the likes of Fatboy Slim, Madness, Pendulum, Example, Magnetic Man, Sub Focus, Tinie Tempah, Chase & Status, Skream & Benga, Mark Ronson, Dizzee Rascal, Dirty Pretty Things, Grandmaster Flash and Foals to grace its mighty stages. And, of course, many more.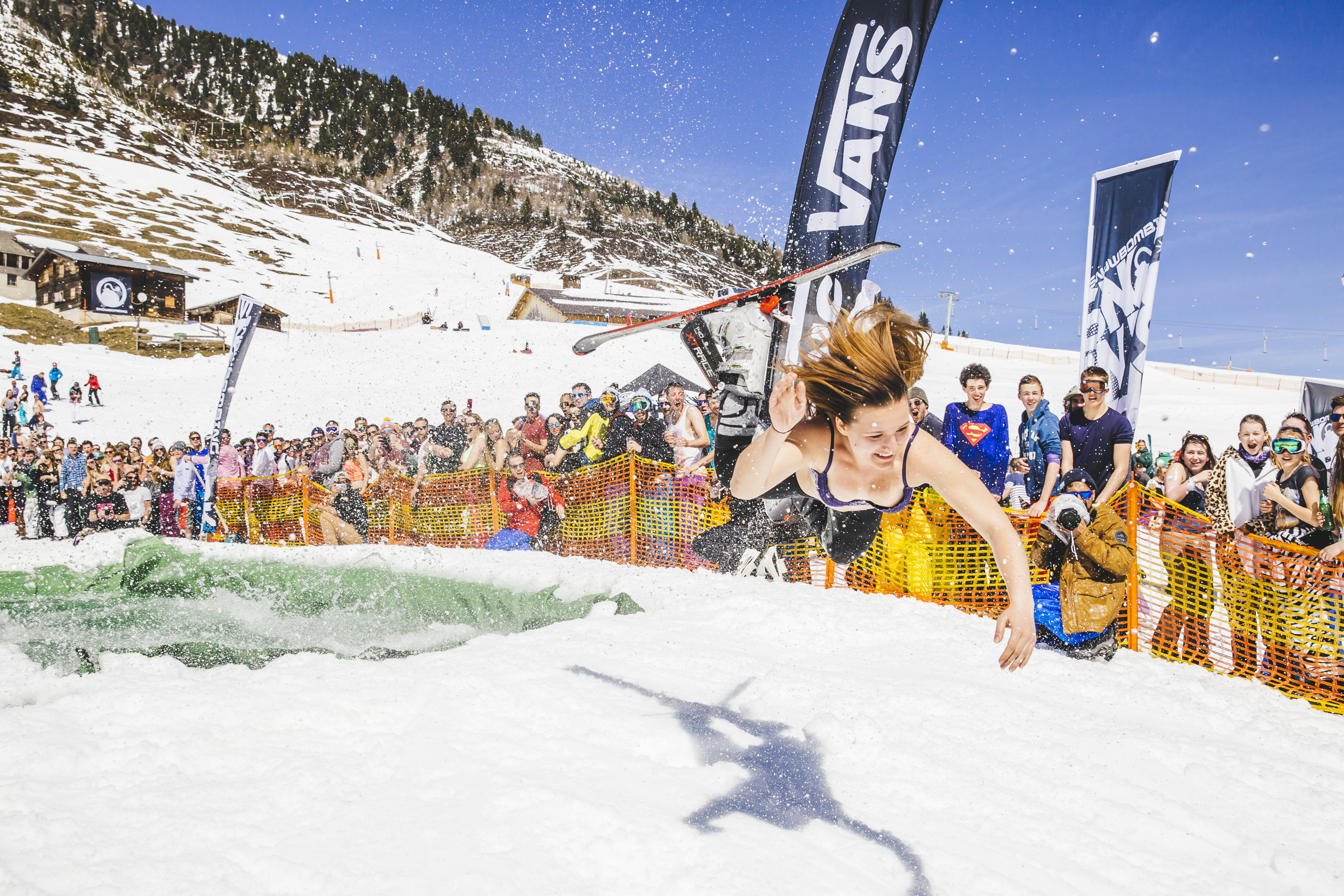 This year's event started off with a proper smasher. Mixmag's party saw Jackmaster and Heidi go back to back, puking out four hours of relentless hands in the air chunky bangers. Of course, it also goes without saying, but the Sick Chirpse night went off. Manchester's finest North Base kicked a hole right through it.
Hans the Butcher is a face that any Snowbombing regular will both know and love. His mighty moustache bristling above his constant smile means there's always finger lickin' fun around the corner. This year he threw an impromptu party on the first night featuring a B2B set with Artwork and Eats Everything. It was killer. If you haven't eaten chicken wings whilst raving then you haven't lived.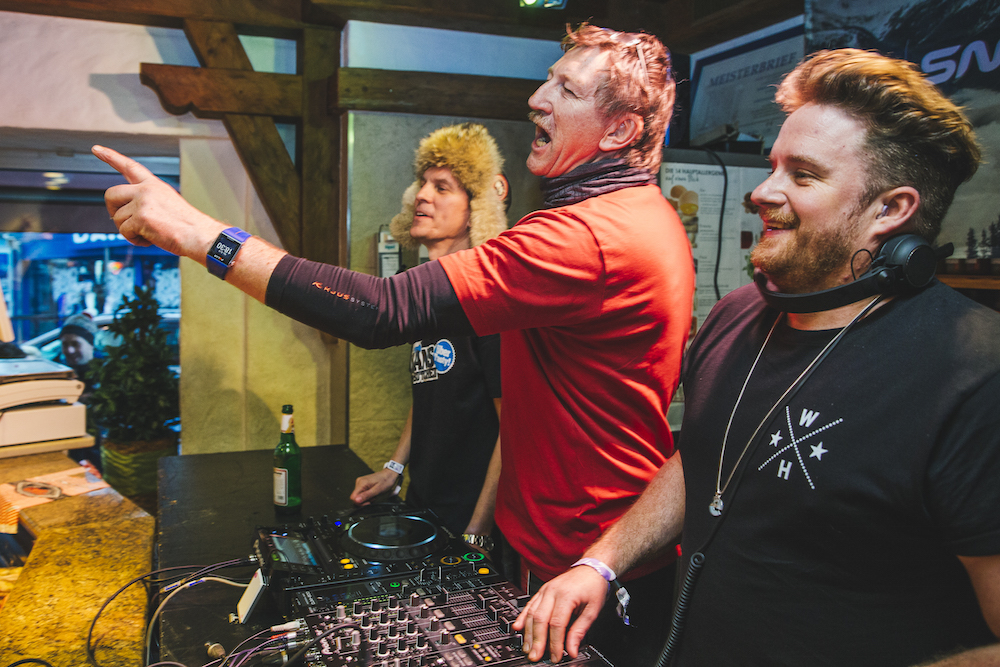 Although April is a little late in the snow season, Mayrhofen is well-known for being a reliable place to find convincing powder for most of the year, and this year it really came home with the freshly cooked bacon. Fresh snow coated its ample 134 kilometres of piste. Although I'm far from the master of the white stuff, I had a good time attempting to stay upright as my board cruised at 3 mph on the baby slopes.
OK, so there's fresh coverings of snow and some killer music, but what's the vibe? Jumped up pillocks getting smashed and fighting? No Sir, not on your nelly. The vibe is all good. There's a decent selection of people, all of which are in it for the fun times. There's no beefs and the organisers have absolutely nailed it. Rather than chavs robbing stuff out of your tents it's fancy dress street parties and wide-eyed smiles all round.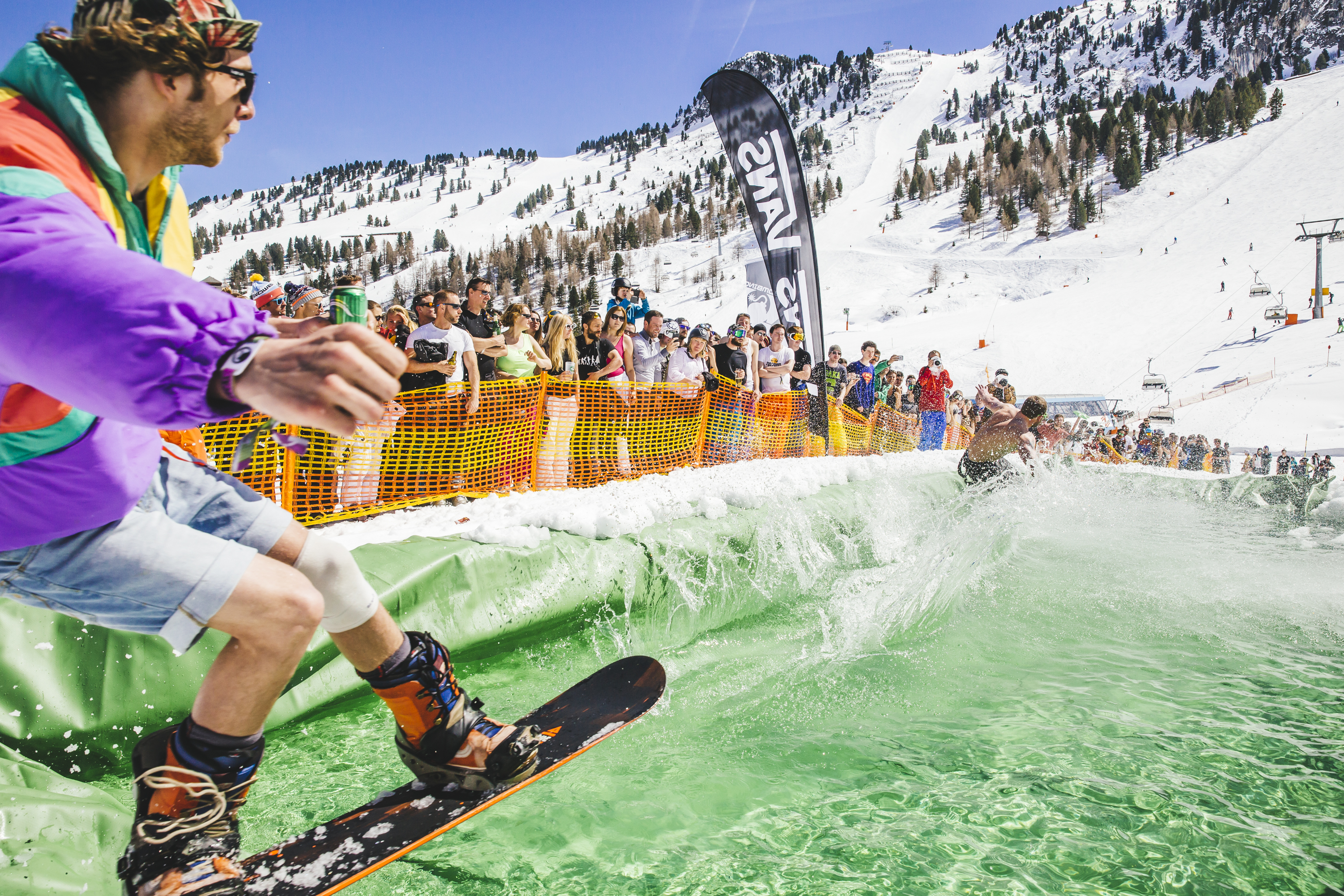 Mr Motivator kept on popping up all over the shop and Eddie 'The Eagle' Edwards was found giving it massive at Rompa's Reggae Shack up the mountain. Snowbombing is filled with good time folks staying up late and getting up early to hit the slopes. It's certainly not your standard festival by any means.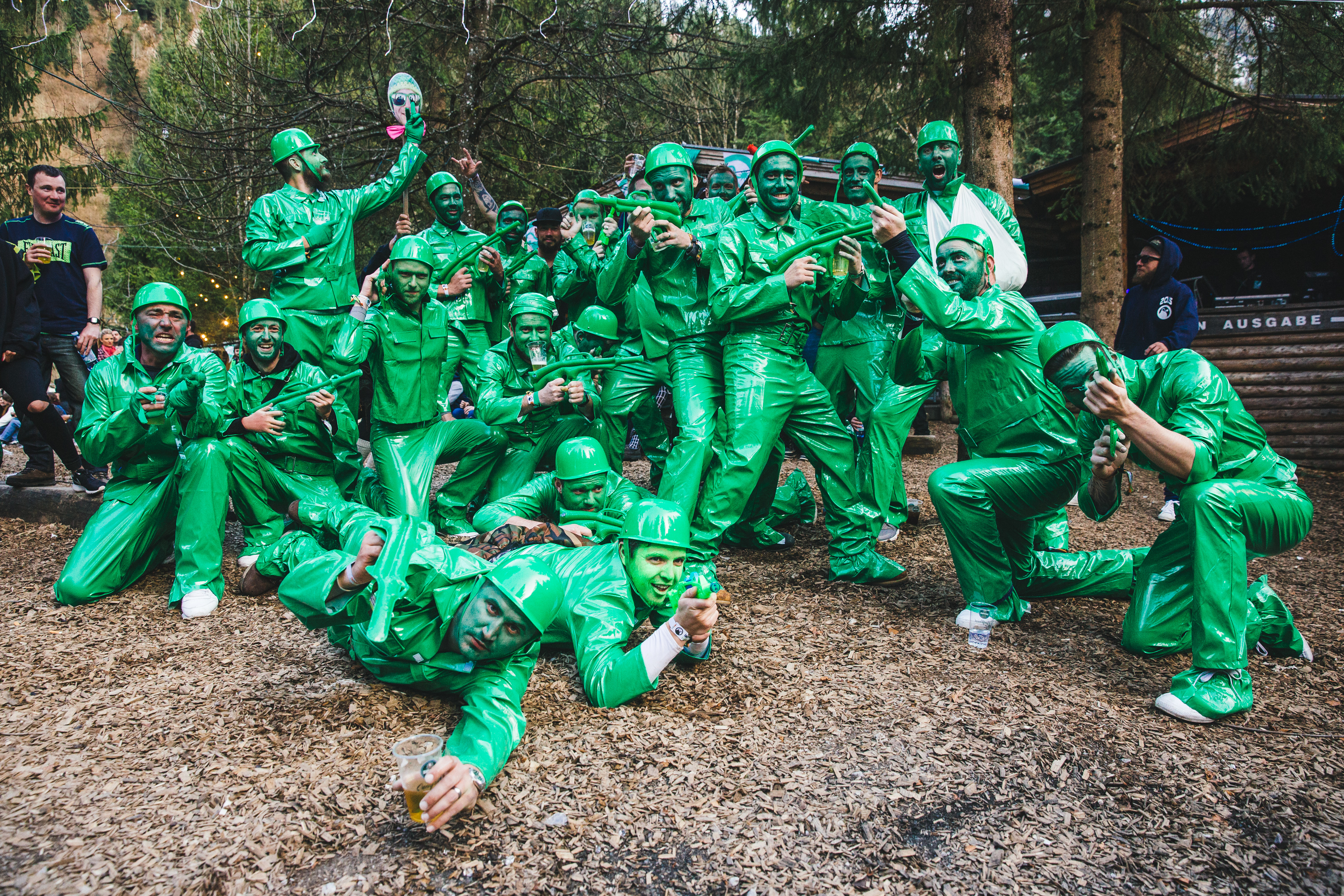 There are a number of different venues to get your thrills at, none of which are uncomfortably crowded and all of which (somehow) allow you to get served quicker at the bar than most of the clubs back home. One of the more popular stages this year was the igloo. That's right, an ice cave on a mountain. This Arctic Disco looked like it was going to get melted into smithereens at some points.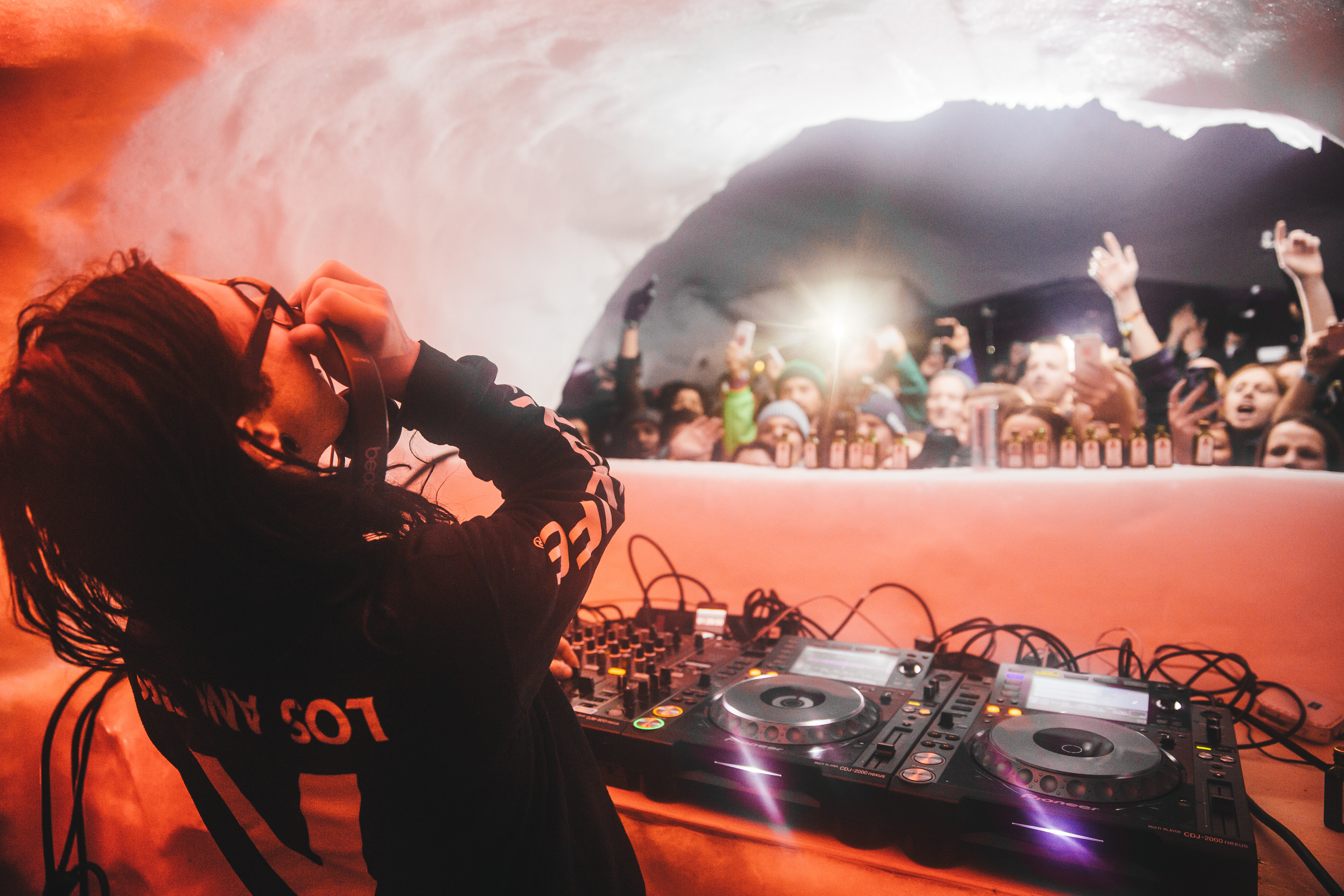 The huge underground tennis courts that make up the Racket Club stage were set on fire by big beat veteran Fat Boy Slim. He proved that three decades in the music biz hasn't blunted his ear for a slick ass set. Peaking with "Right Here Right Now" and "Praise You" good ol' Norman put some ear to ear grins on Snowbomber's faces that night.
Of all the stages, The Forest has to be our fave. Your ears get the audio assault they were looking for, but your eyes aren't left out either. Beautiful, incredible vistas pump the adrenaline ever harder through your aching heart. It truly is a magnificent place to be. If you didn't see 2ManyDJs in The Forest then you missed a genuinely magical event. I'm sorry. Their set peaked and troughed like a pro whilst dappled light swam through the alpine trees. I'm getting teary eyed just thinking about it. Epic doesn't even touch the sides.
Snow = cold, but don't let that put you off. The UK curls up into a ball if the weather gets nippy, but snowy countries absolutely nail sub-zero temperatures. Everywhere is as toasty as it needs to be. Random parties at the Parrots and Pineapples Pool Party was the sort of event you might find in Malaga, but minus the dickheads.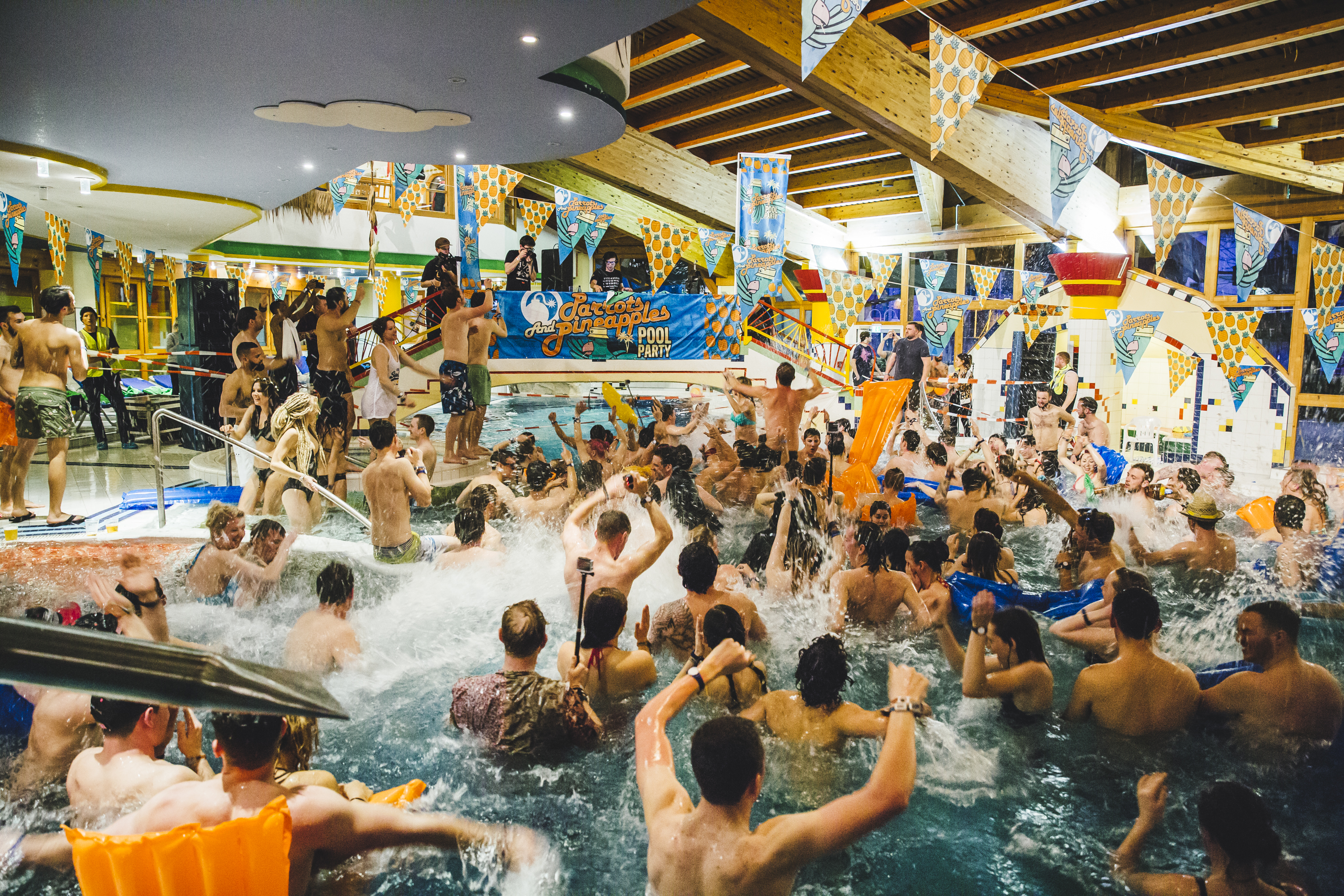 To summarise: you need to go.