The actor who played Jack Black's guitar-playing prodigy in 'School of Rock' has been arrested after going on a guitar-stealing crime spree in Florida over the last 5 weeks.
Featured Image VIA
According to police, Joey Gaydos Jr, 27, who played young Zack Mooneyham in the 2003 movie, would simply walk into stores, ask to test the guitars… and then just walk out without paying.
His heists began early this year when he stole a blue Les Paul Epiphone Prophecy valued at $800, a black Fender Stratocaster worth $699, and a Gibson Les Paul gold top worth $1,900. The guy just can't stop getting arrested for stealing guitars:
The police say Joey confessed to stealing the guitars and blamed it on a drug problem (he was selling the guitars to pawn shops). However in court, he entered a not guilty plea.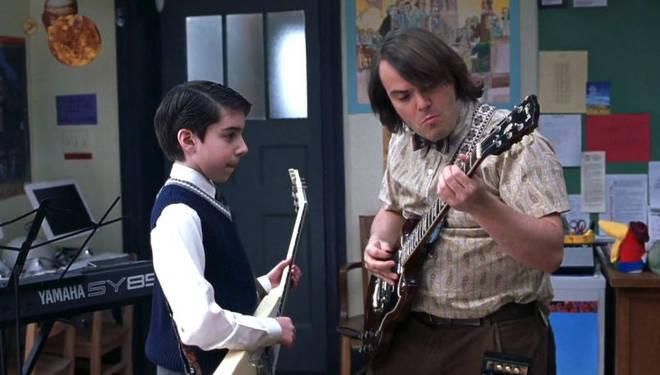 Have to say – bit of a weird move confessing to police that you've been stealing guitars to fund your drug habit, and then pleading not guilty in court. Maybe it's those drugs messing with his brain?
Could also explain his tactic of walking into the stores, testing out the guitars and then walking out like it's the most casual thing in the world. Then again maybe he's still in method-acting mode from back in 2003? Just can't let go of the Zack Mooneyham character. Makes sense considering he's done sweet F-all acting-wise since then.
Good luck to him anyway. Not all child actors can grow up to be supermodel-shagging legends like the kid from 'Big Daddy'.