It's one of the most annoying things in life when you have plans with someone and they fail to show up for them, but this is magnified even further when you're running a business and someone fails to show up for an appointment or reservation as not only is it costing you time, it's also costing you your money and your potential livelihood.
Images VIA
This must be completely and utterly frustrating, but I don't think that's any excuse for the response that Bully's in Cardiff has decided to issue after becoming so annoyed about the amount of people that fail to show up. They announced via their Twitter account the name and details of someone who had failed to turn up for a reservation for six people, which caused quite a stir: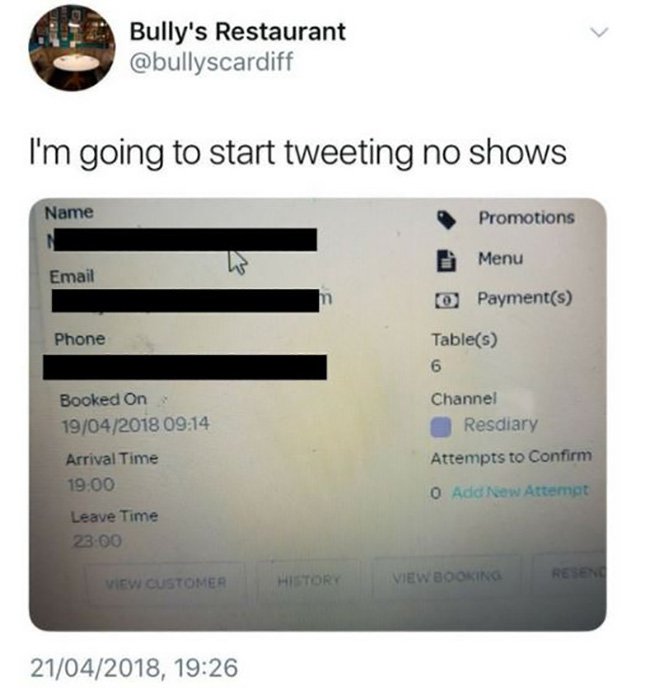 Emily Quinlan (pictured below) who was named and shamed on the site says that she's already reported the details of the restaurant to the Information Commissioner, so it probably wasn't the best move by the restaurant. The general consensus has been negative too, with restaurant owner Russell Bullimore issuing the following half hearted apology:
You take bookings and try and call them back and sometimes you get them and sometimes you don't.

If I don't get them on the landline I'll try on my mobile and they'll answer and often say, 'Oh I cancelled' or there's some excuse, or they'll just hang up.

I lose about 12 people a week who book, and it's about £40 per person. In a year it can add up to £50,000.

The table of six no-show last night – I rang them and they said I cancelled on Wednesday.

I know every person who has called, and if they are cancelling I thank them for ringing in time. I am constantly checking my phone, my emails. My phone currently has more "no-shows" listed than actual friends.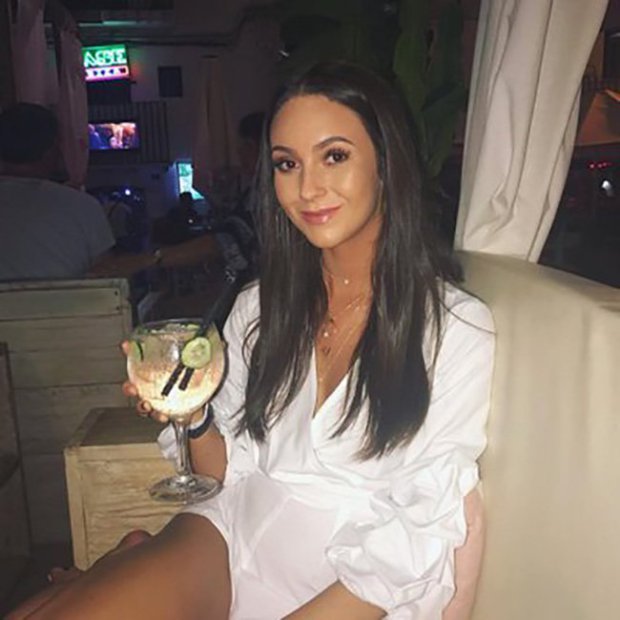 I just think and then do things. I'm going to put an apology on Twitter.

It's a mobile number and a name. If someone has a car crash and takes a picture of the car's number plate they can be ID-d from that.

I get cold calls all the time because my details are out there.

I don't want to have to start taking money off people before they sit down, I want people to pay for food because it deserves it. I'll probably have to invest in some way of getting people's credit card details [for deposits].

Out of everyone who doesn't show what percentage of them has a life problem?

It's common courtesy, lots of them probably have a hangover or can't be bothered or have gone somewhere else. Not all people do. But people used to be more courteous to each other.
Yeah, told you it was half hearted. Doesn't really sound like Russell is remorseful at all as he spends most of the statement talking about himself and his problems. Sure, I can identify them but I don't think it's a good idea to be sharing people's personal info – I mean for a start who is even going to care about it in the first place? It's hardly 'exposing' people or going to ruin their lives, is it? Just seems pointless and ultimately got them in way more trouble because of it. Good one.
For more of the same, check out ten restaurant complainers who have taken things way too far. It works both ways.