Nicklas Bendtner has to be one of the funniest modern day footballers. Not only is he complete dog turd for most teams he plays for (he was incredible when he played for Birmingham in the Championship a few years ago when he was about 18, and his scoring record for Denmark is surprisingly good) but he thinks he's the best player in the world ever, despite there being literally no evidence for this.
I mean if he's so good why are Arsenal so desperate to sell him and why has he been so crap at Juventus and Sunderland (the two clubs he was loaned out to, and yeah I mean so many great players play for Sunderland right?) that neither they nor anyone else want to buy him? On top of this also does really dumb things like get caught drink driving and get filmed begging for a slice of pizza in a Danish pizzeria or getting thrown out of a London club with his trousers around his ankles which just serve to make him even more of an idiot/legend.
But this might be the dumbest incident he's been involved in yet. It's probably not the best idea or example to future employers to be off gallivanting around Las Vegas like you're doing an audition for The Hangover Part IV in the off season – even though a lot of footballers seem to love going over there and partying – and probably an especially bad idea to be seen hanging out with rappers like Snoop Dogg (Or is it Snoop Lion these days? Who knows?) who are known to smoke weed and party all the time. Maybe Snoop Dogg could fulfil the Mike Tyson role in The Hangover Part IV huh?
That's exactly what Nicklas Bendtner is doing though. Last night he posted this picture of Snoop Dogg and himself on his Instagram account along with one of the best comments for an Instagram post ever: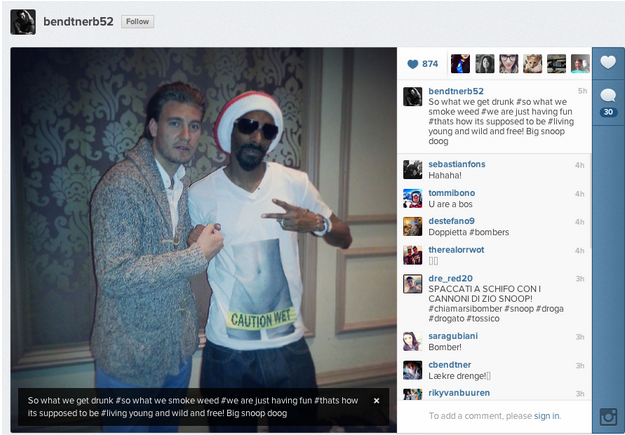 "So what we get drunk #so what we smoke weed #we are just having fun #thats how its supposed to be #living young and wild and free! Big snoop doog"
I mean there's just so much to love about that comment right? Not only does Bendtner display a complete ignorance of how hashtags actually work, but he also manages to spell Snoop Dogg wrong AND manages to endorse smoking weed and getting drunk. Sure, they are the lyrics to the Snoop Dogg song 'Young, Wild and Free' but it's hardly the right kind of attitude for a professional footballer to be showing is it? Especially one who is looking for a new club AND who has a recent drink driving conviction. Nicklas Bendtner is the idiot that just keeps on giving.
I also really like the way that his jacket ALMOST matches the wallpaper, kinda like Zach Braff in that scene in Garden State. Also love the way that Snoop Dogg is posing really uncertainly, like he almost definitely doesn't know who Nicklas Bendtner is, probably just assuming he's another white boy wannabe gangsta. Which I guess is essentially true.
Good luck getting a new club Bendtner!
☛ More Snoop Dogg: 
Snoop Dogg's New Book Is Designed To Get You High – Literally 
Snoop Lion Wants To Teach Kids How To Smoke Weed 
11 Year Old Asks Snoop Dogg For Sex Advice