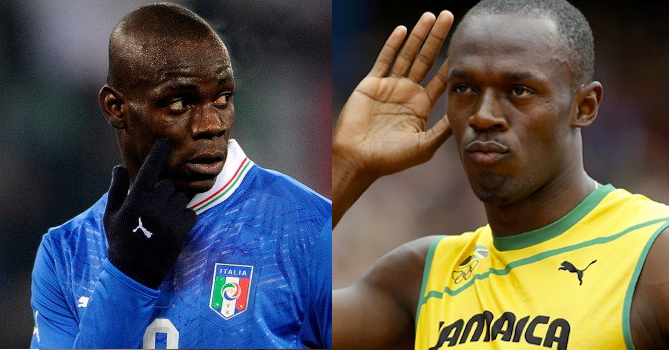 Everyone was really stoked about a month ago when Mario Balotelli finally got Twitter because we were all creaming ourselves at the thought of all the crazy stuff he would be posting. Since then though it's been kind of quiet and he hasn't really done anything. To be honest I completely forgot to follow him so he might have done SOME funny stuff, but nothing as funny as all the crap he got up to when he was playing for Manchester City. You know like when he went to a WWE event wearing a Mario Balotelli shirt or interrupted an Inter Milan press conference for no reason.
Well, it looks like yesterday he finally did something that was vaguely controversial and cool with his Twitter account, even if he kinda pussied out about it afterwards. Basically, Usain Bolt was in Rome this week for the Diamond League tonight (not sure what that is but I guess it must be some kind of athletics competition) and he did an interview with an Italian TV station called TG1.
For some reason they decided to ask him about what he thought about Mario Balotelli. He answered: 'Balotelli is a great football player, although perhaps a little too aggressive for my tastes. He never misses a penalty. I've met him a couple of times and to be honest I don't like him very much.'
Ouch. That's pretty uncalled for right? I mean Usain Bolt seems like a cool guy (he loves those chicken nuggets) so why has he gotta bait Balotelli like that? Seems completely uncalled for to me. And that's exactly what Mario Balotelli thought too as he took to Twitter to vent his frustrations at Usain Bolt. Here's the screengrab below: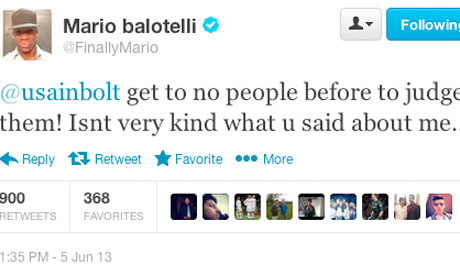 Oh shit Mario, you sure showed him. What's even better about it though is Mario later deleted the tweet like a little pussy.  Why the hell would you do that? I mean it's not even that bad – if anything Usain Bolt was being way more of a dickhead in this sitaution than Mario – so why the hell did he bother to delete it? It's not even that provocative or anything.
I mean maybe, just maybe he might have thought Usain Bolt wouldn't  have seen it but I mean there's no way he's not gonna hear about it when there are dumb websites like Sick Chirpse out there is there? And in any case it's just a normal reaction to someone saying they don't like you, it's not even calling him out or retaliatiing or anything. If anything it's completely lame – maybe that's why he deleted it, because he didn't want to ruin his badass image. Makes sense.
In any case, chances are that Balotelli is now a marked man and Usain Bolt will be looking to mess him up. Given the ridiculousness of both of these characters it seems inevitable that this feud will only escalate in an equally ridiculous fashion and we definitely can't wait. Stay tuned.
☛ More Mario Balotelli: 
Mario Balotelli Immortalised In A Crop Circle 
Tim Westwood Is Giving Mario Balotelli DJ Lessons 
Mario Balotelli Struggles With Bib