Mario Balotelli was sent off in the first half of Manchester City's game with Dynamo Kiev as Manchester City crashed out of the Europe league barely an hour ago, but it seems at though his frustration was due to a problem with a bib during the warm up, rather than the way the game was going!
At the time, Mario Balotelli's dangerous high footed lunge on Dynamo Kiev player Goran Popov which resulted in a red card looked fairly unprovoked and was perhaps indicative of the Italian's famous hot-headed temper that has blotted his first season with Manchester City. Commentators on the match thought that the red card may have been due to Balotelli missing an open goal in the first minute of the match, but Sick Chirpse can now bring you the exclusive story behind the red card.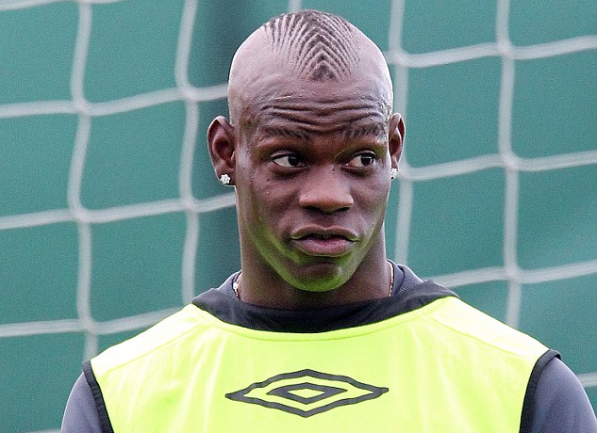 It seems that Mario Balotelli had a huge problem during the warm up, as he struggled to put on a bib correctly. This video shows Balotelli putting the bib on correctly, then struggling to put his arms through the correct holes and putting his head through the left arm socket hole of the bib. Frustrated, Balotelli holds the bib above his head, trying to figure out which hole is which, before throwing the bib on the floor in anger. Following this, a member of Manchester CIty's staff helps Balotelli with the bib, but he still can't get it on properly and needs the Manchester City employee to show him exactly which hole co-ordinates with which body part!!
Just when you think Mario Balotelli's bib problems are over though, he decides to change bibs from a white bib to a blue bib and – would you believe it – he struggles to put this bib on too, again getting the holes of the bib mixed up with the body parts they are meant to contain!! Finally, the Manchester City employee returns to help him get it on. This video really has to be seen to be believed!!!
How can one man have such trouble putting on a bib, especially a professional footballer who has probably had to wear a bib almost every day of his adult life?? Maybe Mario Balotelli isn't actually an angry, bad tempered young man, but he just has trouble putting bibs on before matches and this leads to his vicious temperament on the pitch? Sick Chirpse recommends to Robert Mancini that the ginger Manchester City employee follows Balotelli around wherever he goes in the warm up – or anywhere involving bibs – to prevent further catastrophes like tonight's happen again.