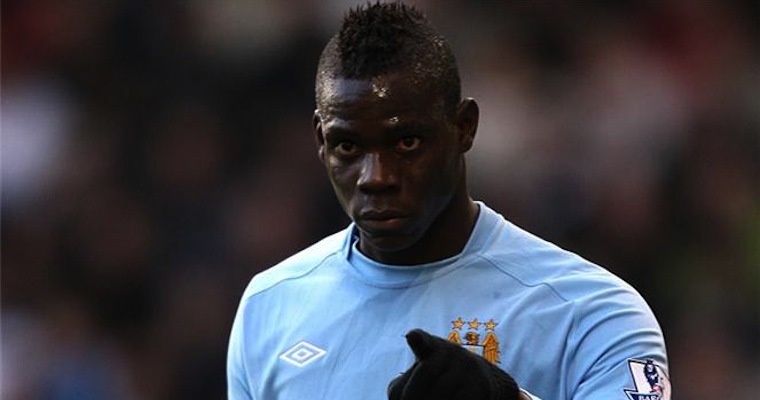 Everyone at Sick Chirpse (and probably in the known world) loves Mario Balotelli. Whether he can't get his training bib on, is playing with an Ipad on the bench, being a master magician, offering to pay all library fines at a library in Manchester, learning to DJ with Tim Westwood or attending a WWE event in a Balotelli shirt, it seems like the joker is never far away from not only the front page of Sick Chirpse but also most of the national newspapers. Put bluntly, he's a stone cold killer. Sure,  it's a shame his on field exploits don't make as many headlines as his off field ones but it's not like he isn't pulling his weight at Man City.
That is when he isn't in Italy! For some reason, Mario Balotelli gatecrashed an Inter Milan press conference which was unveiling new manager Andrea Stramaccioni (who?) for the first time for no reason. If you've been following the Italian league (lol, yeah right) you'll know that Claudio Ranieri was sacked a couple of days ago after a terrible run of form that has left Inter 22 points off the top of Serie A in 8th position and in danger of not even qualifying for the Champion's League next season, which is pretty insane when you consider they won it a couple of seasons ago.
Anyway, as Andrea Stramaccioni (a quick Google search shows that he was Inter's youth coach, so I guess this is the Italian equivalent of sacking Mick McCarthy and installing Terry Cooper as manager) was conducting a press conference alongside Inter's sporting directors attempting to assure fans (and probably also trying to convince himself) that his appointment as manager was exactly what the club needed to guide them to the end of the season, who should rock up? Of course, it's Mario Balotelli. He rocks in, everyone laughs at him and Stramccioni looks really awkward and sheepish. Mario Balotelli then shakes hands with him and all the directors and walks off.
This is perhaps the most ridiculous stunt Balotelli has pulled yet. Sure, there is some association with Inter as he used to play for them, but this is just gonna raise loads of questions and be really distracting for everyone involved, especially when Inter are having a shit season and Man City are in the process of bottling the Premier League. I guess this is only going to fuel speculation that Balotelli is heading back to Inter in the summer, but the question now won't be for how much but rather whether he will be returning as a player or a manager?
Check out the footage below:
[yframe url='http://www.youtube.com/watch?v=gPKvTsCK7n4′]