In a zoo in the furthest reaches of Siberia, a Russian tiger named Amur and a goat named Timur have become best friends, after Amur elected to not eat the goat after it was released into the enclosure as his lunch. Instead, they now regularly play together and eat out of the same food bowl.
The friendship began when Timur was first released into the enclosure. Instead of submitting as most of his other prey would, he chased Amur out of his comfortable sleeping area and claimed it for his own. Amur was clearly confused and just went back to sleep instead of doing anything about it. Since then, the pair have been inseparable and the zoo has given up feeding goats to Amur.
They rocketed to stardom after a 44 minute documentary about their friendship was broadcast on Russian television over the festival break. Following the response, a live feed of their enclosure has been set up so that people can watch them hanging out together and having a great time. Their favourite game is playing with a ball, where one of them snatches it off the other and runs away whilst the other tries to catch up. Sounds like a lot of fun.
Images VIA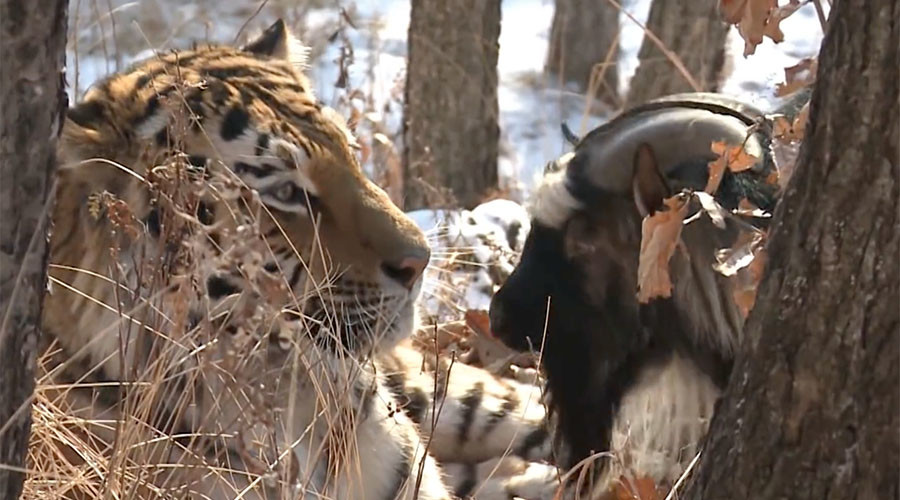 Dmitry Mezentsev, the general director of the Primorsky Safari Park, said the following:
The situation is really weird. For three years running we have fed Amur a huge number of goats, rabbits, roosters and rams.

As a rule, Amur gets prey twice a week. My only explanation is that this couldn't have happened without interference of the higher power.

Amur has never rejected prey before. There was just one case when the goat given to Amur lived through the night. Amur ate him the following morning.
Well, I'm not sure if a higher power is the explanation for this as I don't really believe in that shit, but I haven't got any alternative for it either. Nevertheless, it's cool and cute and loveable and great to see that the law of the jungle isn't always necessarily abided by, and sometimes different species of animals can get along instead of just eating each other.
For more examples of unusual friendships in the animal kingdom, check out this seal and labrador that also became best friends.