Florida, The Sunshine State, Disneyland, Warner Bros Studios, SeaWorld, Miami, Florida Oranges, Key Lime Pie, Tampa Bay, Miami Dolphins – all sound delightful and all things that make Florida one of the most popular vacation destinations in the USA if not the world. With Bad Boys, Scarface, Miami 5-0, Will Smith's 'Miami" and even an entire season of Eastbound and Down all based around the iconic Southern state you can see why it is so popular and why 23 million people visit its glorious beaches and attractions every year.
[yframe url='http://www.youtube.com/watch?v=IwBS6QGsH_4′]
But Florida has a dark side, a seedy Southern underbelly with a redneck-esque attitude and some shocking stories to tell and no I'm not talking about Flo Rida the "rapper". Some of the bigger, more shocking stories have travelled over to our dingy, grey, rain soaked shores over the last few months, highlights including the murder of an unarmed Trayvon Martin by a local neighbourhood watch turned vigilante George Zimmerman which has sparked international outrage and protests across the whole of the United States (and a new internet craze called "Trayvoning"), the murder of two British tourists by Shawn Tyson during an apparent drug deal that went tits up and who of course could forget the Miami bath salts zombie cannibal attack of last year.
But it appears that this is only the tip of the iceberg when it comes to the bonkers nature of the Florida news scene. It appears that if you want to hear some of the weirdest, craziest, most fucked up news stories the world has to offer then you need to be tuned to a Florida news channel. Now obviously that's quite difficult to do and who would want to see the glorious weather reports every day reminding you that you have to wait at the bus stop in wind/hail/sleet/snow/rain or whatever card the unpredictable British weather is currently  playing, to go sit at your desk job while Will Smith is cruising round Miami beach in a Porsche pulling sexy female witnesses and busting drug rings with Martin Lawrence in tow.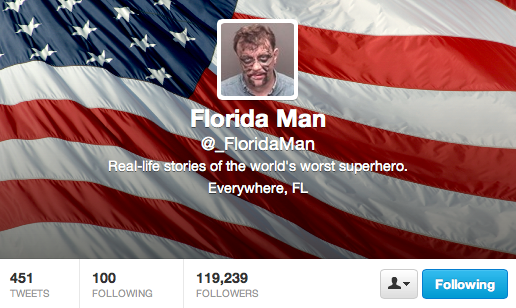 Luckily, someone has set up a twitter account (@_FloridaMan) to give us the best titbits from over the pond and it doesn't disappoint. Some of the stories include a man arrested for taking a shit on the sidewalk whilst semi-naked and drunk, a man arrested for punching a police officer who was releasing him from jail, a drunk man arrested for being naked who claimed he didn't realise he had no clothes on and my personal favourite – the man who robbed a gas station seconds after applying for a job there.
Some of these stories are extremely funny, some are deeply disturbing but it all points to the fact that no matter what the image that the media and Hollywood try to portray, we all know that America is still a fucked up place and a lot of the shit that goes down there is unique to the "Land of the Free and the Home of the Brave".
God Bless America.
More from the States:
6 year old sings Death Metal on America's Got Talent
Westboro Baptist Church's vile rant at Taylor Swift
Fugitive who tweeted "Catch Me If You Can" is caught