Cast your eyes on this charming write-up of Taylor Swift, as scribed by the Westboro Baptist Church:
WESTBORO BAPTIST CHURCH TO PICKET THE WHORISH FACE OF DOOMED AMERICA: TAYLOR SWIFT AT SPRING CENTER (1407 GRAND BLVD., KCMO) ON SAT., AUGUST 3 FROM 6:15 — 7:00PM
@TaylorSwift13 works her "girl next door" country-singer shtick, while hopping from one young man to the next and strutting across the world stage like a proud whore. She is wildly popular, especially among young ladies, with over 29M followers on Twitter, and thus a giant platform. One simple tweet from her — "Stop fornicating ladies, and obey God" — would rock the house. But it would cost her millions she makes with her sin-coddling songs. Taylor Swift uses the talent God gave her to warble about fornication, instead of warning her fellow man of the coming destruction. She worships @BarackObama and @FLOTUS, either unmindful of, uncaring about, or in complete agreement with their blood-soaked handiwork (supporting killing babies and marrying fags). Her father/manager gave a stern lecture to @OneDirection @Harry_Styles in January 2013, to slow things down with his daughter. But he has no compunction about her immodest vulgar appearance or serial fornication. With a hating hypocrite for a dad — who will jealously guard her income, while not giving a thought for her never-dying soul — no wonder she grew up to be the poster child for the young whores of doomed-america. WBC will kindly warn Taylor and her generation that they have a duty to obey God — no matter what. If you care for her (or your) soul, you'll come with!
☛ Next: Jake From Two And A Half Men Has Joined The Dark Side
Okay, the "whorish face of doomed America" line was quite funny.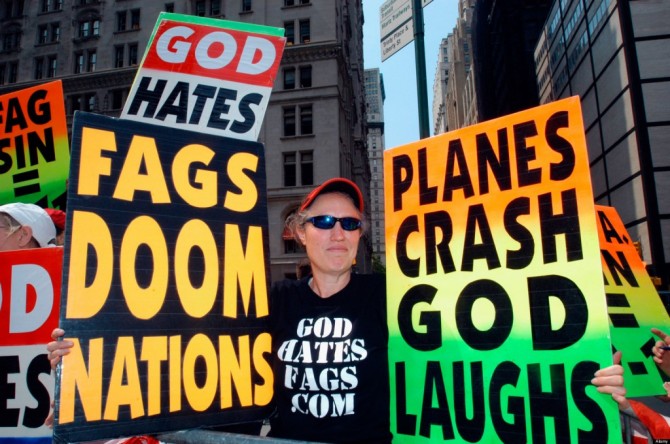 But what's better is watching a group of bored, bigoted idiots work so hard to spread their warped beliefs and not get taken seriously in the slightest. They talk more bollocks than Alex Jones does. When the Oklahoma disaster happened, Alex Jones suggested that Barack Obama grabbed Thor's hammer and whipped up the tornado himself, because he wanted to destroy America. The Westboro Baptist Church said it was God punishing "fags" and "fornicators", just as he does with all his other natural disasters.
☛ Next: Dude Tries To Pick Up Chicks With Nothing But Taylor Swift Lyrics
The WBC's members have convinced themselves they are doing important work. They know they have to cause a stir to get people's attention, but what seems to happen is people laugh and make fun of them and they disappear and then show up again attacking someone else, and so on.
We're going to show them what Example was up to at the 2006 Reading festival.