Everyone has probably had a situation when you wanna cook two or three pizzas at once but due to the design of your oven it's just way too difficult.
Images VIA
Whilst this isn't exactly the end of the world, it's less than ideal as someone is inevitably left waiting without a slice of pizza and being an annoying moany asshole about it. Thankfully though, the absolute boys over at Aldi – who are doing some completely sick offers this summer – have decided to come up with a solution for this problem by inventing the three tiered pizza stand that will allow you to cook multiple pizzas at the same time.
Well, at least three or possible more if they add more shelves to it. It looks like the option might be there: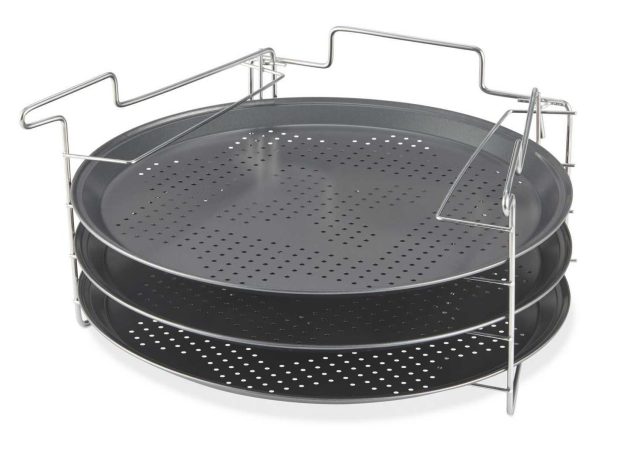 Yeah I can see them adding in an extra shelf there, can't you? Anyway, if this hasn't already convinced you to buy one, maybe the official blurb from Aldi will explain it a bit better to you:
This 3 Tier Pizza tray and holder set is the perfect solution if you want to save your time and bake 3 pizzas at once.

Perfect for families and entertaining guests, you will no longer have to juggle the shelves in your oven and move things around to get everything cooked at the same time.
Yeah, can't really go wrong with it can you? No longer will you have to face the incessant whines of the guy who loves Hawaiian pizzas who is mad because his didn't go in there first. Probably worth the £9.99 price – seems a bit steep at first sure – to be rid of that bullshit forever.
Think of it as an investment and how much your mates will rate you when they come round. Think about it.
For more of the same, check out this patio heater with bluetooth speakers. Another essential purchase this summer.