Sitting about one's domain enjoying several glasses of fermented grape juice is one of life's true pleasures, but how many of you out there have shed tears, silent or otherwise, that your beloved feline companion could not join in the merry-making? Well weep no more, because now we have…cat wine! And somewhat unsurprisingly, it's made by the Japanese.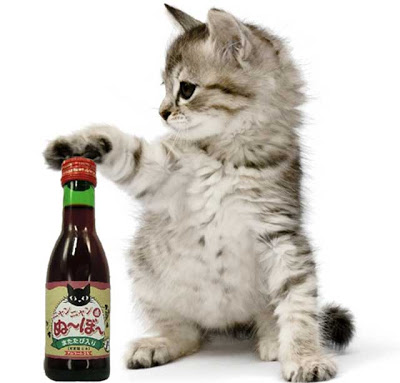 Pet supplements company B & H Lifes is the brains behind the beverage, named Nyan-Nyan Nouveau (fun fact: nyan-nyan doubles in Japan is the sound of a cat's meow and the term for people having vigorous sex). This funky concoction is made from the finest Cabernet grapes, mixed with Vitamin C. It doesn't contain any alcohol, but it does have a healthy dose of catnip in order to get hedonistic moggies well and truly off their tits.
Fears that drinking alone is the first step towards alcoholism can be dissuaded as Tiddles can now join you for a bottle or two of your favourite tipple. The stigma of "drinking alone" can thusly be modified to "bonding with the cat." Everyone's happy!
☛ More Cat Related Media:
Is This The World's Cutest Cat?
Firefighter Brings Kitten Back To Life
I Pimped Out My Cat For A Fast Buck