After a very heavy weekend of pissing my wages up the wall approximately 4 seconds after they hit my bank account, I wandered round my room eying up potential goodies I could list on eBay to keep me in Super Noodles for the rest of the month.
Having already sold my collection of Nike Air Max and iPad my eyes settled on the 2 pairs of yellow eyes glaring back at me from my bed. THE CATS..
No no no, the plan wasn't to sell them, but after all the money I had ploughed into these two whoppas, it was time they grafted for a few quid too. They have a huge modelling portfolio already (thanks to my 3000 shots per day on Instagram) and they seem to really like the camera – could be worth a shot right? They also have quite a unique selling point that I would assume any form of Cat Model Agent would love to get their paws on… sorry.
My cats are what is technically known as Polydactyl. For those of you not familiar, it is a congenital physical anomaly (cheers Wikipedia) that occurs in some cats, which in laymen's terms means… they are deformed:
☛ Next: Sushi Cats Make The Internet Explode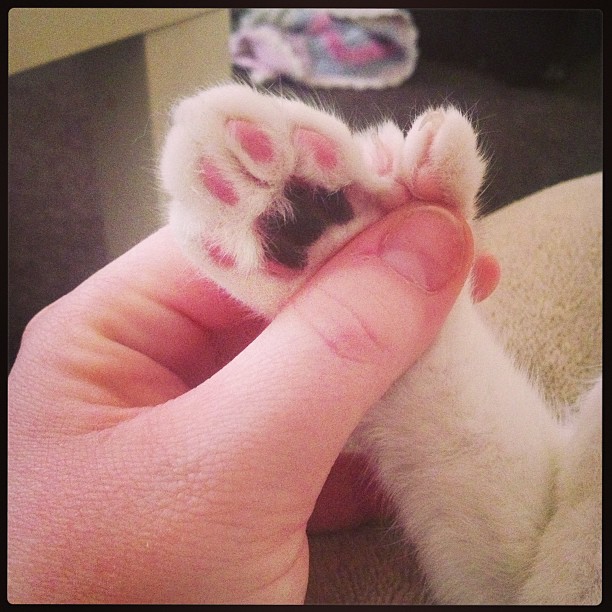 They have been gifted with opposable thumbs – 2 extra little fingers and a secret extra toe hidden here and there for good measure. Between the two of them, they have 56 cat fingers and 4 thumbs. Who needs the Cravendale cats when I have these freaks sponging off me at home?