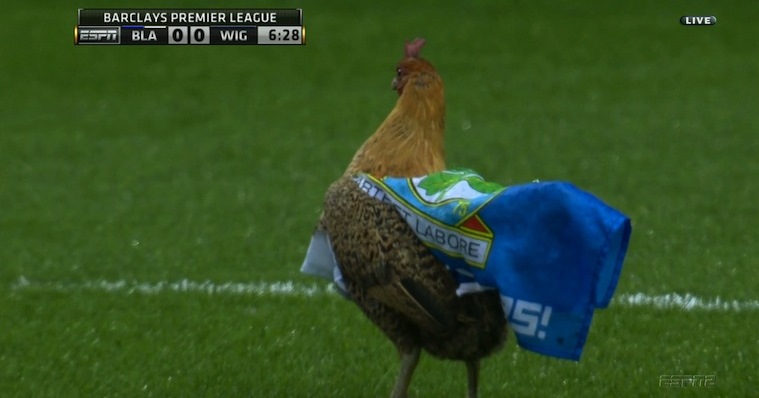 As the memory of the weasel that stormed the pitch during the game between FC Thun and Zurich begins to fade, a new animal king emerges: The Blackburn chicken.
You may have heard of the Blackburn chicken before. Last year a chicken wearing a Blackburn flag as a cape stormed the pitch in the first half of Blackburn's crunch relegation tie with Wigan. The match was momentarily stopped as Wigan keeper Al Habsi and Blackburn's Yakubu cornered the little fella inside the goal net. It turns out the chicken was released as some kind of protest against the Indian poultry company that owns Blackburn. Sans cape, it is difficult to confirm whether this is the same chicken as last year.
☛ Check These Out Next:
Blackburn Rovers Star In Venky's Chicken Advert
Guido Daniele's Incredible 'Handimals'
Why he's been unleashed this time is anyone's guess, but the video taken from the Blackburn Rovers Vs Burnley game is pretty jokes. The chicken holds still, seemingly oblivious to the security guard creeping up on him. The crowd promptly gets behind the chicken, going OOOOOOOOOOOH in that crescendo style each time the guard approaches and then going WHEEEEEYYYYY each time the chicken escapes. There are thunderous boos as the chicken is finally captured, rounded off with respectful applause for his short appearance.
Check out the fowl play below:
[yframe url='http://www.youtube.com/watch?v=ajnYKoObpoU']