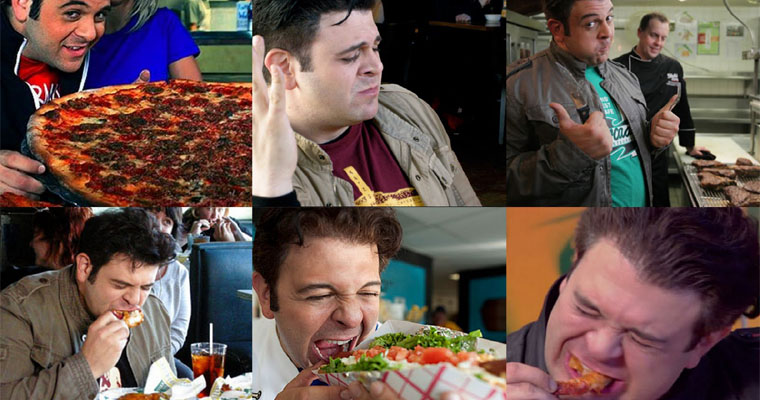 Follow AMJ @amjeezie
Whether you actually like the show or not you have to admit you've seen at least a couple of episodes with Adam Richman stuffing his face with the biggest, hottest and ugliest food across the US of A.
A couple of times I've watched it myself and been sure I could do the challenge as well but in all fairness this bloke can stomach as much as a sumo wrestler so no wonder he's so popular and I wouldn't have a chance at noshing half the shit he can.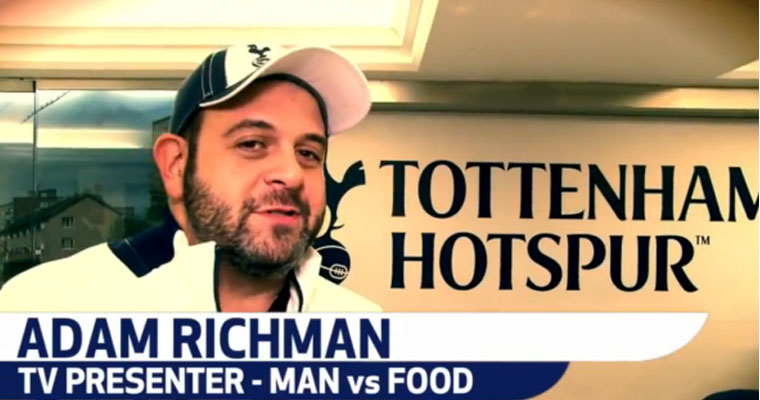 He's been seen to cry a couple of times when he's had spicy chicken wings or a shit-hot curry but on his recent trip to White Hart Lane I don't think anyone realised quite how teary-eyed the old food hound would get.
In a YouTube video posted by Tottenham themselves Adam Richman is treated to a special  tour of the ground and bursts into tears at the sight of the famous White Hart Lane pitch, saying:
"It's stupid, I just never thought I'd see it in a million years – I never thought I'd actually see it.  It's unreal.  I've literally dreamed about playing, dreamed about seeing matches."
[yframe url='http://www.youtube.com/watch?v=aYqjO2c6s_0′]
☛ More: Cat Invades Pitch During Liverpool Spurs Match 
First things first you'd think what an absolute con…he can't know anything about football and probably calls it soccer but the Brooklyn born Yiddo knows shit loads of chants and even talks some serious sense about Defoe's return to form after the loss of family members.
"This is my very first trip to White Hart Lane, I'm probably supposed to be like cool or like be all hosty about it but I really haven't stopped shaking. We are Tottenham, mighty Tottenham, super Tottenham from the Lane…and even from Brooklyn the future's bright and it's lily white."
Check out the video and see that this guy is clearly about more than just eating…although to be honest – has any Spurs fan ever spoke any sense, ever?
☛ More: Would You Eat A 2 Stone Sandwich?
☛ More: Man Vs Vodka
[yframe url='http://www.youtube.com/watch?v=PvkmBfEGw9U']
Follow AMJ @amjeezie