Meet Turkish chef Nusret Gökçe, aka #SaltBae.
Featured Image VIA
He's already got a pretty huge Instagram following but this clip he uploaded the other day has got the ladies absolutely losing their minds.
Ottoman steak pic.twitter.com/gXynE52EQE

— Nusret #saltbae (@nusr_ett) January 7, 2017
And the reaction: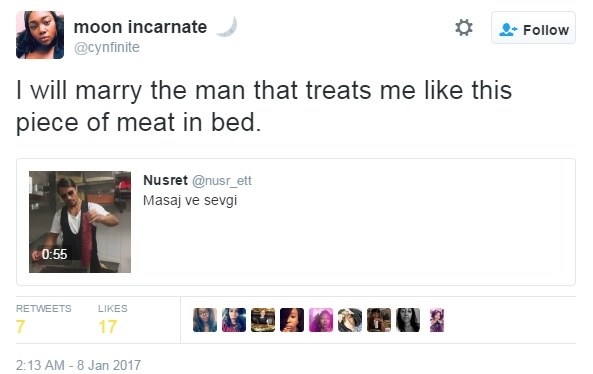 https://twitter.com/elBeardedBandit/status/817828168518275072?ref_src=twsrc%5Etfw
#SaltBae's daily routine: pic.twitter.com/hGxZYgjVmx

— deray mckesson (@deray) January 8, 2017

https://twitter.com/7_concept1/status/818298722404728833?ref_src=twsrc%5Etfw
Here's another video of him spanking some meat and driving chicks crazy in the process:
Masaj ve sevgi pic.twitter.com/w2e2zD67ow

— Nusret #saltbae (@nusr_ett) October 13, 2016
Well I may not be salivating like some of these girls are but I'm definitely impressed by this guy's meat preparation techniques. I mean this guy really has a special connection with meat. Just look at this:
YALARIM DEDİ. pic.twitter.com/Ad4ZCiGRnK

— Nusret #saltbae (@nusr_ett) December 24, 2016
Now that's real seduction right there.
Speaking of which, ever hear about the man who lathered himself in jelly and shagged a cow while his mate filmed it? Click HERE.