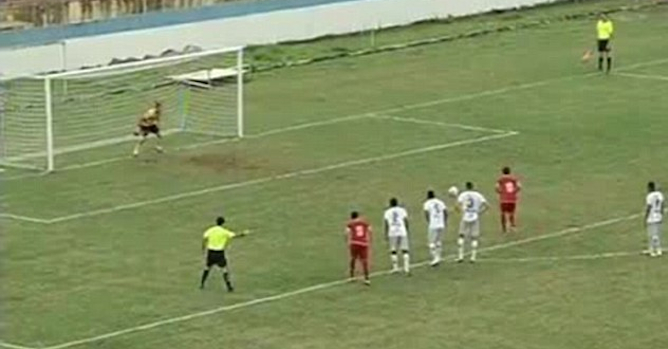 OK OK. I know I've put up an article on Sick Chirpse before and I called it the worst penalty kick ever and then I put another article up after that and called it the worst penalty kick ever too and now I've done this one but seriously, the penalties just keep getting worse and worse. Like the other two I've featured (check the links) are pretty terrible but this one is phenomenally terrible. Like it is literally phenomenal. I've never seen anything like it and I doubt I'll ever see anything like it again. It's pretty much out of this world in that respect. You might think I'm exaggerating about this (I usually am) but I'll guarantee you'll agree with me on this.
I don't really want to spoil it for you because it's probably more outrageous if you don't actually know what's coming in the video, but I can set the scene for you. It's over in South America in Brazil I think, and the two teams playing were America SP and Votuporanguense over in the Paulista A3 division. I don't know what any of those terms mean either so don't worry about that.
Anyway, some dude called Pilo wins a penalty for America SP and immediately volunteers to take it. Big mistake because what happens next is probably gonna go viral on the internet if it hasn't already. It's just incredible and having watched back the two I linked in earlier I think it's definitely better (in terms of being the worst – that's kinda confusing but hopefully you get it) than them. It's just so jokes.
Anyway I'll stop talking about it and let you check it out yourselves below. Credit (as always) has to go to 101 Great Goals for the find:
☛  Other Awesome Penalties:
Some Finnish Dude Scored A Rabona Penalty 
 Goalkeeper Saves Four Penalties In One Match 
[yframe url='http://www.youtube.com/watch?v=t9SOY1SSvdY']