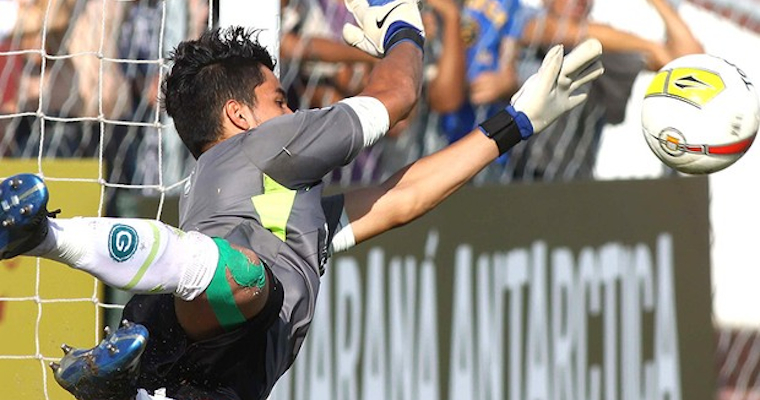 I have never heard of anything like this before so I just had to include it even though we've been sticking up a lot of football content recently and it isn't really the big leagues, but it's still pretty badass and the penalty saves are all top notch. Basically over in Brazil they're having some youth tournament over in Sao Paulo, imaginatively entitled the Sao Paulo Copa and a youngster playing for a team called Goias named Paulo Henrique smashed it in the semi finals when he saved an incredible four penalties in one match.
Sure, a couple of them were in the shoot out at the end of the tie and two of them were because one penalty was retaken in the game, but it's still pretty slick to face 5 penalties in one match and save 4 and not concede one. That's not a typo either, he had to face 5 because of the shootout but the third penalty taker banged his off the crossbar. What a knucklehead. I can't really remember a time where anything like this has happened before though, except maybe once when Juan Pablo Angel missed two penalties for Villa in the same match against Fulham I think (which was awesome) but I mean, that isn't even really half as good as Paulo Henrique is it?
☛  Watch Next: Is This The Greatest Goalkeeper Goal Ever?
So yeah judging on that it looks as though Paulo Henrique might have a big future in the game, although having said that Colin Doyle seems to save penalties whenever he plays for Birmingham but he's still probably only started about 20 games in the past so maybe he'll have to work on other aspects of his game too. He's already pretty good looking though which puts him right up there with Iker Casillas and Joe Hart already because let's face it most goalkeepers are pretty much butt ugly.
It's also really funny in these clips that the referee is a woman because however much of a bass lineswoman Sian Massey is I can't really ever see it getting to the point where women are referees in football matches over here, or in big tournaments anywhere in the world. I know that isn't very progressive/kinda sexist of me but it's more because I can't imagine many women would WANT to be referees in the first place as much as the fact that I find it hard to believe that someone like Balotelli or Zlatan would even be able to take them seriously.
Enjoy Paulo Henrique's penalty saves and seeing a woman referee below:
[yframe url='http://www.youtube.com/watch?v=C3C9LlA20H4#!']
☛  Check This Out: Dumbest Goalkeeper Celebration In History
☛Watch This Last: This Is One Of The Dumbest Things I Have Ever Seen A Goalkeeper Do