Two guys from Wyoming were visiting Salt Lake City over the weekend when they noticed from their hotel room that a bunch of black guys were hanging around near their truck giving it the once over.
Obviously suspicious because their truck had over $50,000 of welding equipment in the back of it, they headed down to confront the group. It turned out that the group weren't happy that the truck was flying a Confederate flag on the side of it and the connotations that they symbol brought along with it.
It soon turned into a savage beatdown of the two men by the larger group. You can check that out below, along with a Facebook statement from the person who posted it:
Featured Image VIA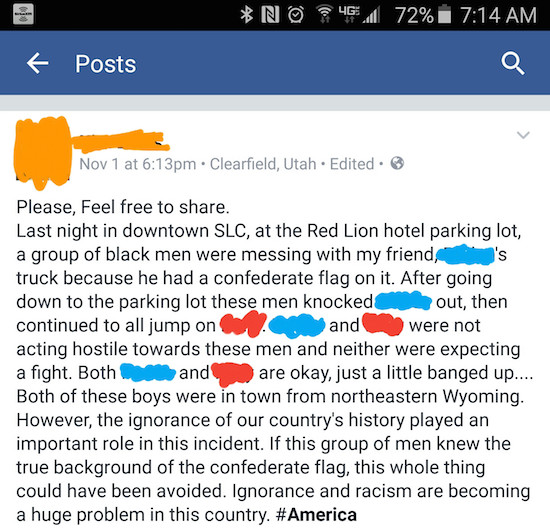 Oof. I mean normally I would be suspicious of people openly brandishing the Confederate flag because we all know what that means most of the time – they're racist – but it seems like it was a complete turnaround in this case and it was the group of black men who were being racist to the white boys. You clearly hear them use homophobic slurs towards them too and they instigate the whole situation as well as throwing the first punch so you can't really argue with that, whatever the symbolism of the Confederate flag might imply in the first place.
Disappointingly, the reaction of the man who got knocked out in the video was 'Damn, that's the last time I come to Salt Lake City without my gun'. Oh America. But I suppose you can't really blame him for once when he just got battered for no real reason.
The police are treating this as a hate crime (and rightfully so) and are seeking the public's help in identifying the men in the video so if by the off chance you know anything then please let them know. In the meantime, check out this compilation of people who actually deserve it getting knocked out.