Last week, Tommy Lee reminded the world that he has a huge penis by posting a full-frontal nude on Instagram, which surprisingly remained up for days before he took it down.
Here's a reminder in case you missed it: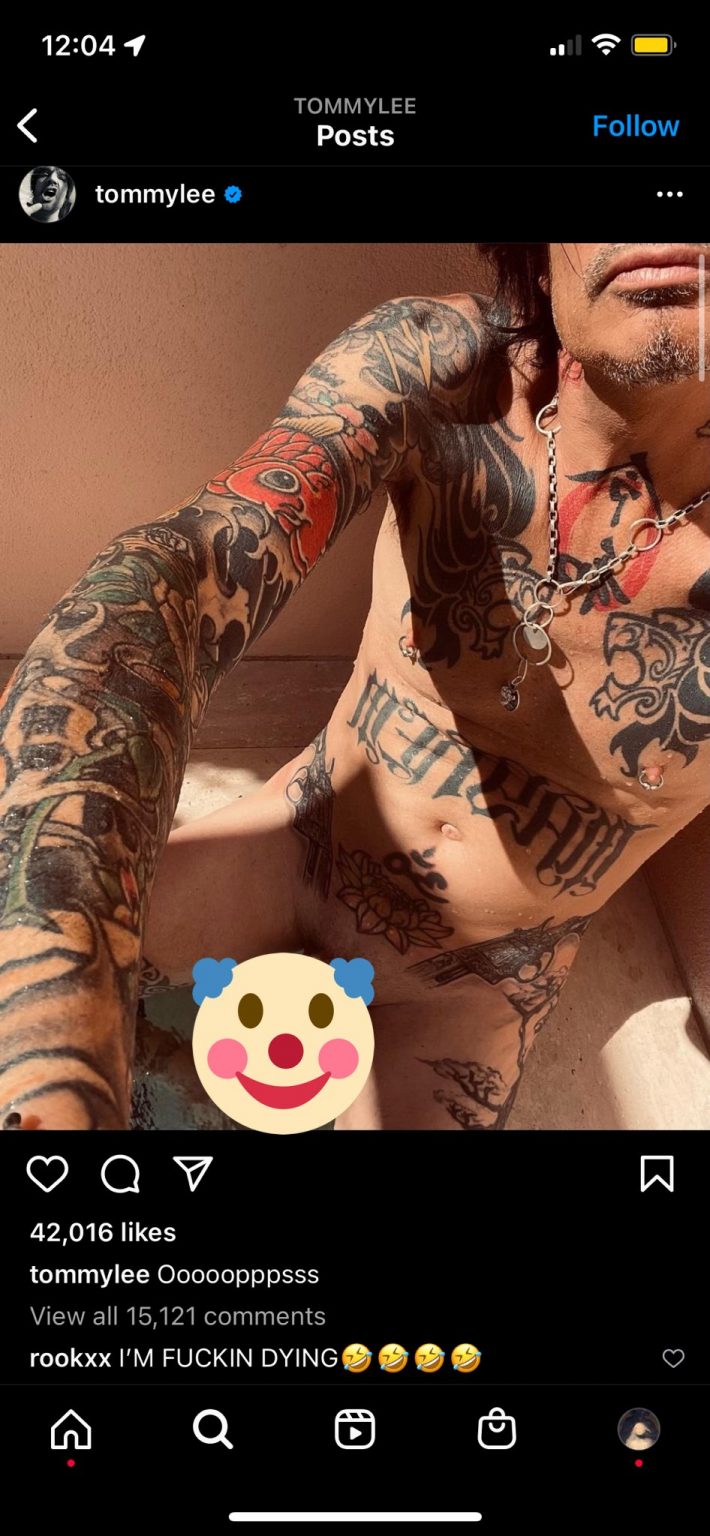 Yeah, we're not actually allowed to post dick pics on Sick Chirpse, but check out the size of that clown emoji! Alternatively you can check out his sex tape with Pamela Anderson from back in the day or just take the word of every comedian on the Pamela Anderson Roast on Comedy Central who brought up the tape and how big Tommy Lee's dick is.
In any case, sharing that photo did wonders for Tommy Lee's Instagram following, racking up over 101,000 new followers on the same day he shared the pic, according to Social Blade. There was loads of discussion over how Instagram treated Tommy's dick pic Vs nudes of female celebrities (Britney, for example) which are promptly deleted by the platform. People are still questioning why Instagram didn't remove the picture immediately themselves. It's not like they wouldn't have noticed it – it was the most viral thing on the platform for days!
One user wrote:
"Yeah funny how Tommy Lee has his whole schlong out on social media & women (& men) are thristing & not bringing up his children at all but when Britney shares nudes w/ emojis censoring certain areas, she's torn to shreds."
Another said:
"2022 and we have to witness Tommy Lee being praised for posting a frontal nude while Britney Spears is constantly momshamed for posting sexy pics ffs."
Fair points really. Then again, Tommy Lee has 1.6 million IG followers compared to Britney's monster 42.1 million, so I guess she's kicking his butt where it counts for these celebrities. Has Tommy Lee maybe set a new precedent for how nudity is handled on the platform? Or just male nudity? We'll have to wait for the next celebrity dick/vag pic to find out.
For Tommy Lee, check out the time he spoke about drinking nine bottles of vodka a day before going to rehab. That's a lot of vodka.