Ok, cast your mind back to a couple of years ago when Taylor Swift won a VMA award for some video she had released that year, and when she was accepting the award Kanye West comes out of nowhere and grabs a microphone and starts blabbering on about how it was a disgrace and that everyone knew that Beyonce had made the best video of the year and even of all time.
While I probably kind of agreed with his sentiments – I mean I still don't even know the name of the Taylor Swift video that won, let alone have I seen it, whereas I kinda agree that Single Ladies is a pretty iconic video – the way he just jumped up there and interrupted her speech was really crass and lame. I mean who the hell does he think he is, the king of the world? If MTV wanted to know what your album of the year was they would have asked you or included you in the voting process. Go eat a dick Kanye West.
If your mind needs refreshing of this incident, check out the footage of it below:
[yframe url='http://www.youtube.com/watch?v=1z8gCZ7zpsQ']
Anyway, in case you missed it Kanye West and Kim Kardashian finally had a baby over the weekend after months and months of buildup and speculation over whether they were going to name it North or not. It's been an interesting story, trust me. They haven't actually announced the name of the baby yet so you never know, although they have confirmed it's a girl. Apparently we get to find out soon. I don't know about you but I'm on the edge of my seat.
Taylor Swift meanwhile saw this as the perfect time to get her revenge on Kanye West for that night at the VMA's all those years ago, and what better medium to achieve it through then social media. She posted the tweet below last night and it immediately went viral. I'm sure you'll agree with me when I say that she absolutely killed it:
☛ More Kanye West:
Random Dude Ruins Kanye West And Kim Kardashian's Perfect New Year's Eve Photograph
Kanye West Walks Into Street Sign, Throws Massive Tantrum
Kanye West Has Bizarre Meltdown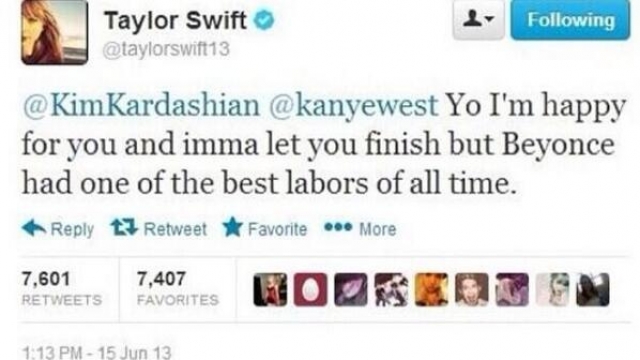 Kinda. Unfortunately it's come to light that it's not actually real and photoshopped, which is completely lame because I really wish that Taylor Swift was that cool. It's possible that she might have deleted it after it went viral but I feel like if she actually did do something as badass as that she would want the credit for it you know? I definitely would anyway.
Right now it's still somewhat of a mystery but it seems fairly easy to photoshop stuff like that so it probably is the work of some joker. Still, it's really funny and if Taylor Swift actually is behind it then she's definitely got the last laugh. It just looks like nobody will ever actually find out.