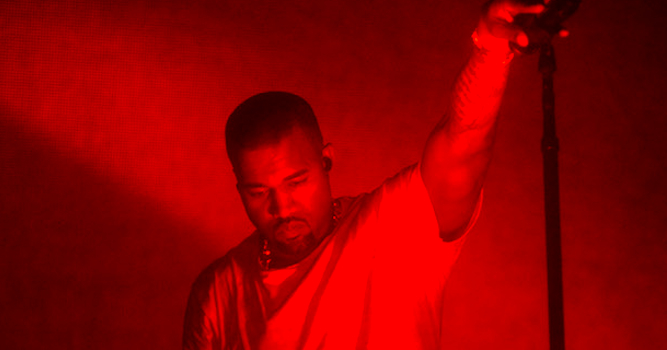 Last night was Adult Swim's upfront event which was an event in New York City at the Roseland Ballroom where they celebrated being cable's top network for 18-49 year olds in the past year and took the time to premier some new pilots, like Mike Tyson Mysteries (what?) and Mr Pickles, which sounds slightly better. After they got rid of the all the boring crap, they wheeled Kanye West out for a surprise 90 minute set. I've actually been to the Roseland Ballroom (to see Less Than Jake, New Found Glory and Anti Flag about 15 years ago – PUNX) and while it's not exactly small it's still pretty small for Kanye West so I guess that was an event in itself.
I'm sure his set was really good and I'm told that he dropped a new song about Kim Kardashian called Awesome (which was apparently kinda crappy despite the title implying otherwise) but the most interesting part of his show was definitely when he went on a three and a half minute rant about the trials and tribulations of being a celebrity.
Now, I guess it's pretty much every other day Kanye West has a meltdown – I mean it was less than a week ago that he ran into a street sign whilst he was being chased by paprazzi – but this was really weird. It's almost like it's a song because there's some mood music in the background and he repeats a lot of the words over and over again kinda like there's a flow to them or something. So yeah it's really weird and you're just kinda left watching the video being like 'why the fuck is he doing this?' It's just bizarre.
You can check out the video below, but if you can't be bothered to watch three and a half minutes of this weird crap, then you can read these choice quotes below. Can someone tell Kanye West to stop AWAH-ing and grow up already? Geez.
'I'm a terrible, terrible, terrible celebrity, I'm the worst kind of celebrity, because all I do is make real music.'
'I don't want nobody running up on me with no cameras, trying to sell pictures to magazines… throwing me off of my focus and shit'
'Somebody asked me, 'When you do SNL, is you going to do a skit about the paparazzi and shit? And humanize yourself? I ain't here to apologize to no motherfuckers, man….I ain't runnin' for office'
'I ain't kissing nobody's motherfucking babies. I'll drop your baby and you'll motherfucking sue me and shit.'
☛ More Kanye West:
Random Dude Ruins Kanye West And Kim Kardashian's Perfect New Year's Eve Photo
Kanye West Set To Name His Kid North
Ray J Taunts Kanye West And Kim Kardashian With New Song 'I Hit It First'
[yframe url='http://www.youtube.com/watch?v=ExHVJjQnj1Q#at=34′]