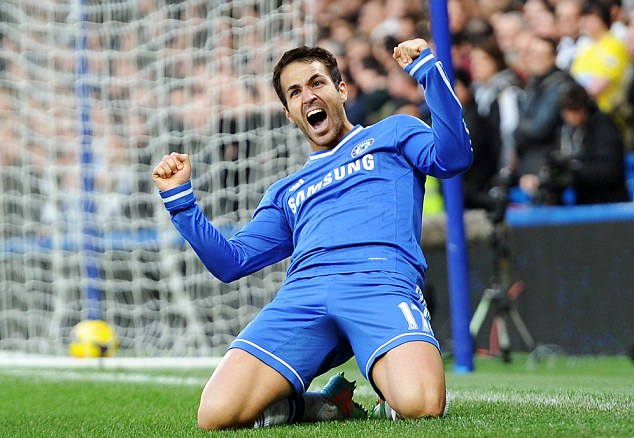 Burnley (1) vs Chelsea (3)
Arfield – 14 Costa – 17
Schurrle – 21
Ivanovic – 34
Team Debuts:
Burnley: Jutkiewicz, Kightly, Sordell
Chelsea: Fabregas, Costa, Drogba (84)
Top Players:
Burnley: Arfield 6.5/10 —Provided a threat upfront and worked well on the wing.
Chelsea: Fabregas 8/10 — Top performance throughout, kept possession ticking over and also made
some creative assists.
Review:
Most of the action was in the first half in this game as the teams mustered four goals between them in the first 35 minutes.
Burnley didn't get the memo about who should win and ended up scoring the first goal of the game when Scott Arfield launched the ball past Courtois with ferocity. However, it took the Blues under 5 minutes to respond as Costa opened his league goals account with a neat finish after some untidy defending by Burnley. Schurrle had his chance to prove that he could clinically finish and had earnt his start after finishing off a spectacular team goal, featuring a fantastic dummy-shot that became a pass by Cesc Fabregas.
Another bit of poor defending from Burnley on a corner resulted in an Ivanovic volley from six-yards that flew past the goalkeeper.
In his post-match interview Dyche made the case that Burnley showed desire and determination; and they did, but that isn't enough to get results in the top league.
Notes:
– Costa isn't a player with flamboyancy but he gets in the right place at the right time
– Burnley need a solid and reliable defender, Costa was bullying their centre-backs
– Ivanovic was involved in all 3 goals, he'll be an important player this season
– Fabregas looks like the missing piece of Chelsea's puzzle
– The Blues aren't going to have the same goal-scoring problems that they did last year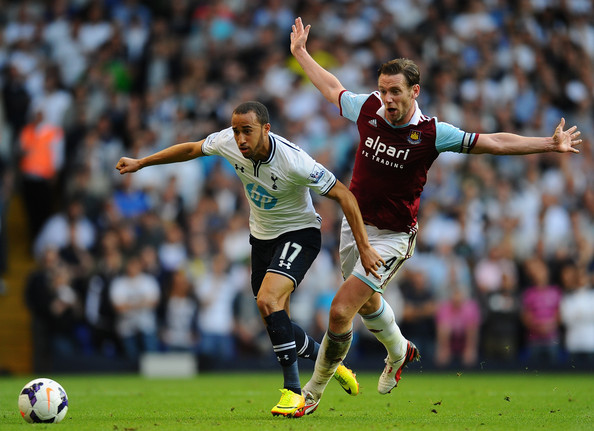 West Ham (0) vs Tottenham (1)
Dier – 90+3
Team Debuts:
West Ham: Kouyate, Cresswell, Valencia (81)
Tottenham: Dier
Top Players:
Arsenal: Kouyate 7/10 —Looks to be an impressive signing, muscled his way around the midfield.
Tottenham: Dier 8/10 —Great defensive showing on his debut and scored the vital goal in the dying
seconds.
Review:
A fierce and historic rivalry between two London teams, in which the match had more sending's off than it did goals.
The first red card was for Kyle Naughton who handballed inside the penalty box, within the first half hour of the game. It was definitely a penalty, but a straight red as well was harsh; Noble failed to convert the opportunity though. West Ham's James Collins became the next player to get sent off, just after the sixty minute mark, for a second bookable offence – blocking Emmanuel Adebayor.
The only goal of the game came from an unlikely source as Tottenham's debutant Eric Dier managed to get on the other end of a Harry Kane lay-off and dribble around the keeper, to score a great finish.
Tottenham didn't use possession well and once their man was sent off they looked to act more defensively and lost Capoue in midfield, as he dropped to the back line. However, West Ham failed to take advantage for the near 40 minutes they had the extra man and their frontline partnership of Vaz Te and Cole looked ineffective. If West Ham continue to be as impotent as were in this match upfront it shouldn't be long before Valencia and Zarate are starting.
Notes:
– Dier looks like a quality signing
– Lloris was a rock at the back
– Players who performed well in pre-season like Lamela and Eriksen need to play better in competitive matches
– Kouyate is a great signing, one that can run a midfield as well as win some aerial battles
– Cole and Vaz Te need to play better upfront if they want to keep their starting spots
– The best players of the game, bar Lloris, were all debutants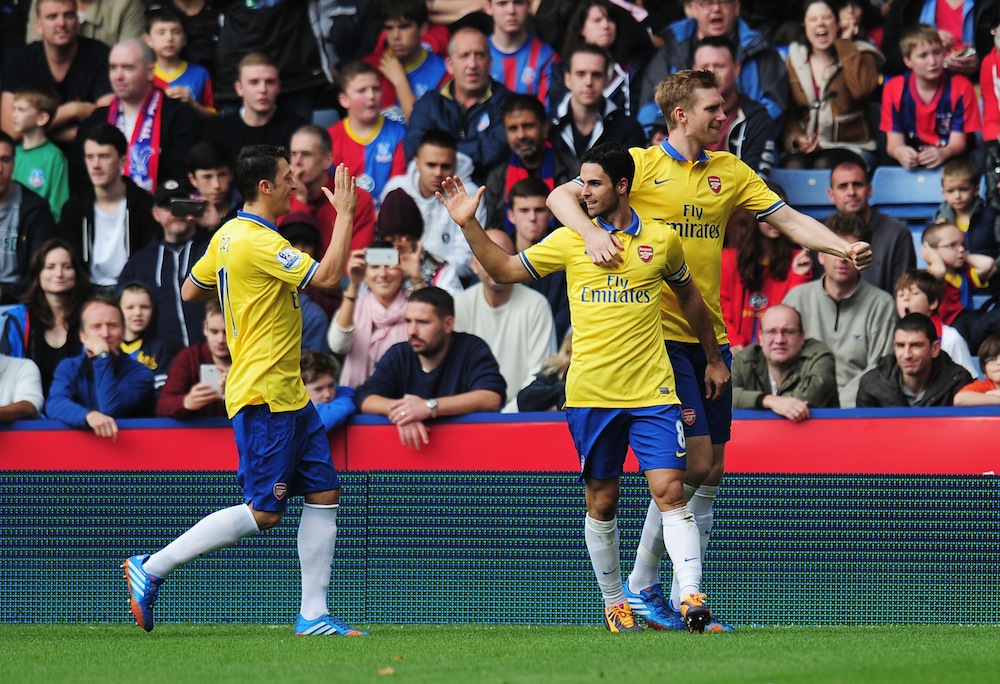 Arsenal (2) vs Crystal Palace (1)
Koscielny – 45+1 Hangeland – 35
Ramsay – 90+1
Team Debuts:
Arsenal: Chambers, Sanchez, Debuchy
Crystal Palace: Campbell, Hangeland, Kelly
Top Players:
Arsenal: Ramsay 6.8/10 — Tireless runner in midfield and scored the vital goal.
Crystal Palace: Chamakh 6/10 — Worked hard for the team, just lacked support to play to/off.
Review:
After Pulis was ousted earlier this week, it was the job of caretaker manager Keith Millen to take control of Arsenal, as he also had to the last time Palace were without a manager. Crystal Palace were playing like a Tony Pulis side in a performance that would have had their old manager smile at many points, unlike Arsenal who's boss won't have been thrilled with what he saw in general.
Arsenal dominated possession, as you would expect but Crystal Palace took advantage of a corner in the first half as new signing Brede Hangeland sprinted round his marker and headed the ball into the back of the net. Arsenal were controlling the game but looked like falling into their old ways of trying too hard to pass the ball into the back of the net, though they weren't playing well enough to justify doing that. Koscielney managed to get on the other end of a free-kick and headed (or 'necked' really) his own goal which involved some marking that would have had Pulis in tears.
Crystal Palace defended admirably but there wasn't a lot they could have done about Ramsey's winning goal – which felt a little bit cruel. Speroni managed to pull off a fantastic save to deny Giroud but the rebound landed perfectly for Ramsey who belted the ball into the Palace net. Harsh? Maybe. Entertaining? Definitely.
Notes:
– Ramsay is looking like he's going to pick up where he left off last season
– Chambers at centre-back is looking like a good call by Wenger
– Sanogo is nowhere near the finished product, still don't know how good he will turn out
– Campbell and Chamakh need better support up front
– If Palace could have kept 11 men on the pitch then it could have gone differently
– Hangeland was an absolute steal on a free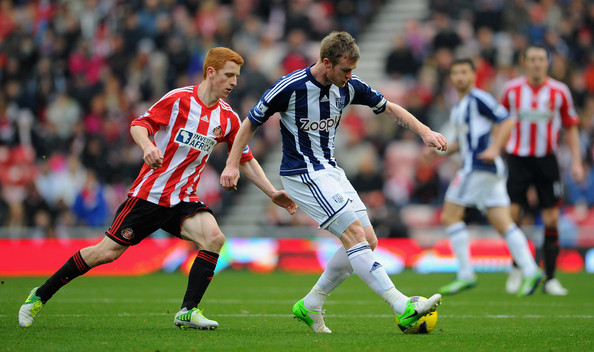 West Brom (2) vs Sunderland (2)
Berahino – pen 42, 74 Cattermole – 5
Larsson – 85
Team Debuts:
West Brom: Gardner
Sunderland: Van Aanholt, Rodwell, Buckley

Top Players:
West Brom: Berahino 6.5/10 — Didn't have to work too hard for either goal but finished them well.
Sunderland: Cattermole 7/10 — Smashed the ball past Foster for the goal and ran the midfield.

Review:

West Brom saw the most of the ball during the game but Sunderland deserved the draw all in all; which had positives for both teams.
Cattermole got Sunderland off to a great start on the 5 minute mark by blasting, and I mean BLASTING, the ball into the back of the net after Brom failed to defend a free-kick properly. However, it was West Brom who dominated the passage of play and after a soft penalty decision the young 21 year old striker Berahino managed to equalise from the spot just before half time. That one could be blamed on bad luck for Sunderland but unfortunately for them there was no bad luck involved for the next, just bad defending. West Brom full-back Van Aanholt got outpaced and outmuscled by Berahino who tapped in his second from close range midway through the second half.
The pacey Dutch full-back managed to redeem himself somewhat in the dying minutes though as he flew down the wing and set up Larsson for the equaliser in the last 5 minutes.
Notes:
– Both teams look like they could use some work in the transfer window
– Rodwell looked good in his first decent league start after a number of seasons benchwarming
– West Brom aren't going to need the attacking options I predicted if Berahino keeps this finishing up
– Van Aanholt doesn't look like a defender, more a winger
– Neither of Sunderland's strikers: Wickham or Fletcher did a lot. At all.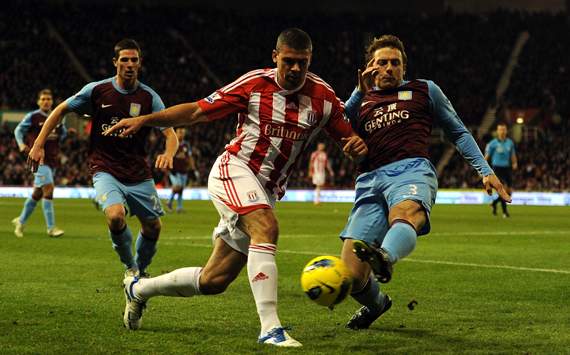 Stoke (0) vs Aston Villa (1)
Weimann – 50
Team Debuts:
Stoke: Bardsley, Bojan, Diouf
Aston Villa: Cissokho, Senderos
Top Players:
Stoke: N'Zonzi 7/10 — Couldn't have done a lot about the goal and made some great saves.
Aston Villa: Vlaar 7.3/10 — Dominant performance from the man known as Ron-crete.
Review:
Stoke last season managed to play some attractive passing football with a high-pressing style; not so much on this day. It wasn't that Aston Villa played the best football they could have, rather that Stoke underperformed, badly. Villa did have a number of notable performances though, I picked Vlaar as my top player but it could have easily been Senderos or Delph as well; Villa's defence was impossible to breakdown and Delph ran the midfield on the day.
The goal came from a tight shot from Austrian Andreas Weimann who managed to get the ball in off Stoke goalkeeper Begovic. New signings Bojan, Diouf and particularly Bardsley (who's touch was poor throughout) failed to impress for Stoke. On the other side, Senderos and Vlaar looks like a partnership made in heaven…or hell if you're the opposition.
Notes:
– Delph is going to solve a lot of Villa's midfield worries from last year
– Experience is no longer a problem for Aston Villa and they seemed less nervy than in previous seasons
– Stoke need to be able to present a threat when Crouch isn't on the field
– Hughes needed to have made a change at half time when Stoke weren't making any chances
– Bojan is looking more like another Barcelona flop, over a Barcelona steal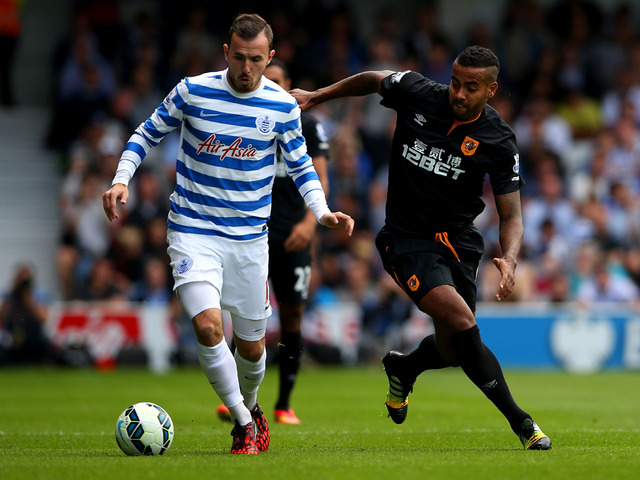 Queens Park Rangers (0) vs Hull City (1)
Chester – 52
Team Debuts:
Q.P.R: Ferdinand, Caulker
Hull: Robertson, Ince, Snodgrass
Top Players:
Q.P.R: Rob Green 6.5/10 — Couldn't have done a lot about the goal and made some great saves.
Hull: Chester 7.5/10 — Scored the vital goal and put in a solid defensive shift.
Review:
Q.P.R played five in their backline but it was that defence that ended up letting them down; more specifically the star signing Rio Ferdinand, who was thoroughly outmuscled by his opposite number James Chester who scored the only goal of the game from a corner.
Chester was involved in another piece of drama later as a penalty was given when he was harshly judged to have handballed; though Charlie Austin failed to equalise from the spot. Tom Ince had another great chance for Hull but his great run was undone by a poor finish 1 on 1 with Rob Green.
Loic Remy provided Rangers with some great opportunities upfront but neither Barton or Mutch could capitalise on them. Ferdinand had a great chance as well but was so surprised when the ball fell to him that he hit it tamely and clumsily off the shin.
It didn't take Q.P.R long to find their rhythm but their lack of clinical finishing today was obvious, all Hull had to do was ensure that Remy didn't get too much space and the Hoops were shut down.
Notes:
– Remy needs to be getting himself into space
– Rio underperformed after all the hype
– Rangers need a left-footed defender if they're going to play 3 centre backs, Dunne was out of his depth as well as out of position
– Hull failed to use the playmaking abilities that saw their survival last season
– Huddlestone had a particularly poor game
Leicester City (2) vs Everton (2)
Team Debuts:
Leicester City: Ulloa
Everton: Lukaku, Barry
Top Players:
Leicester City: Morgan 8/10 — Absolute powerhouse at the back, intimidated the Everton forwards.
Everton: Naismith 7/10 — Ran a tight defence and ensured the strikers ball time/vision was
always limited.
Review:
Leicester City managed to show some resilience by coming from behind twice to get the draw with Everton in a hard fought battle.
Leighton Baines fired in a long distance shot which was deflected into the feet of Sylvain Distin who, in turn, had his shot saved by Schmeichel but unfortunately sent the ball in the direction of McGeady who blasted the ball into the back of the net.
Leicester weren't out of it though and just two minutes later club record signing Ulloa scored from a corner. Naismith managed to profit from a great pass by Steven Pienaar as the attacking midfielder powered a great goal in off the crossbar. Everton dominated possession but Leicester looked dangerous on the counter-attack, with Gareth Barry close to being sent off after bringing down the players who were quick on the break multiple times. Leicester managed to score 4 minutes from time though as Wood placed a shot that had rebounded off of Everton centre-back Phil Jagielka.
Unfortunately for Everton they couldn't break down the Leicester defence consistently enough to get as many close ranged shots as they would have liked, meaning they weren't as threatening in front of goal as they were last season. Leicester had comparatively little of the possession but managed to take advantage of mistakes made by Everton to quickly move the ball into their oppositions half and give them cause for concern.
Notes:
– Gareth Barry should have been sent off
– Romelu Lukaku was having one of his 'off-games'. He needs to improve
– Tim Howard was performing to nowhere near the standard he was in the World Cup
– Leighton Baines was outstanding
– Ulloa repaid some of his record transfer fee with a goal and should have scored again later
– Leicester need to have better control of the play, the counter attacking is good but may not work against better organised teams
– Schmeichel will be disappointed with letting in two goals, even though he couldn't do anything about the first one and the second was more the defence's fault.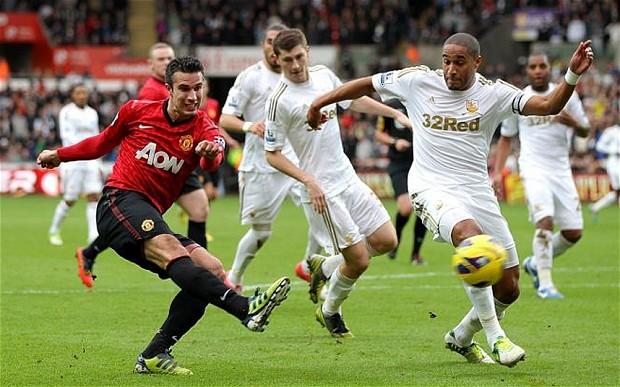 Manchester United (1) vs Swansea City (2)
Rooney – 53 Ki -28
Sigurdsson – 72
Team Debuts:
Manchester United: Blacklett, Lingaard
Swansea City: Fabianksi, Montero(67), Gomis (77)
Top Players:
Manchester United: Rooney 6.5/10 — Scored a great goal and had another close shot from a free-
kick.
Swansea City: Williams 8/10 — Ran a tight defence and ensured the strikers ball time/vision was
always limited.
Review:
Swansea didn't read the script and managed to get a win over the new Van Gaal era at Manchester United, with a poor United midfield performance largely at fault. A good performance by Phil Jones wasn't enough to marshal united and Swansea City may be lucky, but all the table will show is that they picked up 3 points.
Sigurdsson set up Swansea's first opportunity of the game, an opportunity which was capitalised on by Ki, who knocked a shot under De Gea — the Spanish keeper should have done better really. The goal of the game was next though as Rooney performed an overhead kick from close range, off a Mata corner, and Fabianski was unable to keep it out. However, it was once again the Icelandic playmaker Gylfi Sigurdsson who got on the other end of a loose ball and cannoned the ball past the goalkeeper.
Van Gaal needs some new signings in midfield and he needs them now.
Notes:
– Smalling still isn't looking like a United quality defender
– I like the new 3 at the back with no wingers formation, but it only works if there are some quality centre backs
– Young played well but a bird shat in his mouth. Also, he can't defend well enough to play wingback
– Rooney as captain isn't as ridiculous as it first sounded
– Sigurdsson is looking like a fantastic bit of business
– If chances aren't coming from the wings, United need to generate chances from elsewhere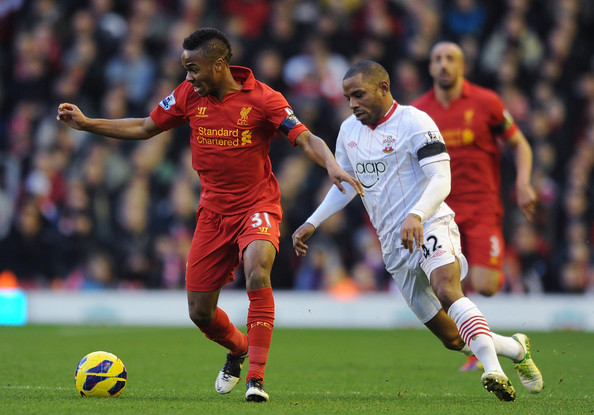 Liverpool (2) vs Southampton (1)
Sterling – 23 Clyne – 56
Sturridge – 79
Team Debuts:
Southampton: Forster, Bertrand, Tadic, Pelle
Liverpool: Lovren, Manquillo, Lambert (sub 70)

Top players:

Liverpool: Raheem Sterling 9/10 — didn't do a lot wrong and always looked a threat.
Southampton: James Ward-Prowse 6.8/10 – tireless running and accurate passing.
Review:
The new look Liverpool took on the new look Southampton at Anfield, a side that has spent a total of around £100million versus a side that has seen most of their team go for a total of around £100million. Southampton were far from the victims that many thought they would be though and new signing Dusan Tadic in particular looked like he's going to be a great bit of business for the Saints. However, the "new SaS" Sterling and Sturridge managed to prove that (so far) The-Toothed-One's sale isn't the worst thing in the world.
19 year old Raheem Sterling got onto the receiving end of an impressive pass from Jordan Henderson to score a great finish halfway through the first half. Southampton did their best to retaliate, with a notable effort from Schneiderlin well stopped by Liverpool goalie Simon Mignolet; however in the end, an equaliser came from an unlikely source as attack-minded full-back Nathaniel Clyne powered the ball into the back of the scouse net in the second half. From then on Liverpool may have controlled a lot of the possession, but it was Southampton that looked the more deadly team on the counter attack. After that wake-up call though, the Liverpool defence were tightening up and Southampton were struggling to get through Skrtel and Lovren (the ex-Southampton player turned pantomime villain for the day). Towards the 70th minute former Southampton icon Rickie Lambert made his Liverpool debut and gave his old team another body to mark in the box; it wasn't to be the perfectly awkward debut for Lambert though as Sturridge ended up hitting a well-placed shot that hit the mark just under 10 minutes later.
It wasn't over for the south-coast boys though as Southampton midfielder Schneiderlin powered another shot at goal, which clipped the crossbar and SHOULD have been comfortably headed in by new-boy Shane Long, but it ended up going wide.
Notes:
– If Schneiderlin does end up forcing through a transfer this summer, Southampton will miss him
– Shane Long isn't looking like a great replacement for Lambert, he wasn't a great finisher at Hull and he isn't looking to be now
– Ward-Prowse looks like a quality player, should be a first team regular
– Lucas isn't qualified as the 'technical' midfielder out of the three
– Johnson shouldn't play on his weaker side
– I'm with the TV pundits in that I can't work out exactly why Liverpool signed Lambert, other than he makes another, admittedly tall and physical, body to mark
– Keep an eye out for Dusan Tadic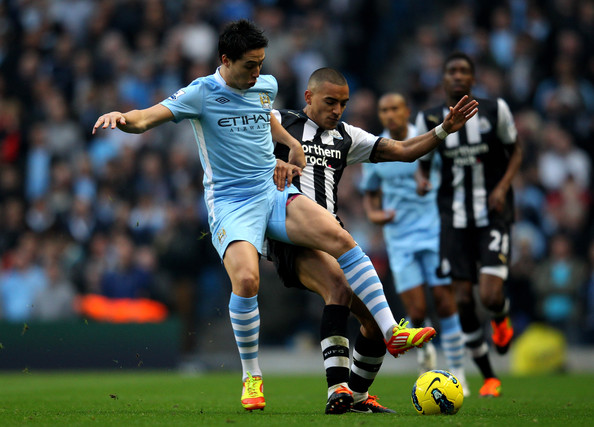 Newcastle (0) vs Manchester City (2)
Silva – 38
Aguero – 92
Team Debuts:
Newcastle: Janmaat, Colback, Cabella, Riviere, Aarons (74), Ayoze (83)
Manchester City: Fernando
Top Players:
Newcastle: Colback 6.5/10 — Consistent performance and good set piece delivery.
Manchester City: Dzeko 8/10 — Great assist for the first goal and always looked dangerous
throughout; a player who has got better and better for City since
signing.
Review:
The game began after a touching tribute to the two Newcastle fans that had died on the MH17 disaster. The two club's respective captains, former Sunderland goalkeeper Jimmy Montgomery and relatives of the two fans all placed wreaths in the centre circle and started the minute of silence for the entire stadium.
However, that tribute didn't stop City from ravaging the Newcastle goal over the first half and in the end it was a fantastic Dzeko set-up that fell into the path of Silva who placed a typical shot into the back of the opposition net. Newcastle peppered the goal with long-distance shots but failed to get a shot on target during the game. Aguero sealed the game for sure in stoppage time though as his welcome back to the team.
Newcastle may feel unfortunate not to have got anything from the game but in the end, it was the Man City prolific strike-force that was the difference between the two. Jeff Stelling said it best: that's what happens when you have a team that has Sergio Aguero to come on when Edin Dzeko comes off.
Notes:
– Edin Dzeko has only improved as he's stayed with City
– Vincent Kompany is back to his overpowering self
– City have a strike-force that would be the envy of any team
– Remy Cabella is adding much needed flair that has been missing since Cabaye
– Newcastle's attacking options are looking a lot more promising than they were last season
– Colback is going to be a valuable asset