A photo has leaked out of Rob Ford going for a stroll while in rehab and you have to admit the guy is looking GREAT. Well, OK, he kind of looks exactly the same as he did before he went in but it's only been a month or so, so let's not expect too much too soon.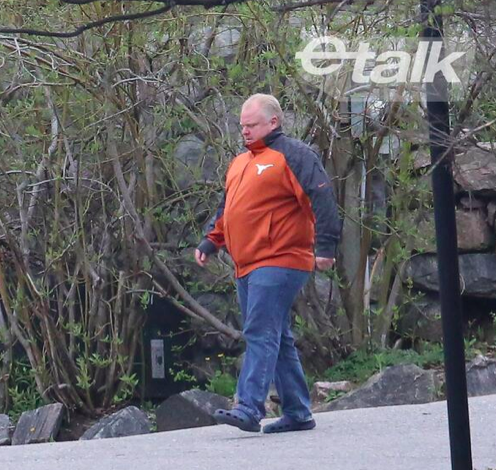 Truth is, we kind of miss him. It kind of feels like we're in rehab ourselves by not getting to write Rob Ford stories any more. No more crack smoking, no more ridiculous quotes, no more scoring hilarious goals against 9 year old goalkeepers, no more fake Jamaican accents, just a man taking a walk in the park, getting red-faced and doing some serious pondering.
Good news though — he still plans to be back in time for the elections in Toronto:
"Of course, I am coming back and I am going to kick butt. I asked for my call sheets and I am making calls to constituents. I am getting help, but I still want to help." YES!
"I feel great," he continued. "Rehab is amazing. It reminds me of football camp. Kind of like the Washington Redskins camp I went to as a kid. I am working out every day and I am learning about myself, my past and things like that."
Good on you Rob.
☛ Watch Next: Rob Ford Gives The Greatest Excuse Ever As To Why He Didn't Initially Admit Smoking Crack 
Bonus – not sure if we ever posted this. Rob Ford stubbing his toe on some scales:
[yframe url='http://www.youtube.com/watch?v=MzI72WrOeA0′]