If there was ever a pro wrestler who's going to keep taking bumps until the day he dies, it's Ric Flair. Even at 72 years old, he's still being suplexed into swimming pools and selling it like it's 1992.
Gotta love him:
Un amigo! Wooo Suplex. Thank you Sir for great week @RicFlairNatrBoy 📽 @MsCharlotteWWE 😘😍 #RiveraMaya #Wooo #Tranquilo #Andrade #LaReina #Family pic.twitter.com/Ir9b1mnmxM

— "EL IDOLO" ANDRADE (@AndradeElIdolo) May 31, 2021
The guy just can't keep away from wrestling. All that was missing was the classic Ric Flair "Wooo" after he popped back out of the water. Although I'm surprised he didn't pop out of there with a face full of claret also…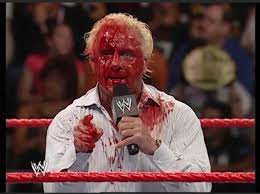 So who's the guy doing the suplexing? That's Mexican pro wrestler and former NXT champion Andrade 'Cien' Almas, who happens to be dating Ric Flair's daughter Charlotte…
View this post on Instagram
View this post on Instagram
View this post on Instagram
If only Ric Flair were 40 years younger, he and Andrade could have probably put on some crazy matches. Then again you can never rule out Ric Flair returning to the ring for one last match, even as a septuagenarian.
Never forget:
To watch a dude get hit with a vicious Ric Flair chop in a real life fight, click HERE. What an impact.